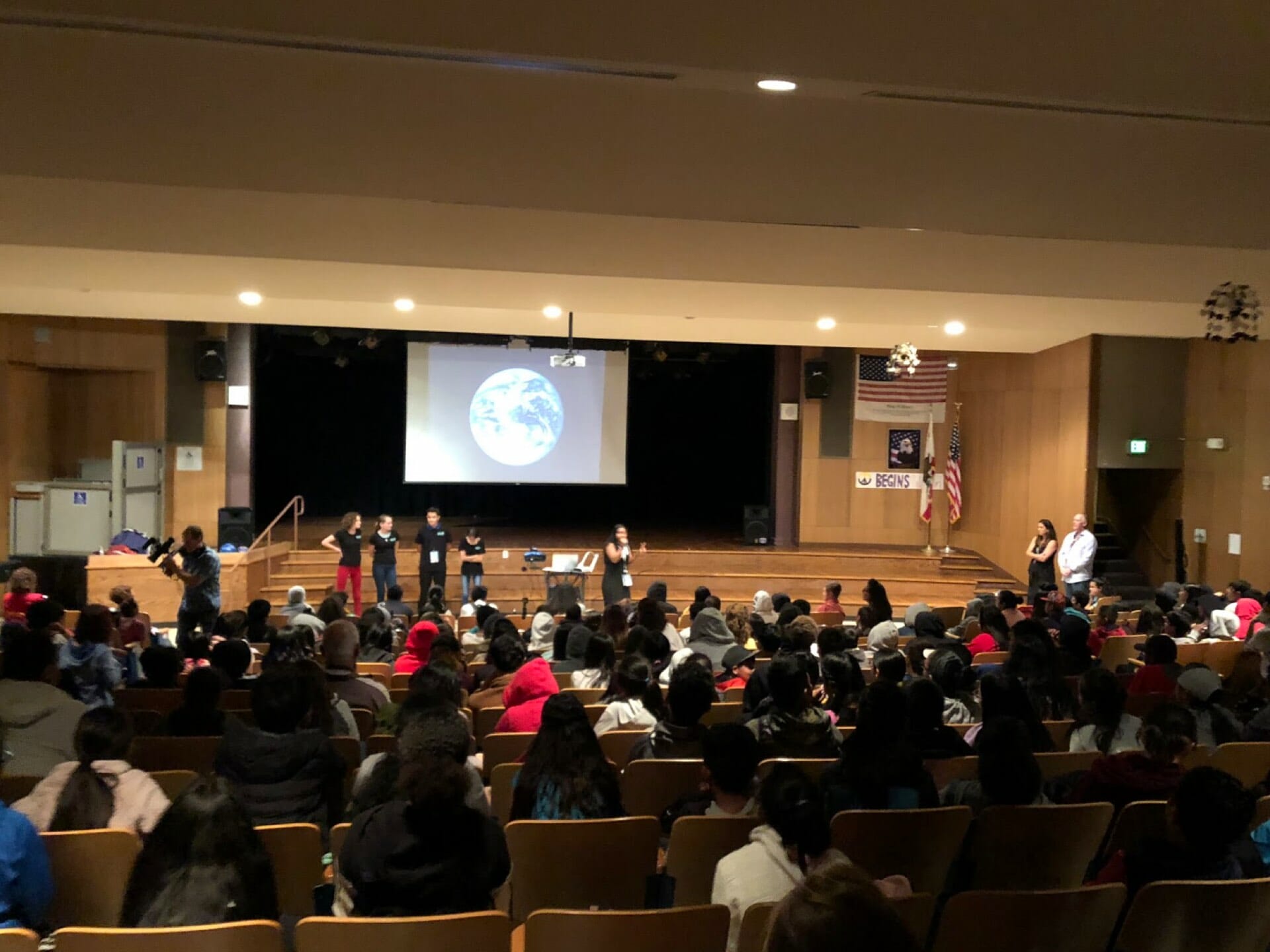 While H2OO does have individual Heirs active on our Blue Planet, there are also active H2OO Chapters!  Each Chapter keeps busy in protecting our oceans and waterways. What is it we've been up to? A lot!
Heir Aliyah Tadao, Palau High School, Palau, shares:
"Hi! My name is Aliyah Tadao, I am from Palau and I'm 15 years old. I am a proud Palauan Heir. Our Palau High School Heirs Chapter has grown.  For me it all started in 2017 when three San Francisco Heirs and I presented to the Palau Visitors Authority (PVA) to urge the organization to move away from single-use plastics.  PVA did just that! They no longer use single-use plastics in their offices nor at their facilitated events. This and other experiences with H2OO has empowered me to speak out about what is best for the planet I am inheriting.  I have worked with the school to make a marine biology major for students to apply to. Two Heirs and I presented to the Ministry of Education about the dangers of plastics and our belief that kids should be learning in their outdoor environments. Youth should be interacting with their land, especially their oceans as a resource for the students knowledge.
Through Heirs I had the opportunity to go to California, where I attended the International Ocean Film Festival in March of 2018.  A film created by Heirs, including myself, about unsustainable fishing practices was a finalist at the Film Fest. In September I went back to California to attend the Global Climate Action Summit with Californian heirs. At the summit I presented about the importance of youth empowerment, was interviewed by media, met many renowned scientists and policy makers. While in California I also presented at Visitacion Valley Middle School about my life as an islander, the struggles of human impacts to the oceans, and what I as a young leader have done to protect the ocean.
I have exposed myself to the world of politics with country leaders, and voiced my strong opinions to policy makers about the reality of our ocean's state. Recently, I was one of the speakers at the Palau Plastic Forum 2018. I am currently planning for a plastic straw free Palau movement. This movement works towards having restaurants, hotels, and other agencies stop using plastic straws. I will continue to be an uprising youth and defend not just my island's waters but the oceans of the world. Thank you, and I sign off wishing you great waters!"
Heir Olilai Chilton, Mindszenty High School, Palau, shares:
"The Palau Mindszenty High School Chapter has gone through many activities. In November we came together as a Chapter to plan out the projects we wanted do for during the 2018-2019 school year.  I would say the highlight last fall was the week-long H2OO-hosted Expedition and Plastic Pollution Forum. During the Expedition and Forum we met other Heirs here in Palau and from California.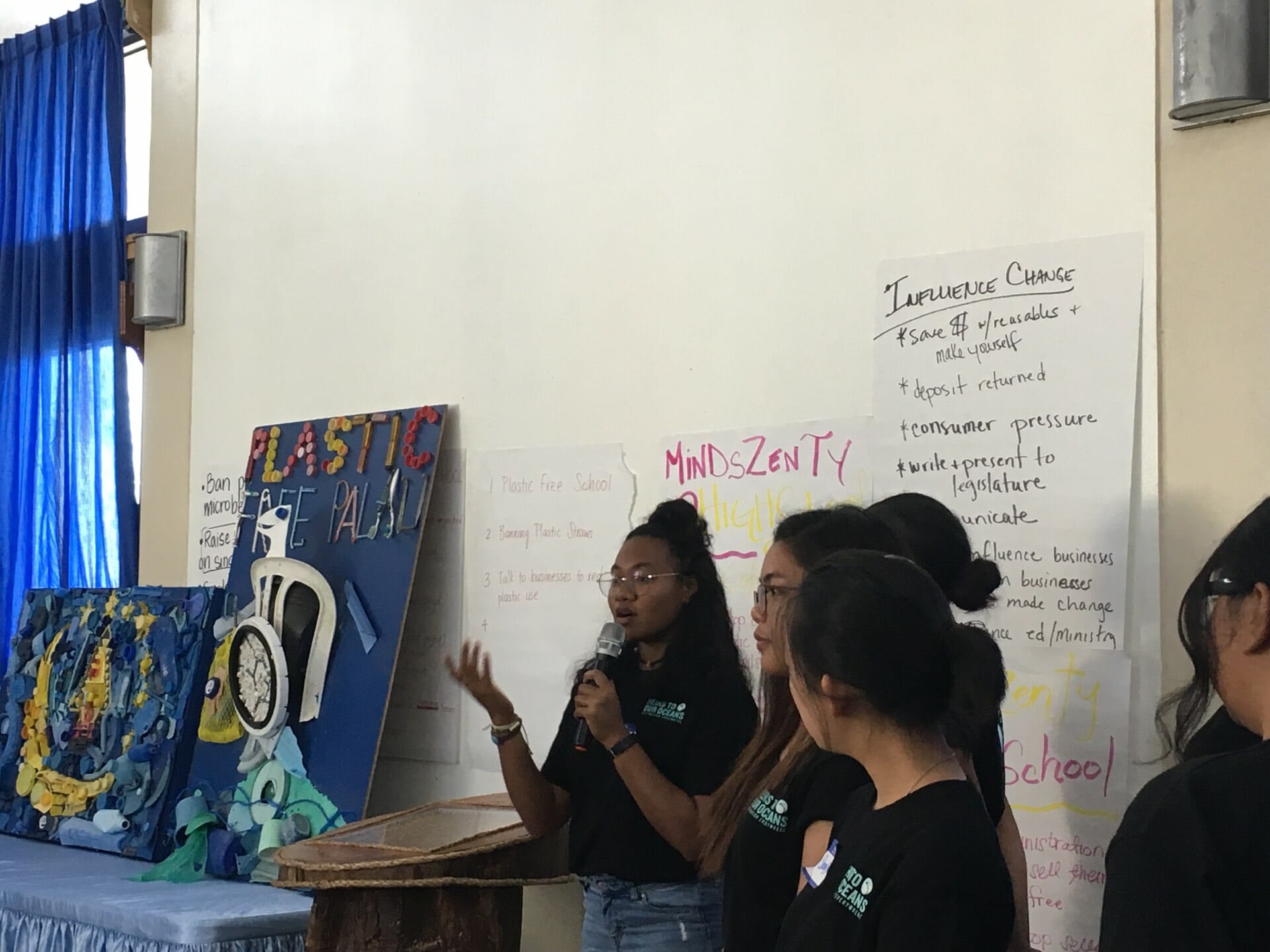 At the Plastic Pollution Forum we came together to discuss ways that we can become leaders, to understand what plastic pollution is doing to our island, and discuss how we can talk to political leaders and adults about this issue impacting us. It was such a refreshing time for us because not only the youth of Palau joined the Forum, but even Palauan adults, business owners, and political and traditional leaders as well. It was definitely an experience to remember and a time we are so thankful for."
Jens Isenhart, Chapter Youth Leader, Louisville, KY, Chapter, shares:
"We've been busy in Kentucky trying to engage and educate the public about the need of protecting our streams and creeks! We held two Creek sweeps, attended local meetings with zoning committees, and talked with biologists from Kentucky Fish and Wildlife to gather information about preserving the health of our streams and to gather more insight on environmental conservation. We met with representatives of the Wave Foundation at Newport Aquarium in Northern Kentucky and learned about available partnerships with EcoCell. We contacted EcoCell, then the principals of our 3 district schools, the United Nations Association of Louisville and UNA-USA Kentucky, as well as the Board of Directors of  FFEA (Floyds Fork Environmental Association- who work on conservation) to work on a district-wide recycling drive and partnership to keep smartphones, laptops, iPads and any related equipment out of local landfills! In doing so we not only keep an array of dangerous chemicals out of our soils and water, but also to help support human rights and protection of endangered species. If you would like to learn more about EcoCell, please visit their site online here. Recently we contacted the Kentucky Resource Council inquiring into legislation mandating proper e-waste disposal and we were excited about the response we recently received from the staff attorney!:  'There have not been any e-waste bills pre-filed at this time that I'm aware of, but we would be happy to discuss some options for addressing the e-waste issue in Kentucky.'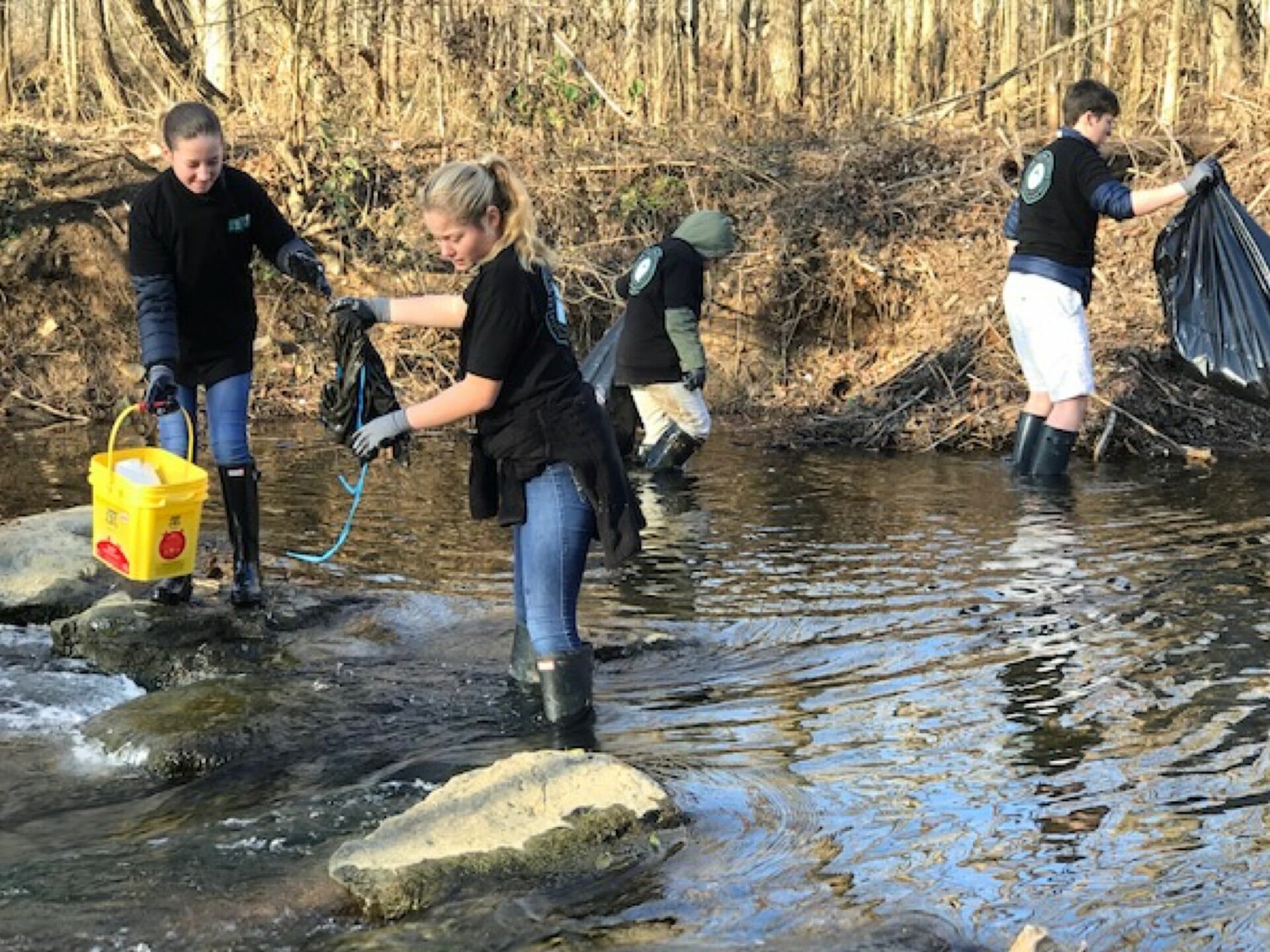 The Louisville Kentucky H2OO Chapter recently took a pledge to never use another plastic straw, to reduce, reuse, recycle, and to shop smart always! Our goal is to bring awareness to all residents of Kentucky, people in the U.S., and around the world, that our behavior does have a direct affect on our oceans, and we wish to reiterate the need to reduce, reuse, recycle our trash and the need for all people to become proactively involved in protecting our streams as these are the veins that feed our oceans."
Heir Chloe McKenna, Chapter Youth Leader, Orange County, CA, Chapter, shares: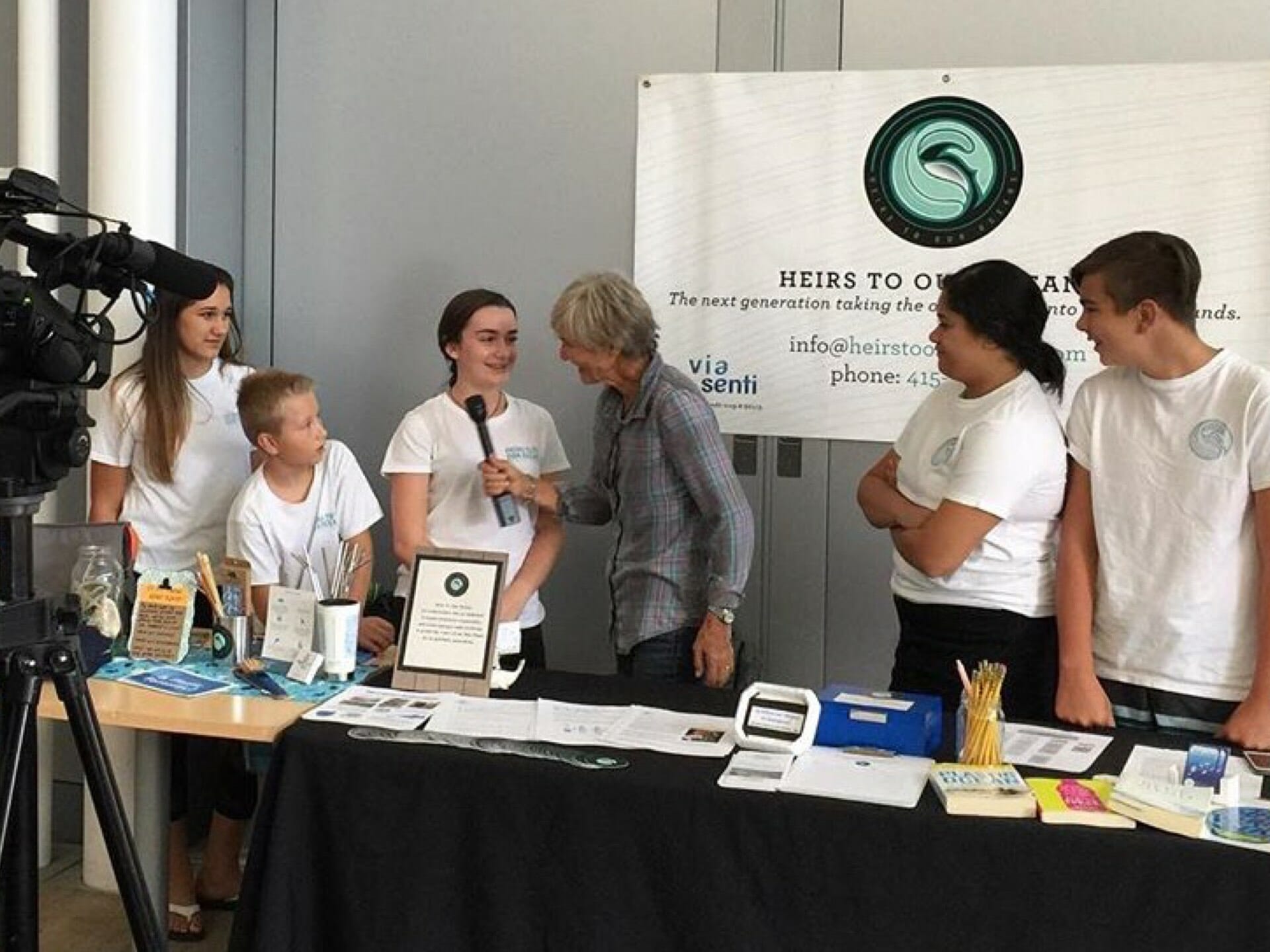 "Throughout 2018, the H2OO Orange County Chapter has made a lot of progress in raising awareness throughout our community. From beach cleanups to presentations to attending summits, we have had our hands full!  Establishing strong connections with local organizations and actively collaborating with them has been a large part of our work. Some Heirs worked with their head chef to effectively replace plastic straws with paper straws in their cafeteria. They were successful and the chef has continued with this practice for the 2018-2019 school year.  I sat on Algalita's Youth Advisory Board, and I was a speaker on the Insight Speaker Series in Irvine, CA. Recently, I met with Legends, Angel Baseball Stadiums food and drink distributor, regarding eliminating plastic straws in the stadium for the next season. Even though it is not yet official, I am continuing to reach out to make sure this plan will be put into place."
Heir Shay Bartlett, Chapter Youth Leader, Pescadero, CA Chapter, shares: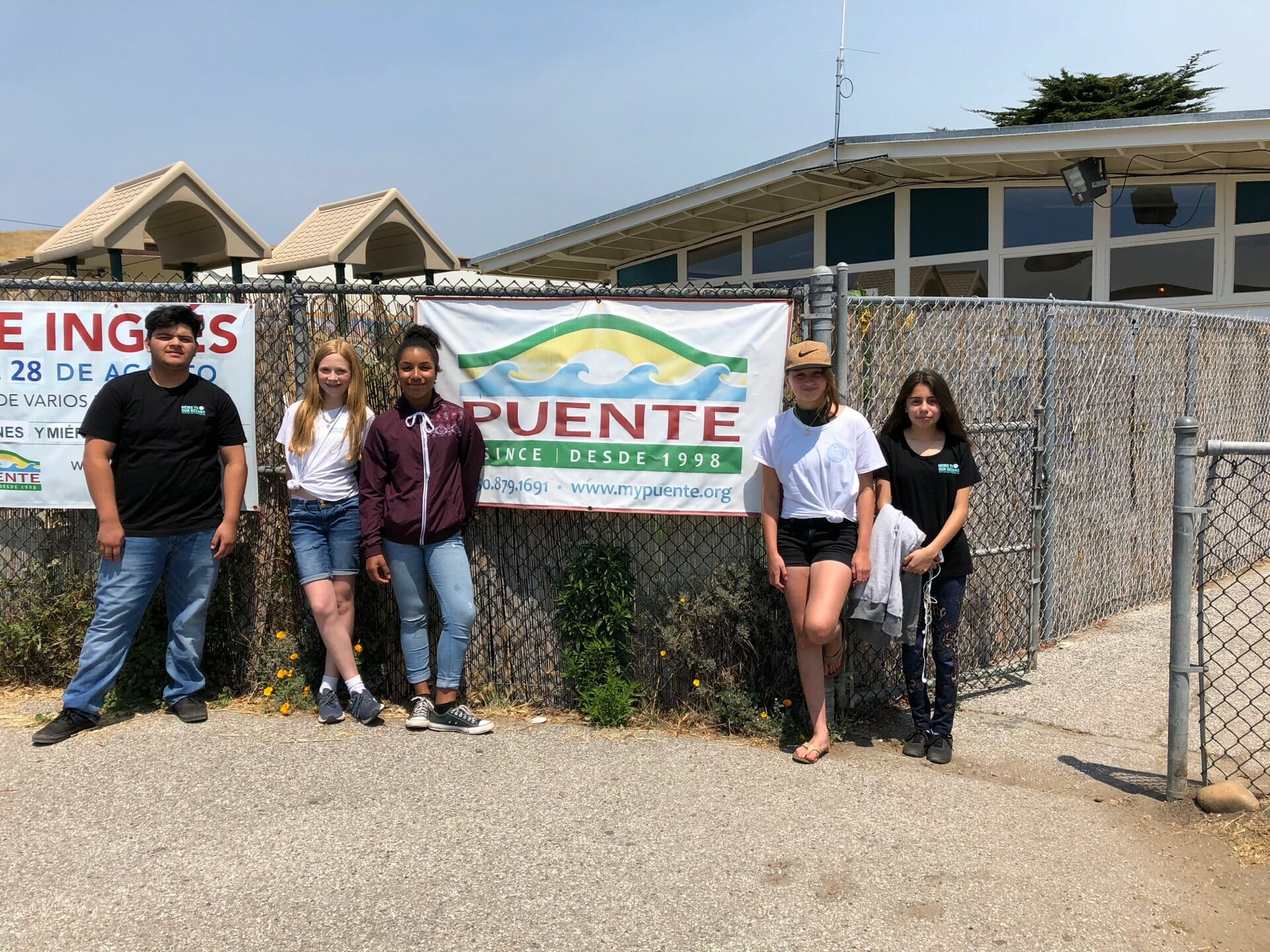 "This has been a very eventful year for the Pescadero Middle/High School Chapter of Heirs to Our Oceans! We've helped inspire new Chapters at Beechwood School as well as Cunha Middle School in Half Moon Bay.  For our initiative, we worked on eliminating single-use plastic in our school district. As a result, the middle and high school cafeteria is switching to silverware and is beginning to compost food waste. Silverware in the elementary schools are in the works as well. Pescadero Heirs' presentations and collaborative educational efforts inspired Puente, a local non-profit to ditch single-use plastic at staff and public events while the Pescadero Arts and Fun Festival (with 10,000 visitors) reduced single-use plastic and, with our input and sweat equity, implemented more responsible waste management procedures. We inspired 2 local country clubs to switch from plastic to paper straws and were regular participants in the effort to clean-up Tunitas Beach.  Two of our members have become dive certified with three more members working on certification. We hope to ensure that projected new building projects at Pescadero/Middle High School incorporate solar and sustainable construction. We're excited to keep growing and being active in protecting our blue planet!"
Heir Carlos Manuel, Palau Mission Academy, Palau, shares:
"This year the Palau Mission Academy Heirs hosted screenings of the movie A Plastic Ocean for communities in Palau raising the awareness of youth, businesses, and governmental leaders about how plastic is affecting us and to encourage them to reduce consumption of single-use plastics. We have done many beach clean-ups, plastic pollution audits, and presentations to raise awareness about the issues our planet is facing. The most important thing that my chapter has done is to ban plastic utensils, styrofoam plates, and bowls in our school cafeteria. This upcoming year my chapter and I are planning to do more beach clean-ups and audits and to keep working to make change in our school so that we can be single-use plastic free."
Teacher Jackie Omania, Oxford Elementary Chapter, shares: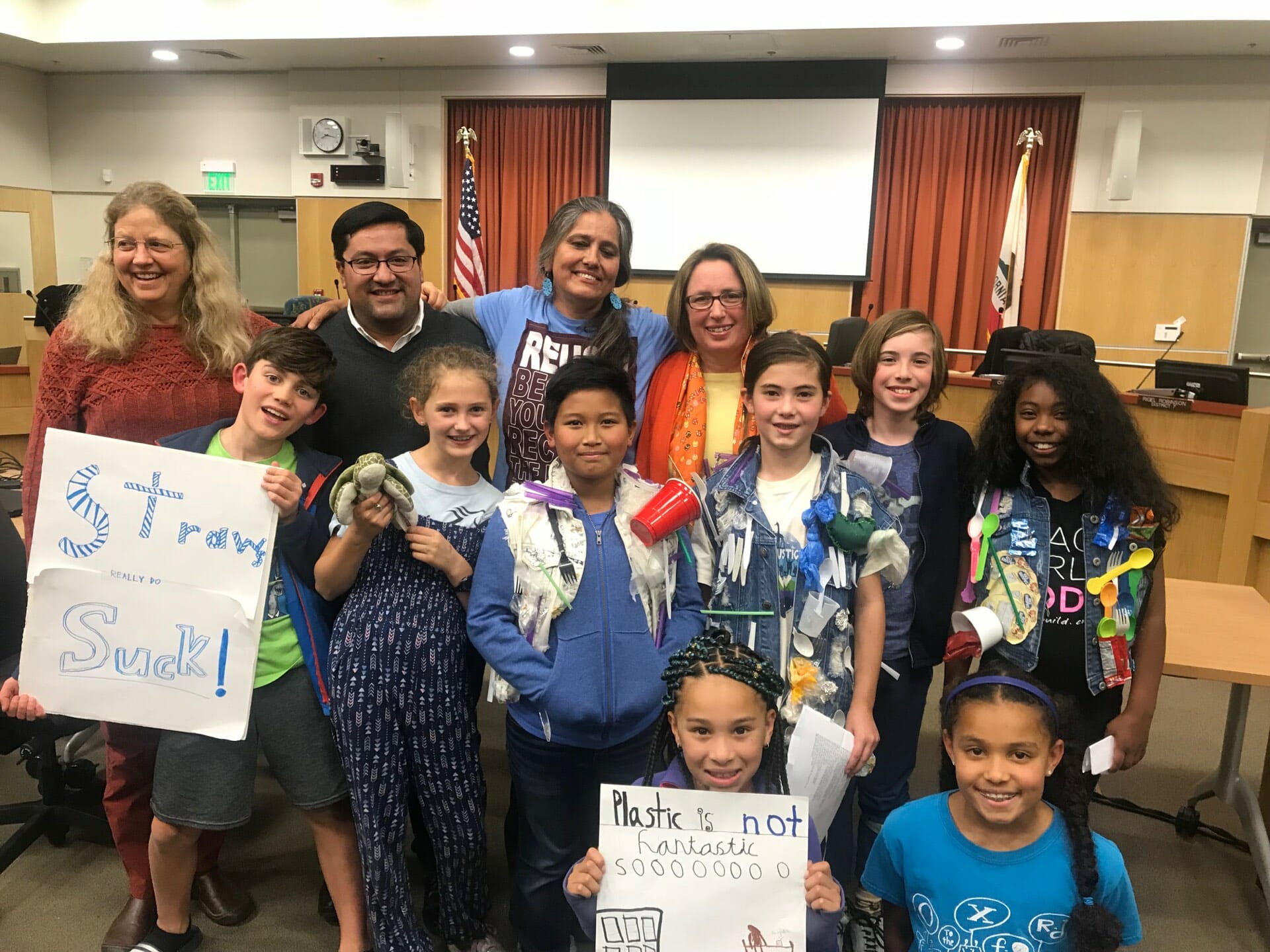 "Our newly formed club of 4th and 5th graders has been very busy. We have worked to document the plastic waste in our lunchroom in September and October.   We presented our views to the Berkeley city council in support of the Disposable Free Dining Ordinance. Three Heirs presented at a highly-televised press conference and five Heirs presented at the evening session.  The ordinance was approved unanimously! As noted in the Berkeley Public Schools Weekly, January 28, 2019: '… the key role played by Oxford Elementary School students who belong to a new school club, Heirs to Our Oceans.' The author of the law, who was also a council member, came to the school the next day to honor us and let us know that our efforts were essential in making the law pass. Our next steps are to continue to educate ourselves, reflect on our individual and collective actions, and embark upon more action."
What has the H2OO Founding Chapter, located in the San Francisco Bay Area, been up to?
From January to December 2018 we were on the move!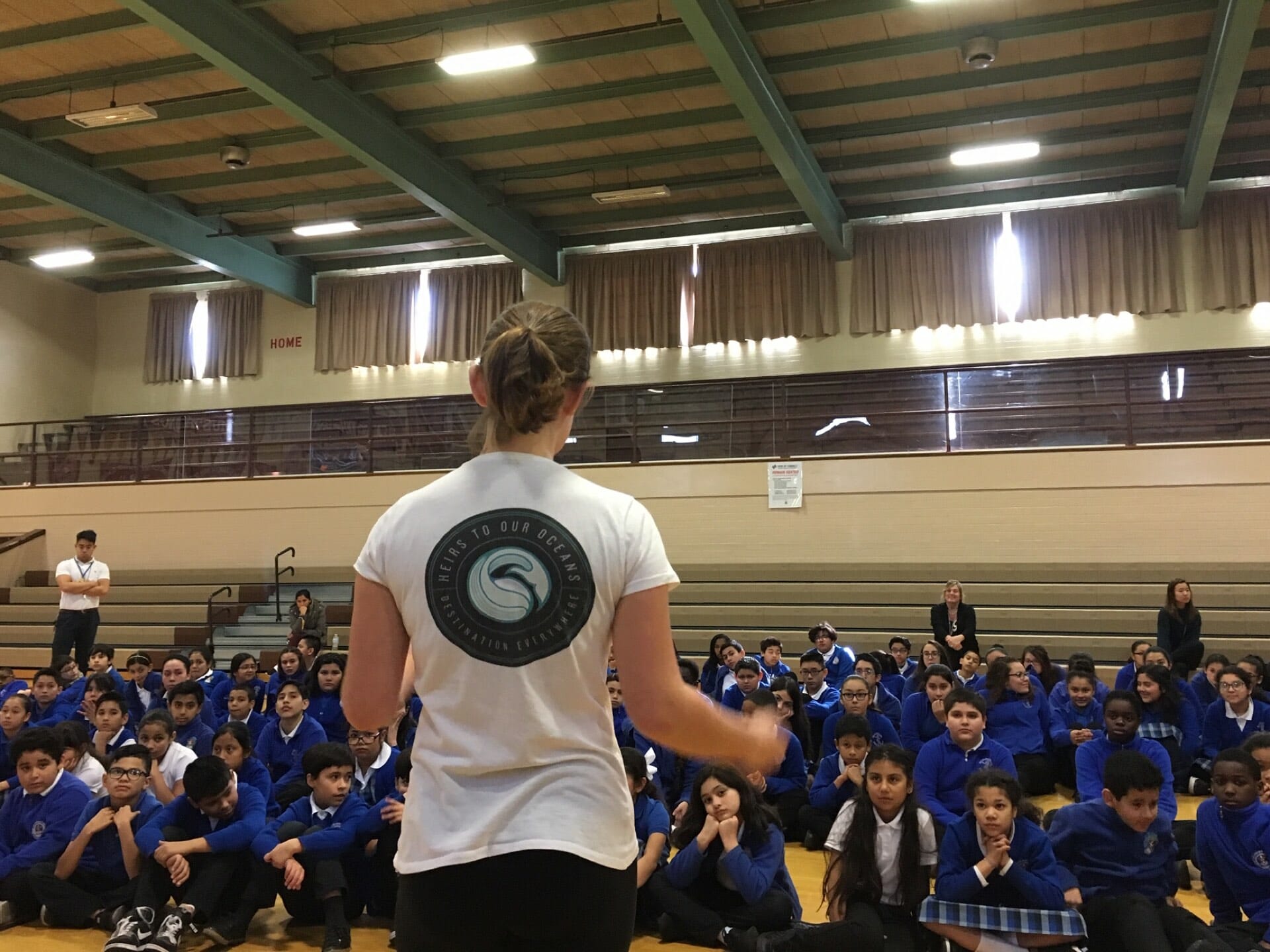 In January 2018, we presented at Saint Elizabeth school in Oakland, CA, inspiring new environmental leaders, and we attended Whale Fest in Monterey, CA, where we presented and tabled.  
Wow, February was sure something!  We presented to 100 international youth at Algalita's Plastic Ocean Pollution Solutions International Youth Summit about overcoming personal challenges in becoming an advocate for our oceans and waterways and the importance of youth being globally connected around this purpose.  We attended a rally in Sacramento, CA, to let the State Congress know that we need to keep the oil in the ground for the health of our waters and future generations, and we presented at a Surfrider event in San Francisco about plastic pollution.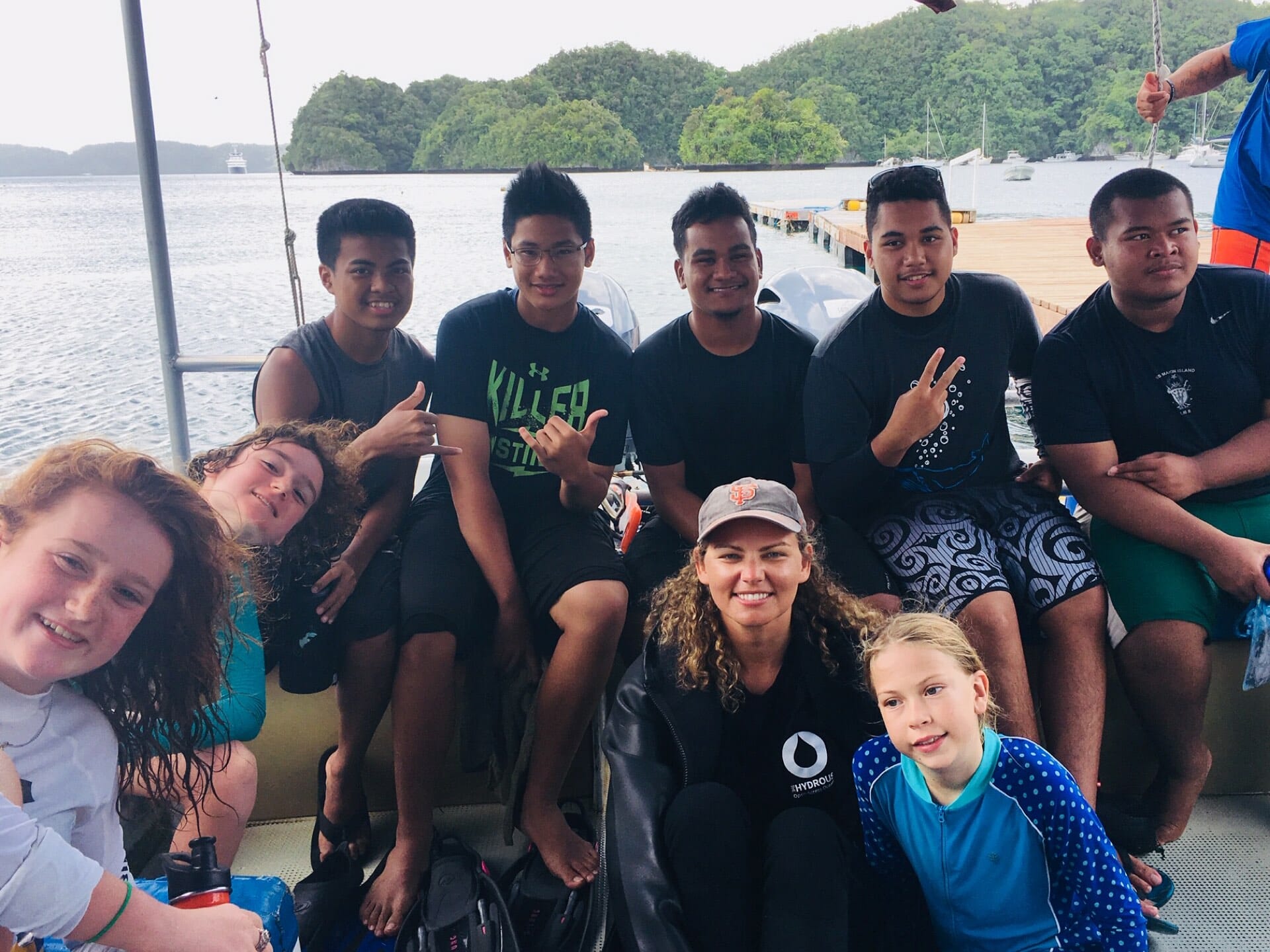 Excitingly, we also collaborated with one of Charley's coral experts, Dr. Erika Woolsey and her Hydrous team, on a VR film-making expedition in Palau.  We are very excited about the Hydrous' film – IMMERSE — to be used as a teaching tool for those who can't immerse themselves in the underwater world. It will be featured at San Francisco International Ocean Film Festival 2019 and it includes Charley and Palauan Heirs including Heir Aliyah!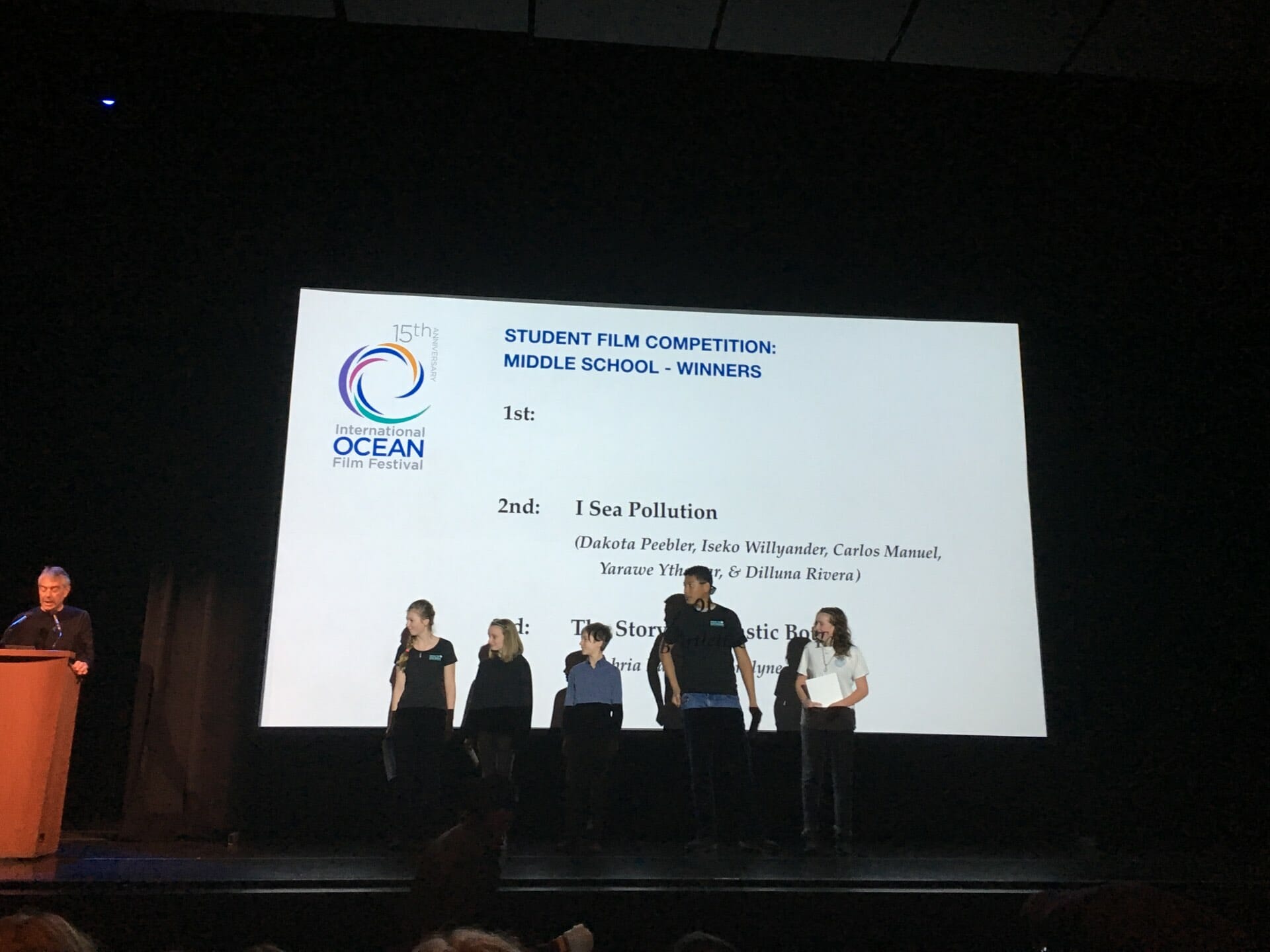 In March we were busy again!  Two of our documentary films made by an international team of Heirs at our Summit for Empowerment Action & Leadership (SEAL) in 2017 were finalists in the student film competition of the San Francisco International Ocean Film Festival, and one of the films — I Sea Pollution [hyperlink to film]– won 2nd place!  A film made by Heir Cambria called The Story of a Plastic Bottle took 3rd place!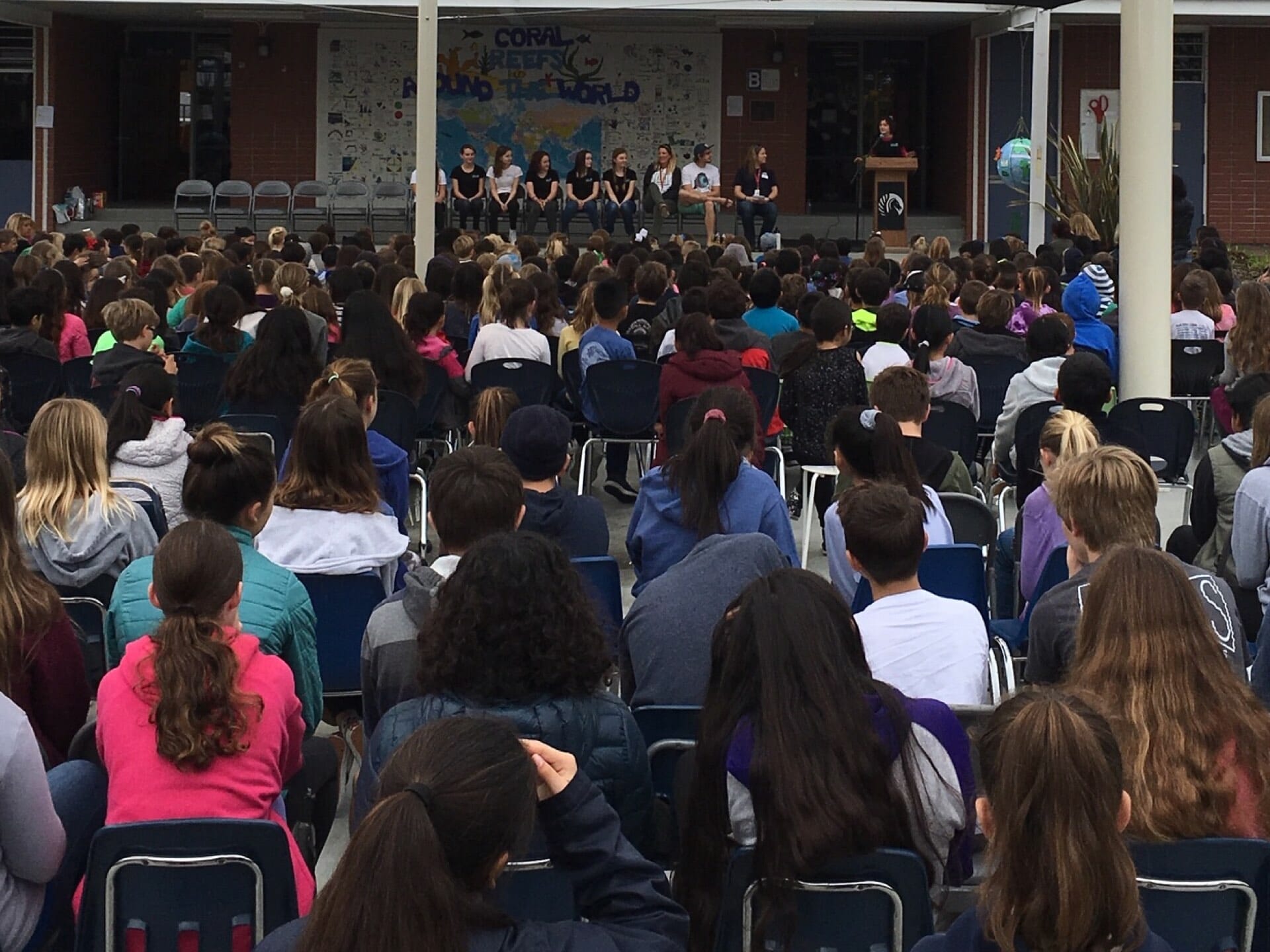 Heir Charley was invited by The Pegasus School in Huntington Beach, CA, to prepare coral and climate change presentations for K-8 graders.  The five presentations and workshops kicked off with Charley addressing the school alongside Zack Rago of Chasing Coral!  That was cool.
Several Heirs attended the 6th International Marine Debris Conference in San Diego where we presented, listened, learned, and thought very critically about how ocean conservationists come together at a conference about plastic pollution.  We weren't happy about the disconnect between seafood consumption, which was served every day, and the massive plastic pollution contribution of derelict fishing gear to our oceans. We presented both on our concerns as well as on the importance of education reform where kids should be learning how to solve the real-world issues they are going to be inheriting.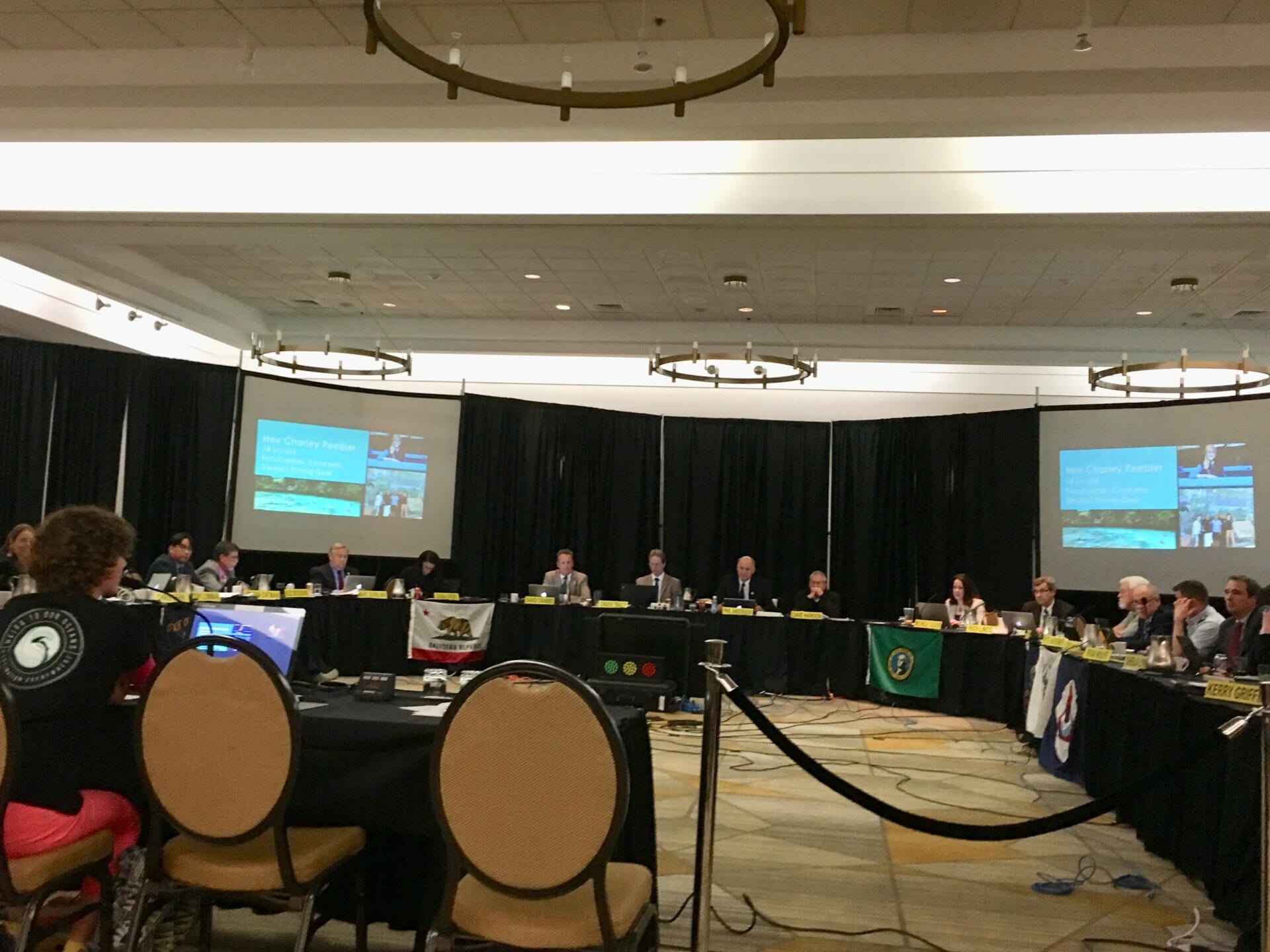 In April and May, Heirs Charley and Arjun testified at the Pacific Fishery Management Council (PFMC) held in Portland, OR.  Charley testified regarding the importance of protecting the deep sea habitat that bottom trawling fishing practices were harming, and Arjun testified about the importance of ceasing over-fishing of the forage fish that are sustenance for cetaceans.  We were so happy to have learned that the PFMC moved to protect 140,000 square miles of US west coastal waters from bottom trawling recognizing the importance of protecting the habitats for future generations. Heir Charley, as a SeaLegacy Ambassador, testified before the CA State Senate Committee asking that drift net fishing be banned.  Drift net fishing has since then been banned in CA J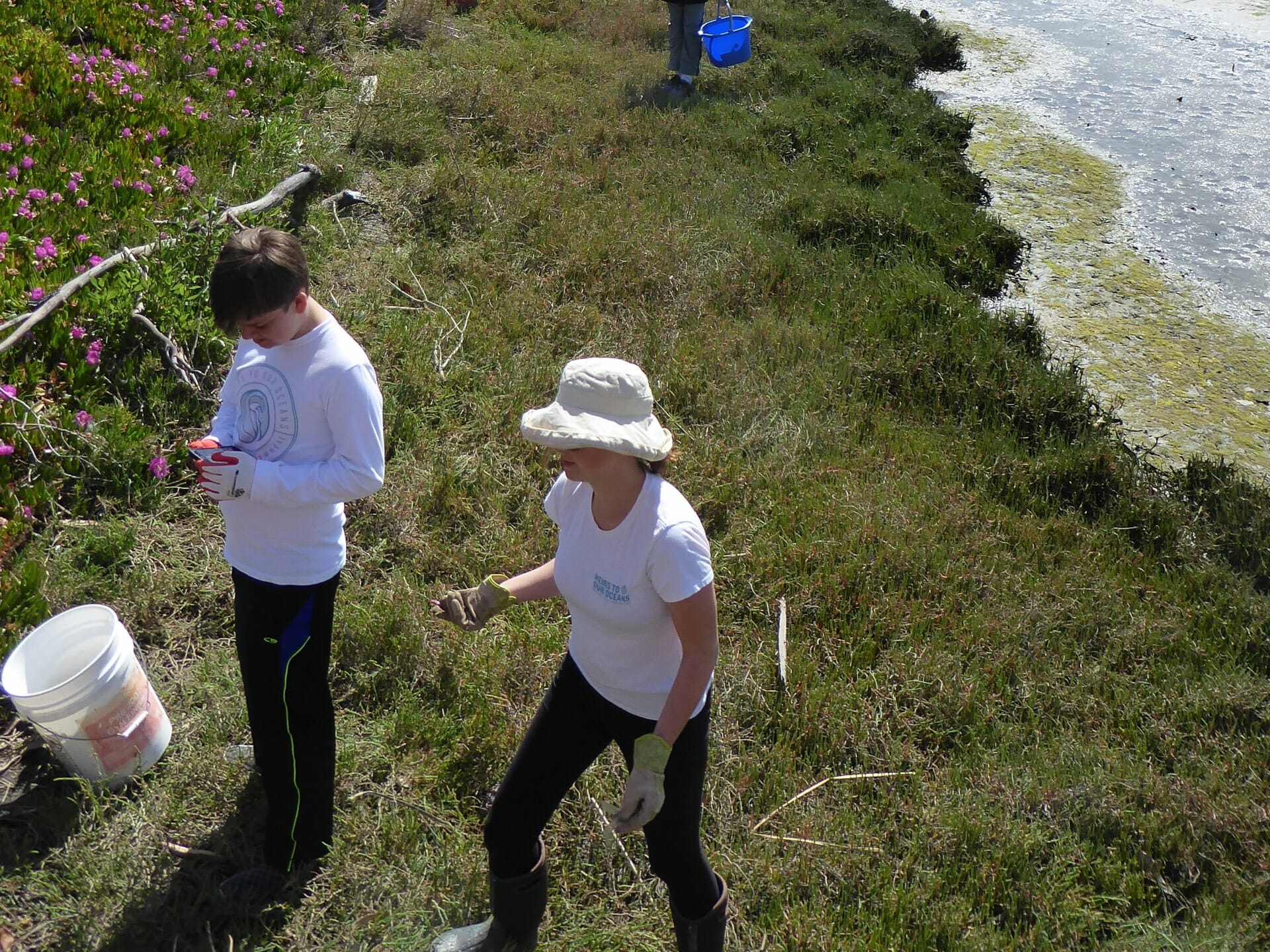 For Earth Day, Heirs collaborated with Niantic, makers of Pokemon Go, in hosting an Earth Day clean-up and brand audit in San Francisco!  We held the brand audit at an inland waterway in South San Francisco to raise awareness of the pollution in inland waterways that carry pollution to our oceans.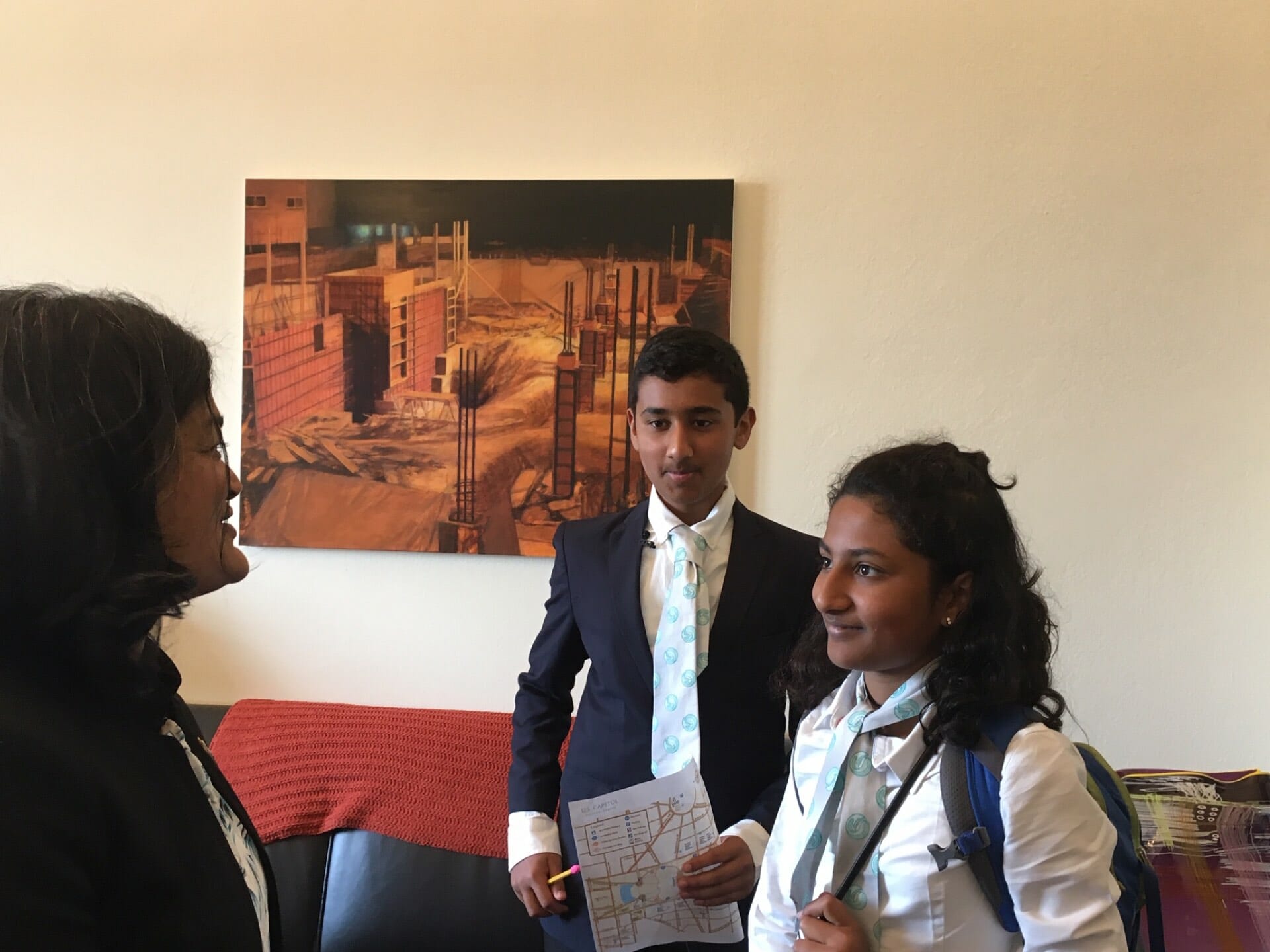 In June we went to Washington DC where we met with 22 Congresspersons, Republicans and Democrats alike, asking them to support certain ocean- and water-protecting bills and to oppose bills with policies that harm our oceans and waterways.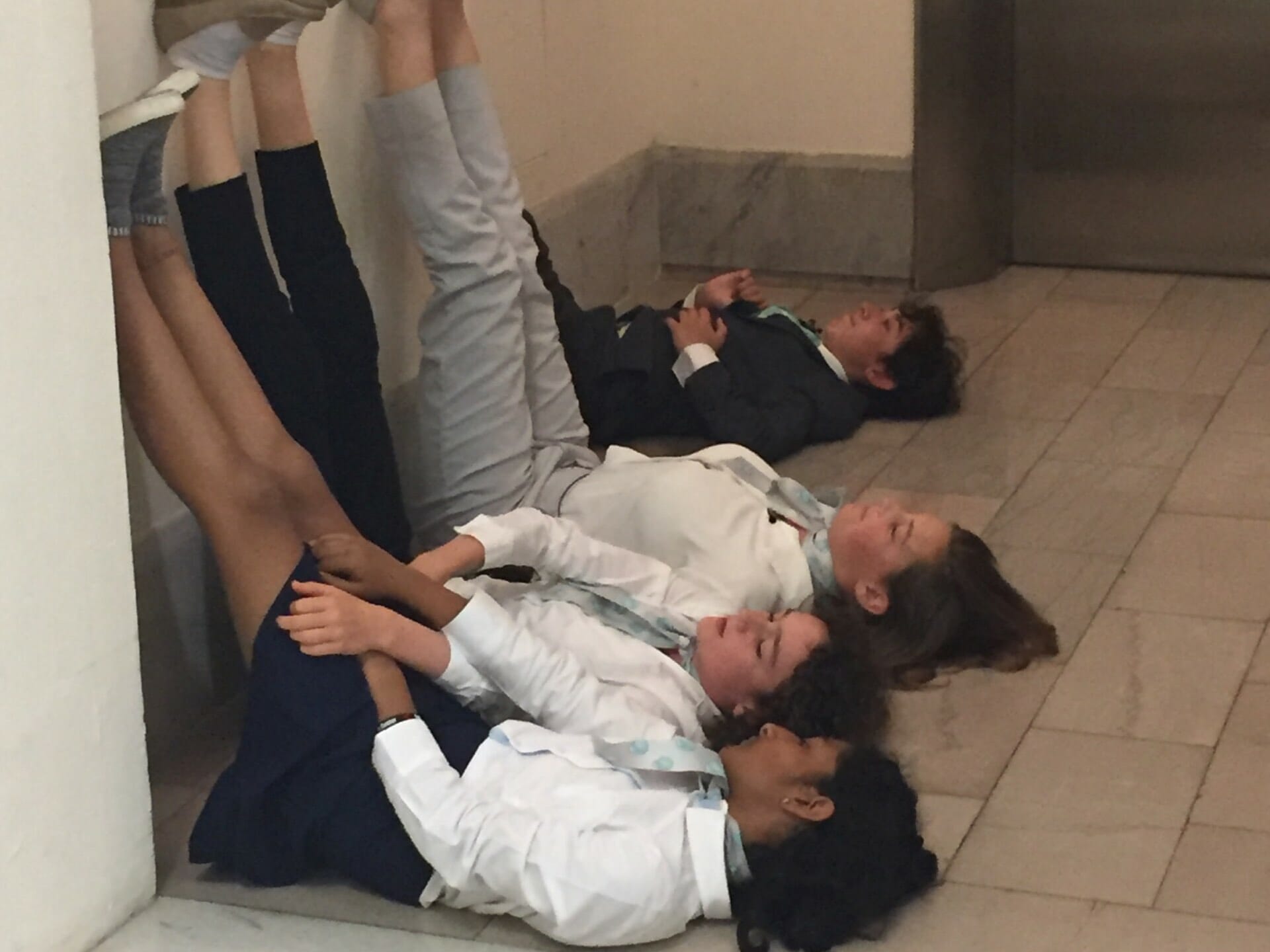 Wow our feet hurt at the end of that day.
While in D.C., we also presented on the main stage at March For The Oceans, and we presented at the UNA-USA Annual Leadership Summit.  We also presented at a dive conference in Long Beach, CA, in partnership with Palau Visitors Authority where we shared the importance of being a diver that is conscientious about the health of the waters that we are enjoying!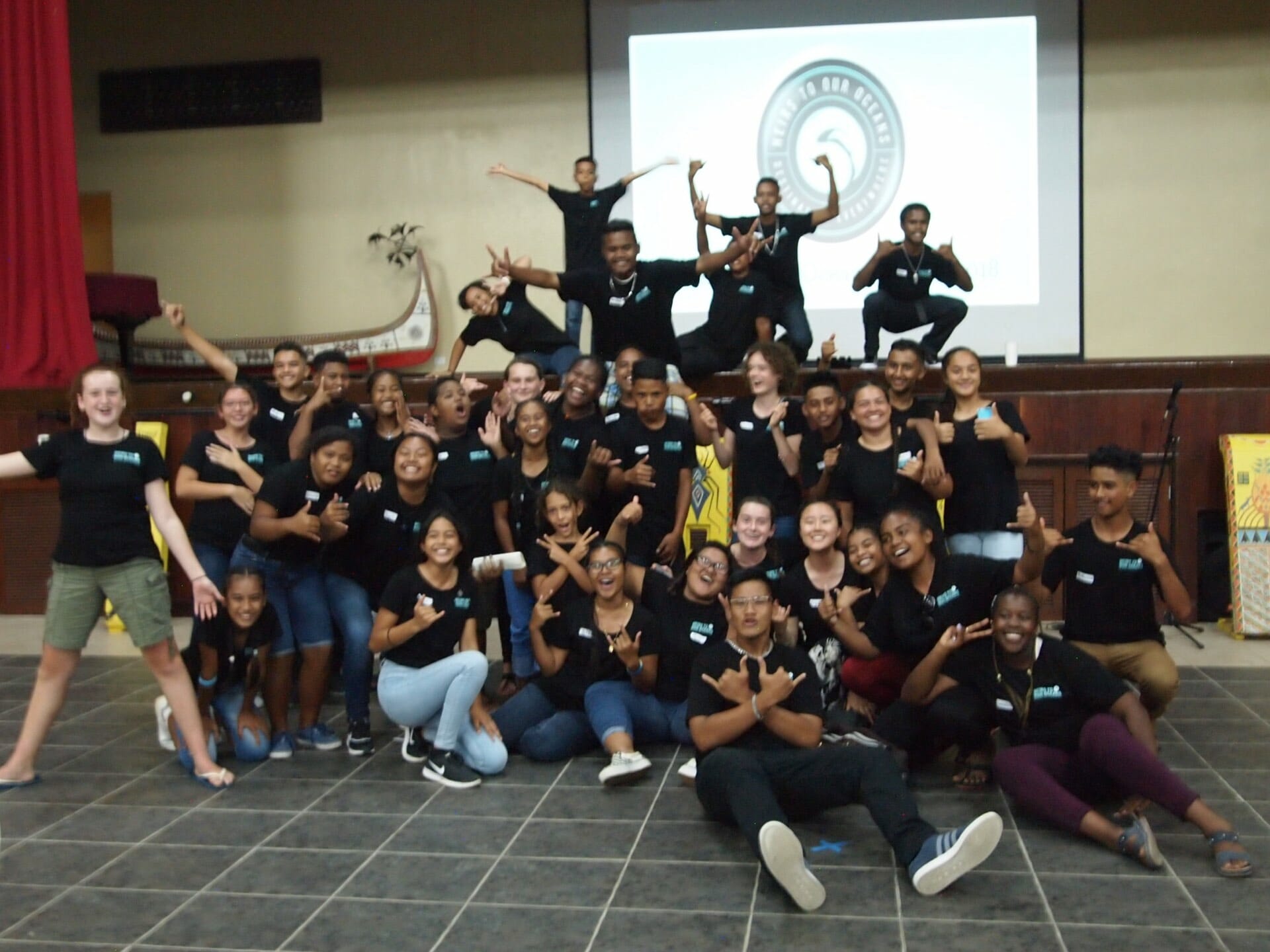 Most important to our summer was inspiring new environmental youth leaders through our Summit for Empowerment Action & Leadership SEAL [hyperlink] 2018.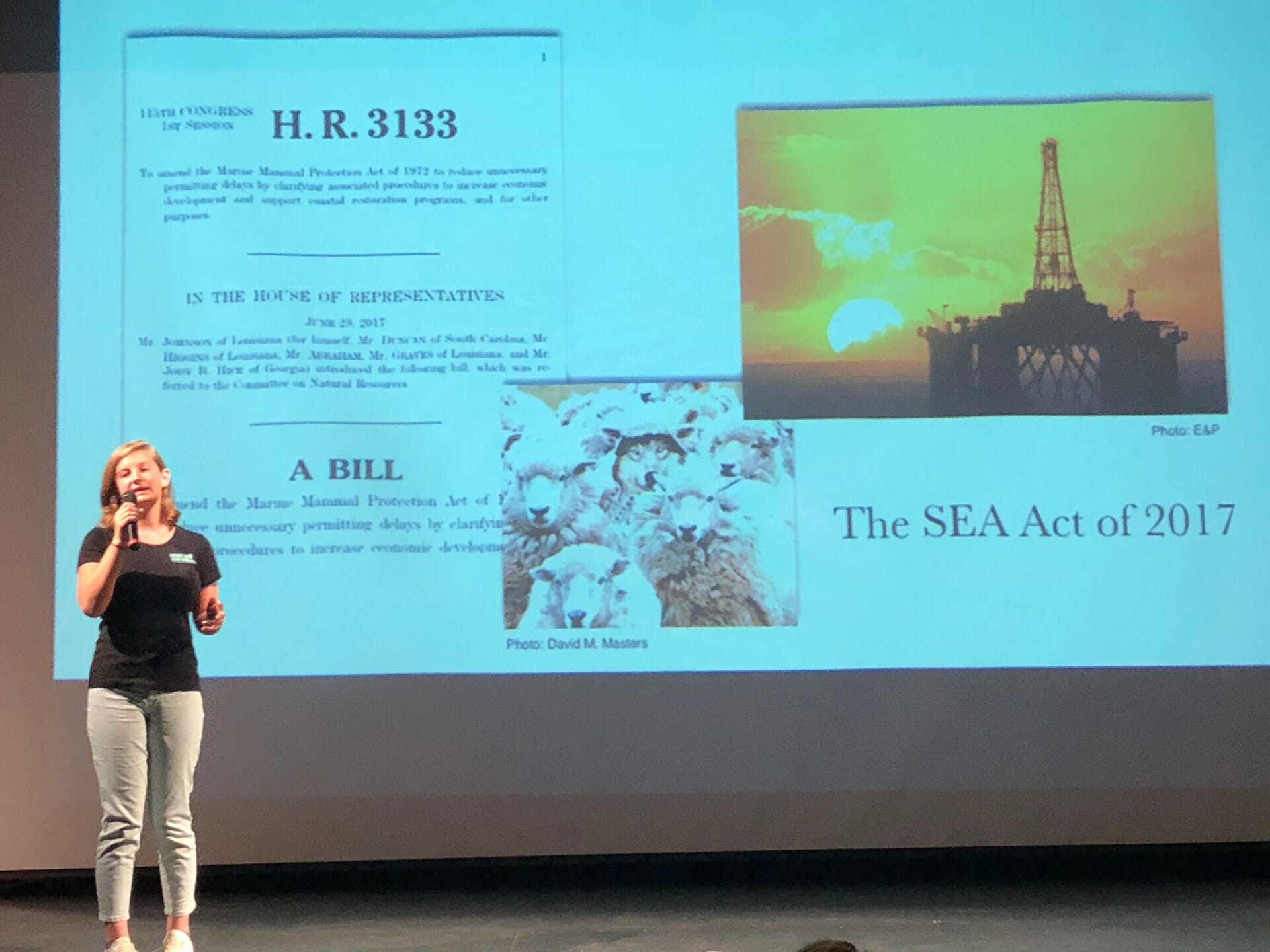 In July, Heirs presented at SuperPod 6 in San Juan Islands!  We spoke about how important it is for ocean conservationists and environmentalists to walk the talk, especially at conferences that bring them all together.  For example, if we are trying to protect our cetaceans, then we shouldn't be eating crab while talking about cetacean protection as the miles of crab pot lines create a risk of entanglement for whales migrating along our coast. Heir Charley was invited by Salesforce and Benioff Ocean Initiative to share with 40 public school teachers in the San Francisco Bay Area about both H2OO's learning model as well as deep sea habitat content and effective ways to teach the content.  This was an Affiliate Event of the Globate Climate Action Summit.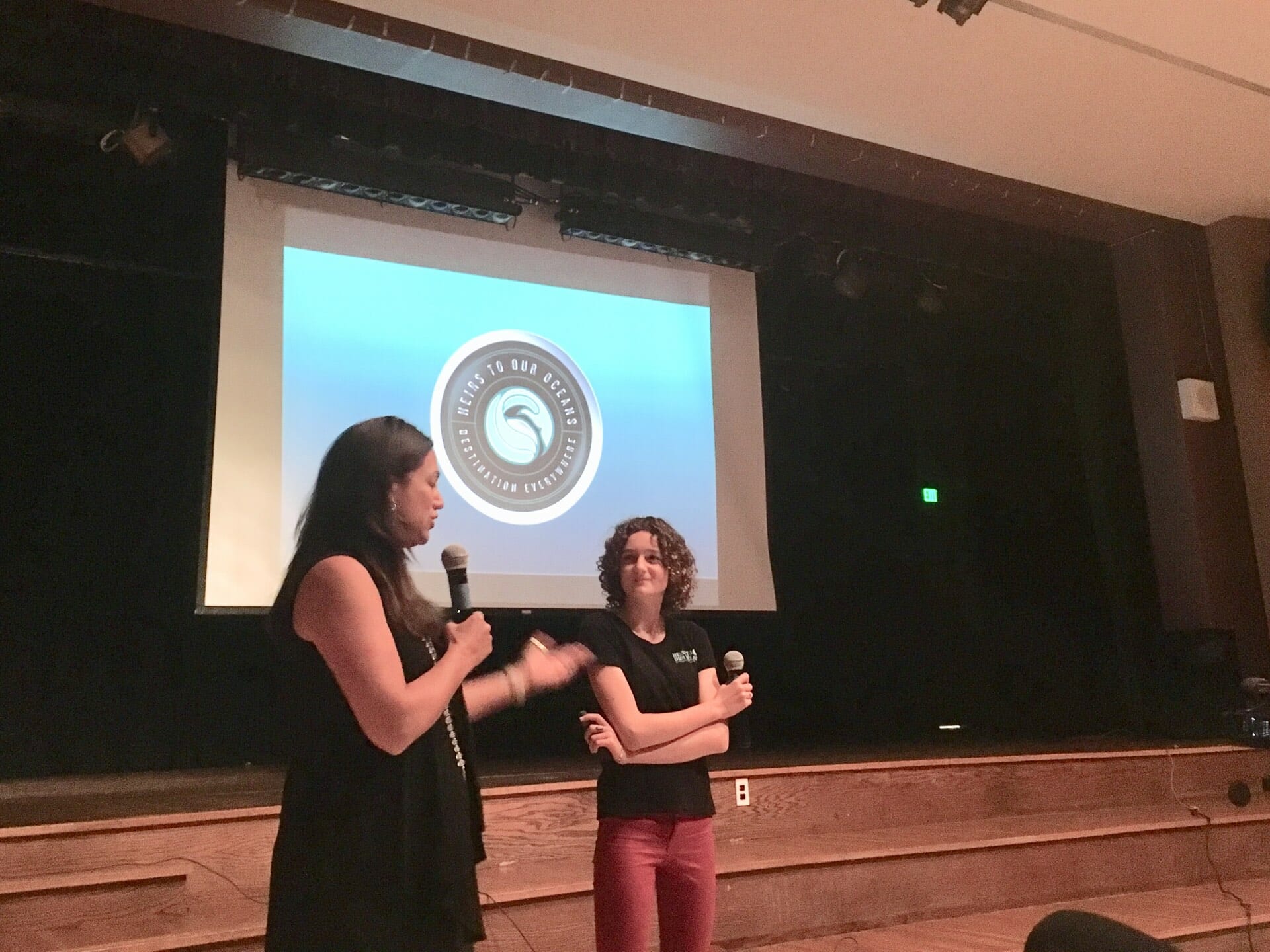 Wow was September a full one due to the Global Climate Action Summit!  Heir Charley's proposal to present to an urban San Francisco middle school as an Affiliate Event of GCAS was accepted!  She invited legendary National Geographic photographer and explorer Cristina Mittermeier of SeaLegacy to join her, and the two of them presented to over 300 inner-city students at Visitacion Valley Middle School in San Francisco about the importance of protecting their water for their and future generations.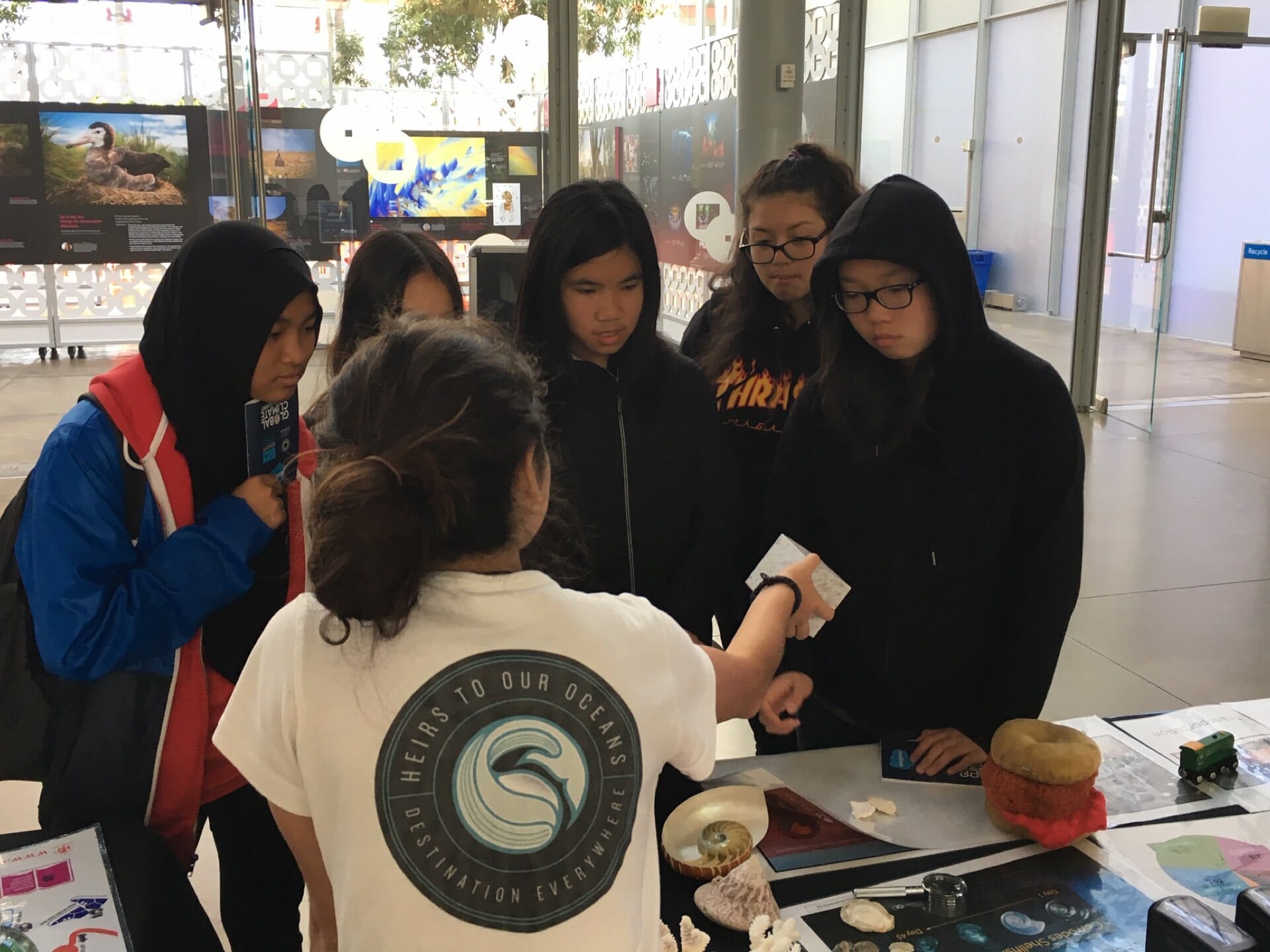 Salesforce and Benioff Ocean Initiative invited us to work with hundreds of middle school kids on climate change, plastic pollution, and ocean acidification during two learning days at California Academy of Sciences (another GCAS Affiliate Event).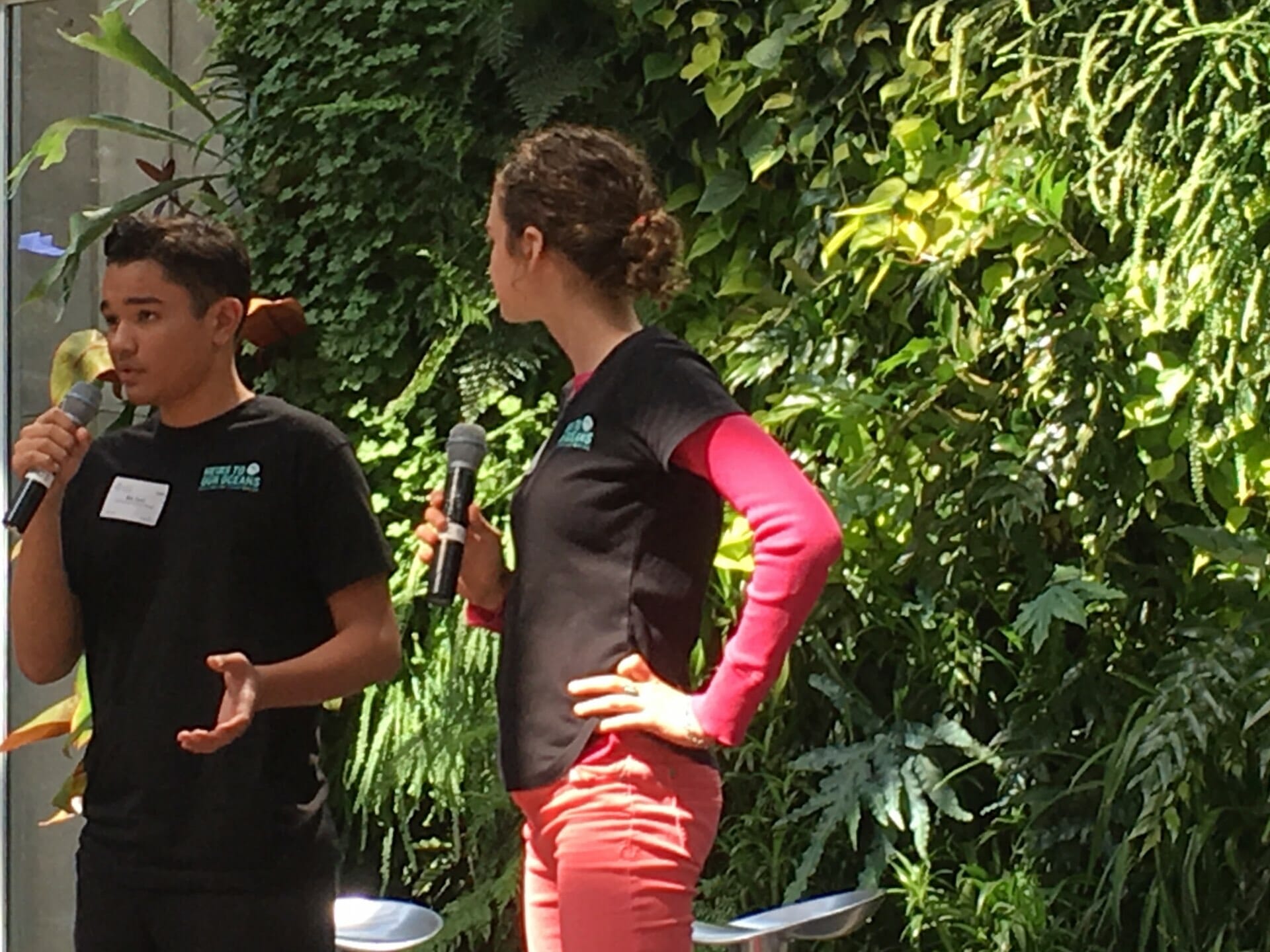 Four of us presented at California Academy of Sciences as Young Ocean Heroes.  We also presented at the We Are Still In collaboration, another GCAS Affiliate Event.  Three U.S. Heirs and two Palauan Heirs attended GCAS where they were interviewed by media and made connections with environmental leaders from around the world.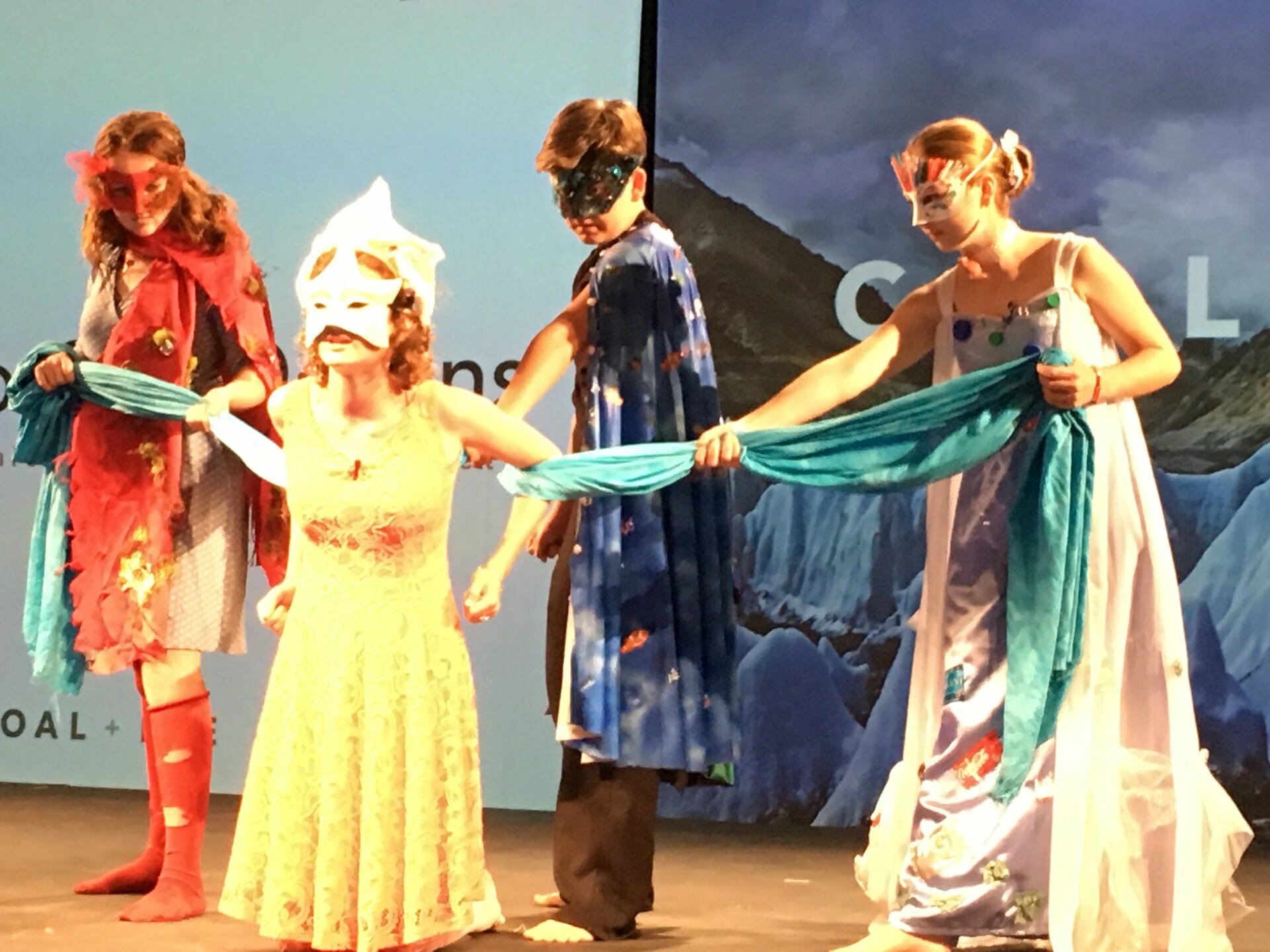 For the first time, Heirs performed human impact on their oceans presenting as red tide, an oil spill, bleached coral and plastic pollution at "Coal and Ice Exhibit" in San Francisco (also a GCAS Affiliate Event).  Finally, during Sea Otter Awareness Week, Heir Dakota, who focuses on sea otters as an endangered keystone species, introduced one of her sea otter experts, Dr. Melissa Miller, at a presentation where Dr. Miller shared the results of her 15 year study on sea otter mortality.  What an honor!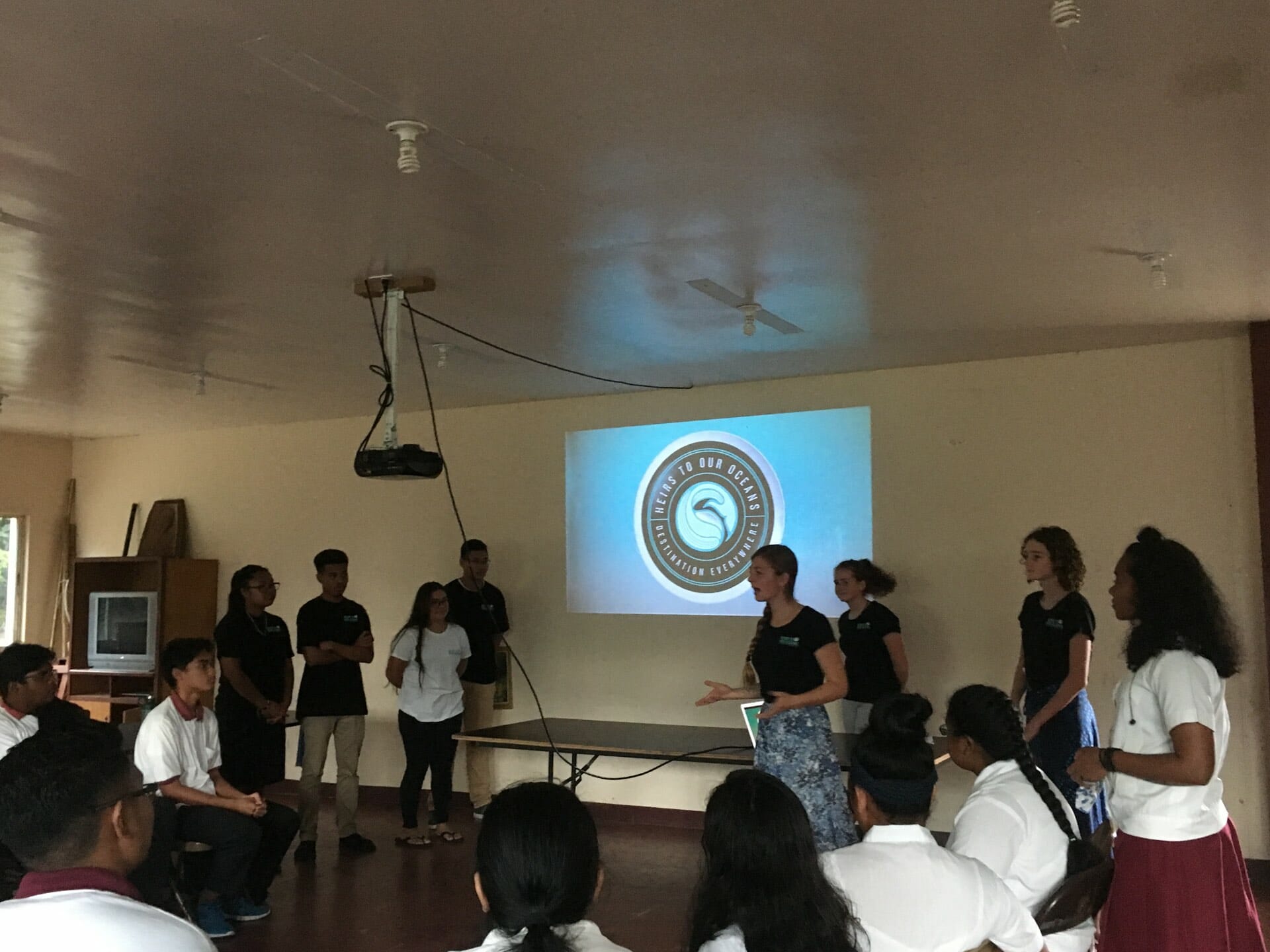 In October, we joined several Palauan Heirs in presenting at Mindzenty High School in Palau where we discussed how recycling alone isn't the answer and how important it is to incorporate brand audits when conducting a beach "clean-up" to gather data to encourage corporate responsibility in managing plastic pollution.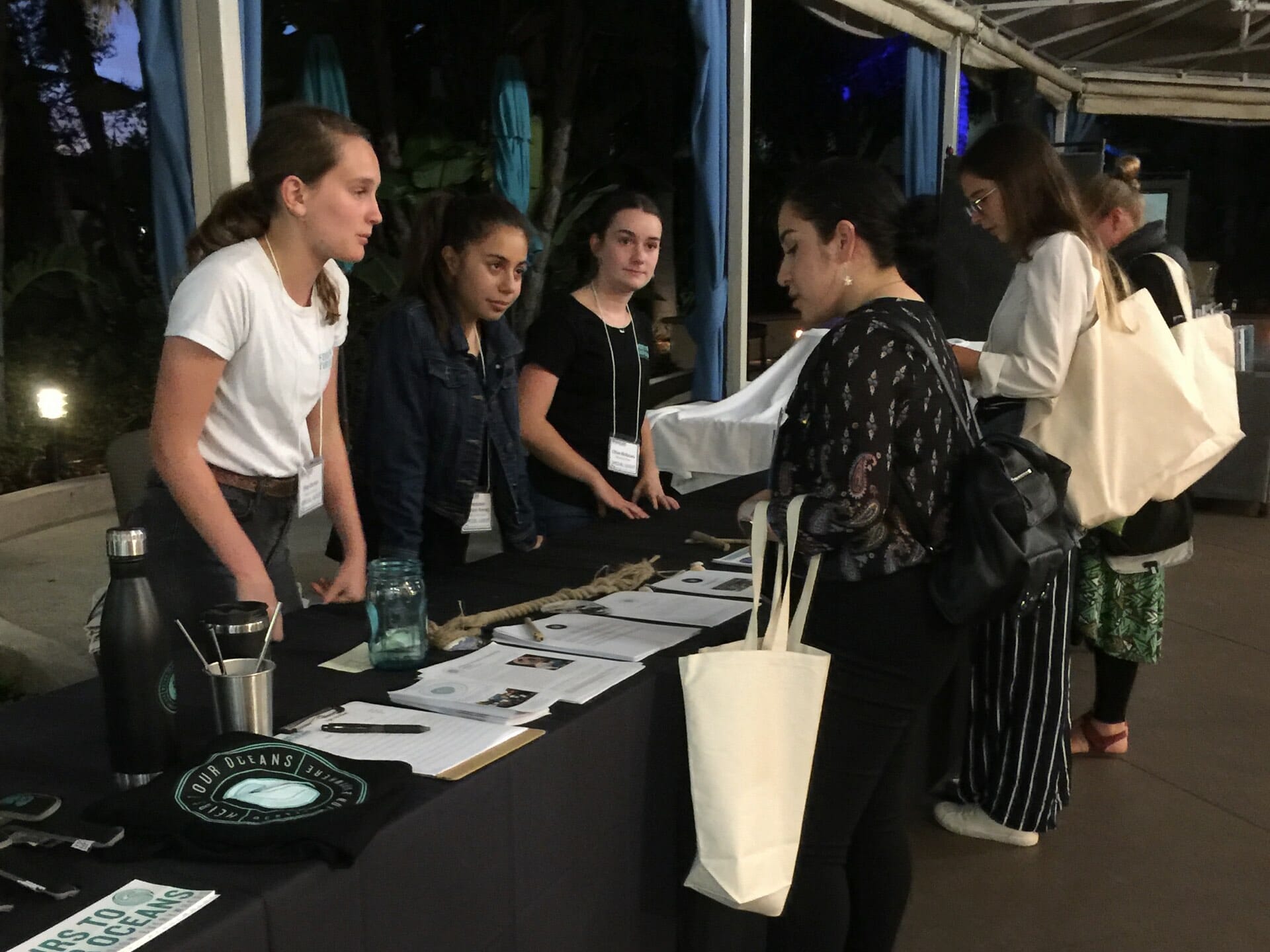 Wow was November a busy one! Heirs from the Pescadero and Orange County Chapters joined us in presenting at the American Cetacean Society's 16th International Conference in Newport Beach, CA.  Several Heirs presented at Marine Applied Research & Exploration's annual event in Marin County, CA, and at the Marine Mammal Disturbance Symposium in Monterey, CA.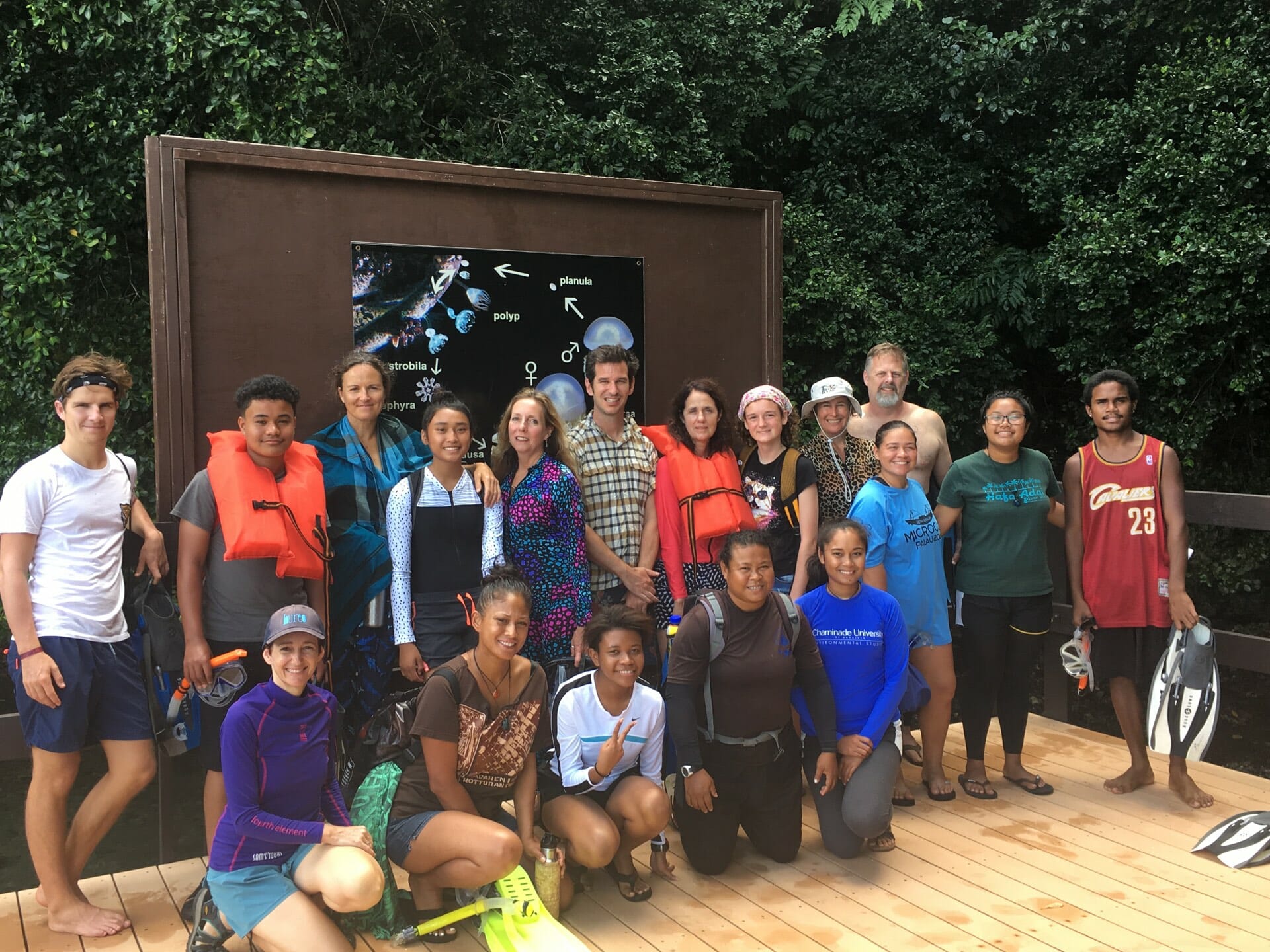 We teamed up with Oceanic Society, Plastic Pollution Coalition and Drifter's Project to host a plastic-pollution expedition in Palau.  We were very proud to have created the itinerary for the expedition! The intention of the expedition was to show how such excursions to far away lands as a vacation can be done differently:  To hear from the youth who will inherit the land tourists are enjoying and to consider the challenges their waters face. Both Palauan and US Heirs participated as hosts during a week of exploring Palau's waters guided by Palauan youth and processing the issue of plastic pollution.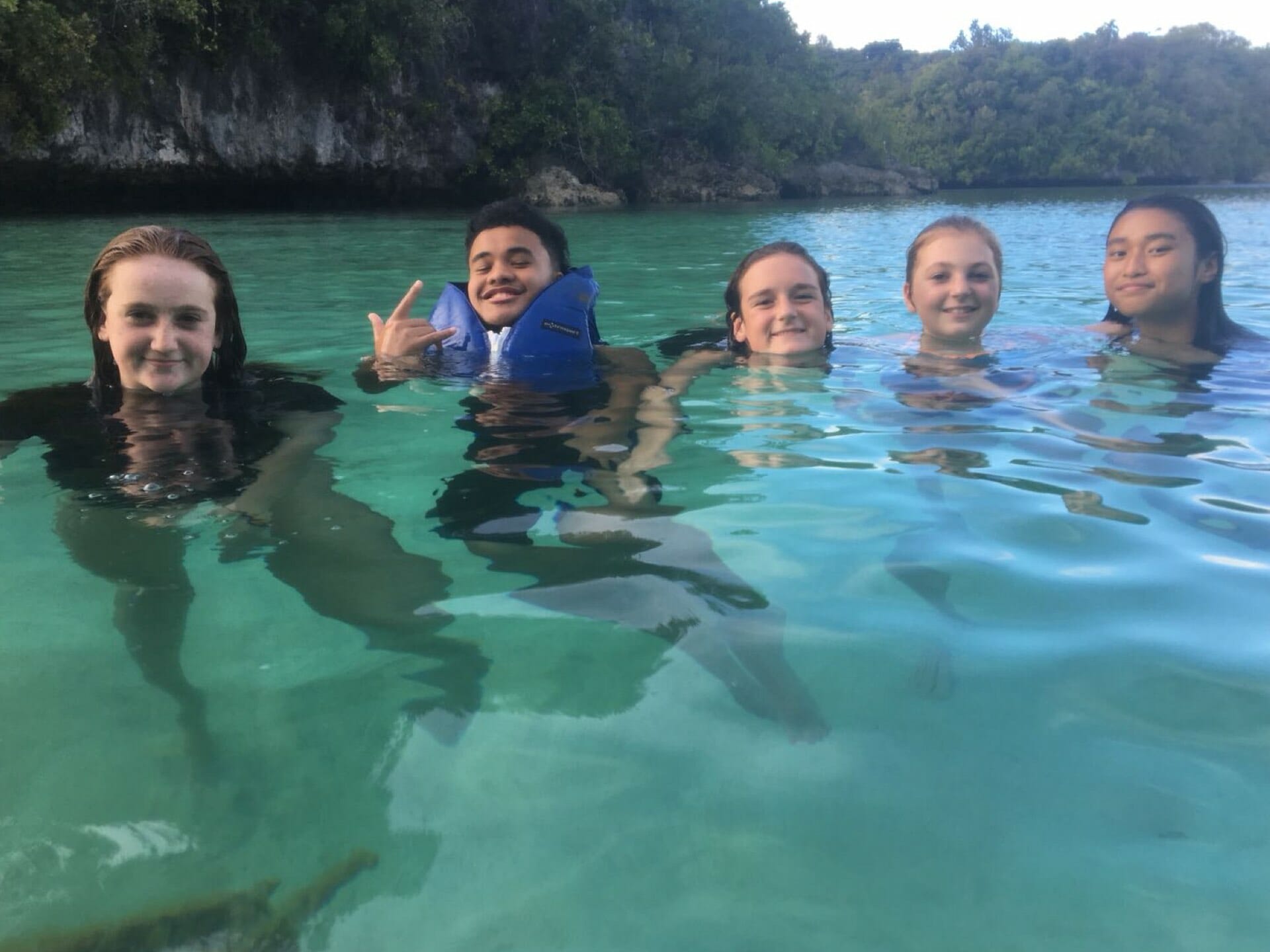 On the expedition we hosted two youth – a Filipina girl and a boy whose family is from American Samoa —  who attend an inner city school in San Francisco, Visitacion Valley Middle School, along with their Chamorro teacher.  Great connections were made inspiring us all.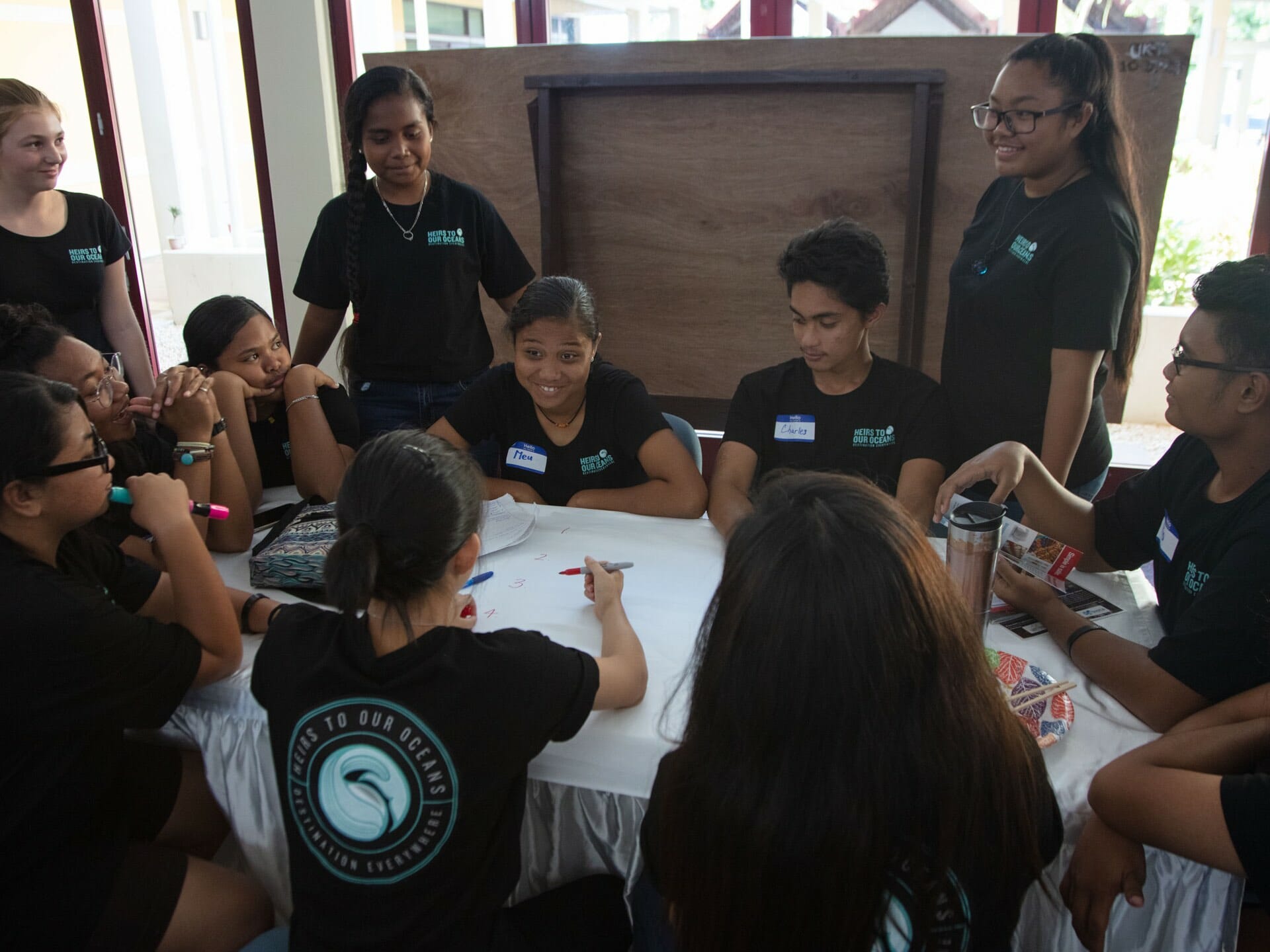 During the week we organized and hosted Palau's first Plastic Pollution Forum where many Heirs from around Palau and community leaders came together to discuss the problem of plastic in our natural environment and impact on future generations.  The solutions processing was marvelous! As Heir Olilai said, it was an empowering experience.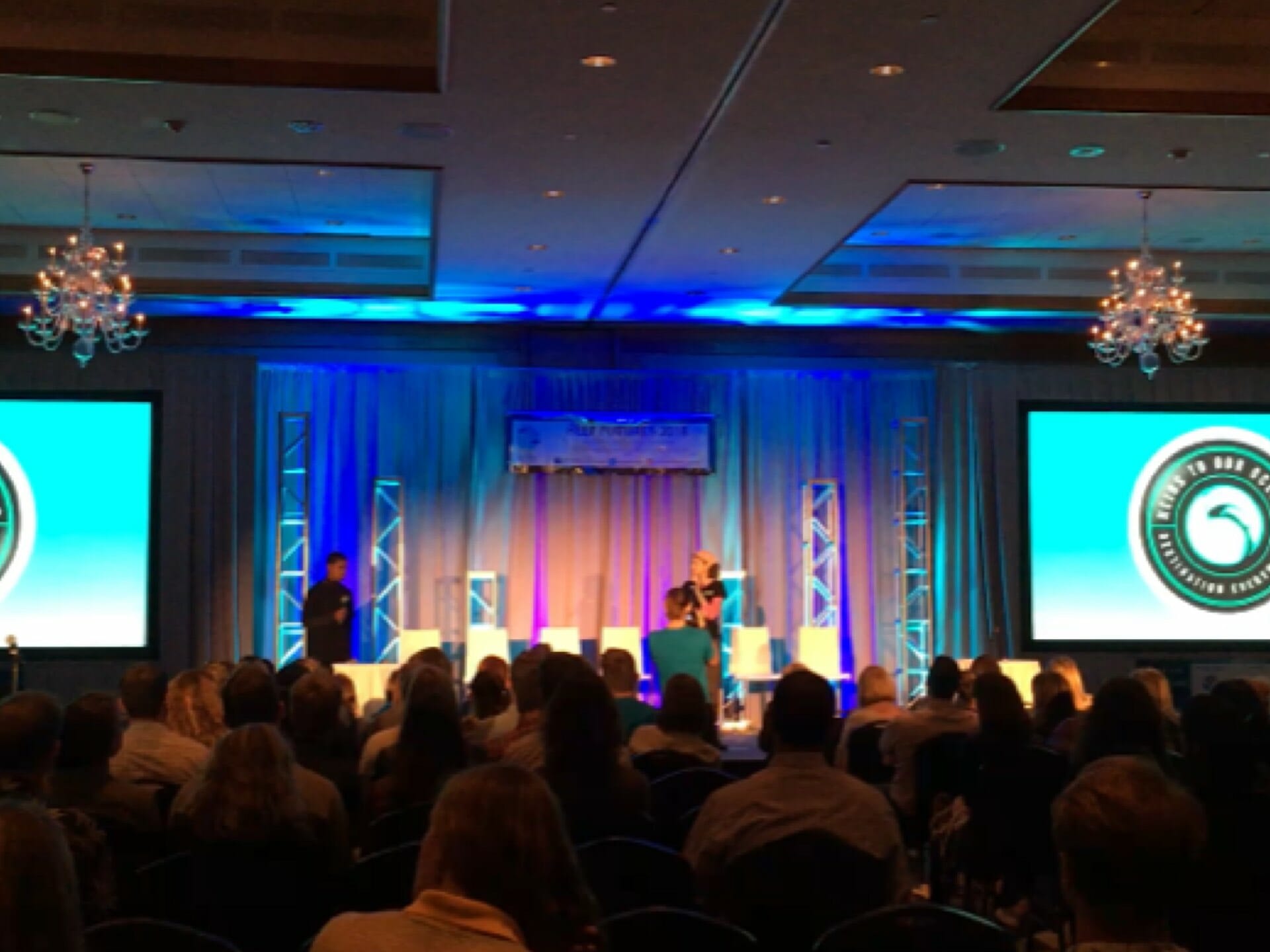 And then came December.  Heir Charley submitted a proposal to present along with Palauan Heir Blaine at the Reef Futures 2018 symposium in Key Largo, FL.  The proposal was accepted, and they presented 3 times: Once at a community engagement session, once at a youth workshop where a school was invited in for a day, and again during a plenary session to over 400 coral researchers where they talked about the important role of youth in coral restoration.  What a fantastic experience and great connections within the reef restoration science community!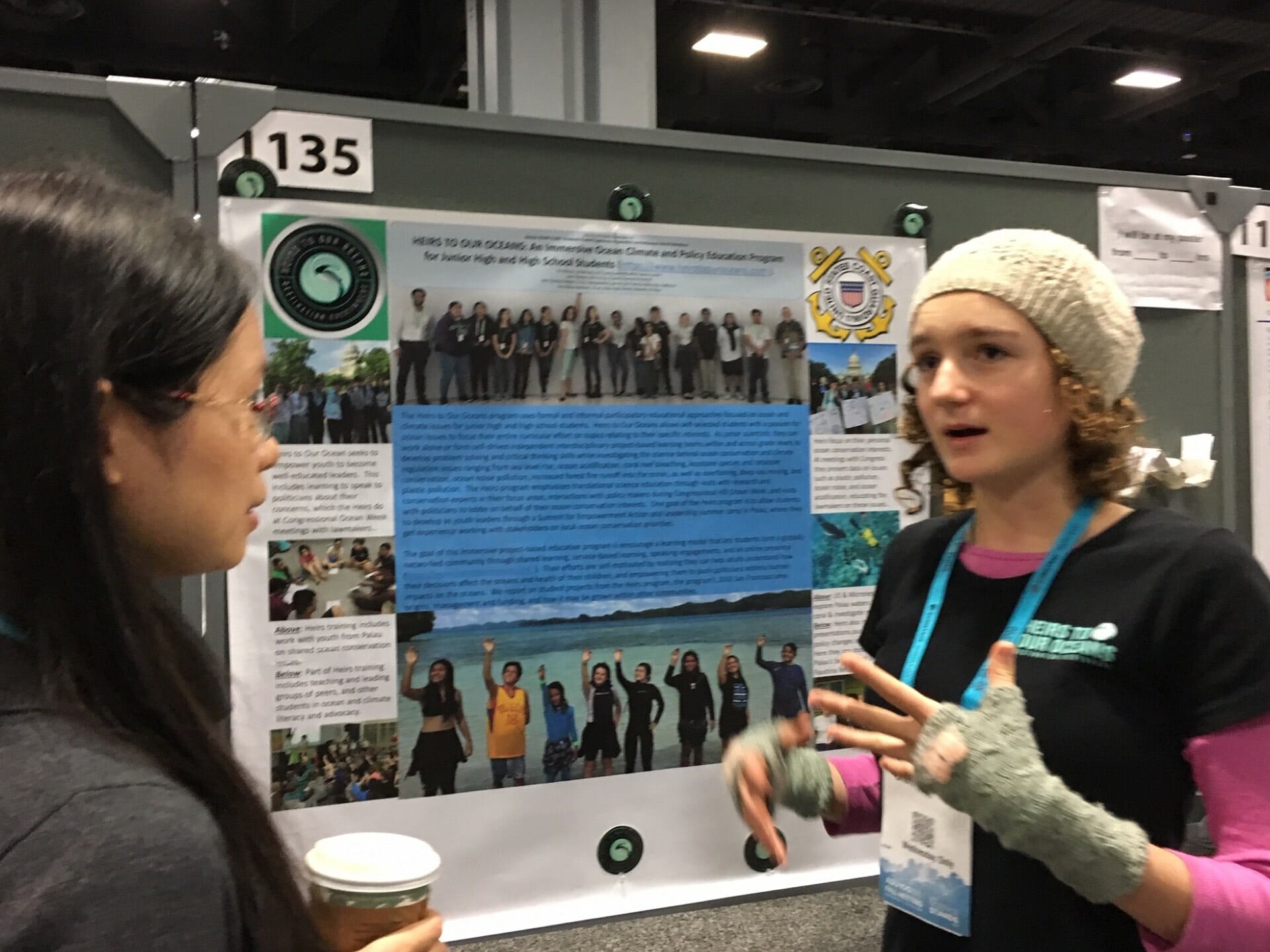 We, along with one of our expert mentors Dr. Phillip McGillivary, submitted a proposal to do a poster presentation at the annual AGU meeting on H2OO's learning model and education reform.  It too was accepted! We went to the conference in Washington DC where 24,000 science and education professionals met from around the world, and there we presented our poster.
Whew!  What a year. Again!   And we can't wait for what 2019 is going to bring our unstoppable H2OO movement.