By Uldekel Ililau, Palau High School, 17 yrs
The journey to Koh Tao, Thailand, this summer was very fun, exciting and adventurous. Not only did I have a good time, I learned a lot of very valuable lessons which motivates me even more to protect our oceans. Reef Ecologic's Coral Restoration Masterclass introduced me to some techniques to protect the ocean and its natural habitat allowing it to thrive and provide habitat for marine life.  We learned techniques to create our own artificial coral reef, attaching corals onto allowing them to it grow and repopulate. We used materials like ropes, nails, hinges, cement, and a type of paste to construct the housing for growing the corals. I feel that this is definitely something we can construct in my home as a project. It would be awesome to monitor it to see its growth over time. 
Through this hands-on class I was able to understand that there are many ways to protect the oceans and that there's always hope when it comes to drastic effects that those of climate change to our small islands.  As I was doing this work, I felt relieved and comforted.  
Having this opportunity in Thailand — in my training, in making observations, practicing new techniques, and working with professionals — has expanded my knowledge about the ocean and the importance of protecting it. I'm most thankful for Heirs to Our Oceans for allowing me to join this training.  I am excited to share the skills I have learned during this training upon returning to my island Palau and also share with the youth as well.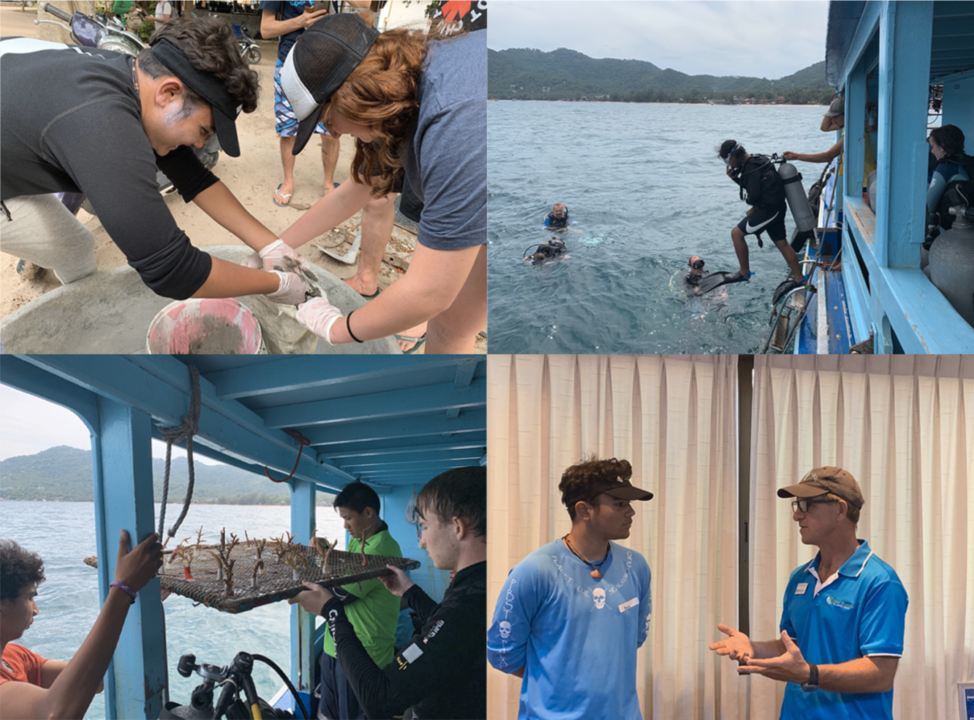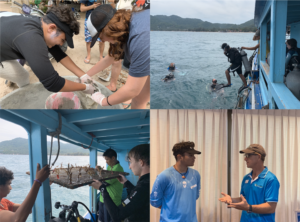 By Max Scott, Palau Mission. Academy, 15 yrs
During my trip to Thailand I along with six other Heirs from around the world took a masterclass in reef restoration taught by Reef Ecologic. During the course we learned about the reproductive cycle of corals as well as different ways to help boost the revival of coral reefs. I had the opportunity to take a look at different techniques that would be exceptional for use in Palau, one of these methods being coral reef nurseries. In a coral reef nursery, you have sets of coral fragments set in various positions to excel growth. Once the coral fragments have reached a certain size they are placed onto the reef and set in place to grow into large corals. Building nurseries provides a larger survival rate for the corals which, in turn, leads to a larger likeliness of all of the fragments surviving. 
With the opportunity to dive in Thailand came the saddening experience of seeing how dire the situations of other ocean-dependent countries really are, but I want to see it as a wake-up call for all countries because we all need a healthy ocean. It is our lifeline and without it we are nothing. Palau as a small nation needs to take a stand for its lifeline. As a youth as well as citizen of Palau I want my nation to be a role model for other countries to take a stand and save our ocean.
Setting up coral reef nurseries in Palau and spreading coral growth to places where the coral population has died down would help Palau before the problem of coral decline arises.  Also, communication about ocean issues is also very important. Being able to speak to people about the problems our oceans face is the first step to ocean conservation.
By Carlos Manuel, Palau Mission Academy, 16 years
I am so grateful to be given the opportunity of traveling to Thailand to learn coral restoration techniques with my fellow Heirs and other people who care about our ocean. Overall it was a really great experience. Throughout Reef Ecologic's course I learned many new things that we could do in Palau and how to help preserve coral reefs around the world. 
I was so happy that we were able to first learn in the classroom and then be given the opportunity to actually do the work in the ocean. We learned different techniques on how to properly plant corals to help restore a reef.  We also learned to collect coral data including their health, their sizes and how they are doing in their environment.  I learned that it's really easy to do and that we could do this anywhere, but the only thing that's preventing us to is the lack of resources. 
I think the best restoration technique that we could use in Palau would be the tray technique because we can easily install and maintain them and to also monitor how the corals are doing, and we have the locations to do it. Overall I'm really thankful for this once in a lifetime experience that was given to me, and no doubt I will forever cherish this memorable experience. And I will do everything that I can to help educate other people about all that I learned in this course and to help restore our beautiful ocean not just for us but also for our future generations to enjoy.