Luz Gomez, California
When I first arrived at Bioneers, I saw many young people that care about the environment. On the last day there was a workshop that I particularly enjoyed. It was a small group, so I did not feel shy talking to them. We talked about climate change and plastic pollution and how we felt about it. Everyone had similar feelings. Some of us live in a small town, where there is nature everywhere, but some lived in the city and were not that lucky. I met a third grade girl who spoke better than some adults I have heard present. She helped me remember that there is faith in the youth. She made me realize that YES, we are here and our voices need to be heard. And YES this is our planet, our mother, and we need to take care of her.
My favorite part of Bioneers was when a woman was reading the apology she always wanted to hear from her Dad, the man who sexually abused her for ten years. Her story made me tear up. I thought her speech was not going to get better, but it did. She apologized to Mother Earth, and her words stuck with me. "I am sorry, the bees that are dying…" and just like her I am sorry that us humans have made the Earth a place where ecosystems are dying, a place where the air is limited because of us, because many people value money more than their children's future. I loved the experience at Bioneers and hope to come back in the future.  It was truly a self-reflecting experience.
Laura Gomez, California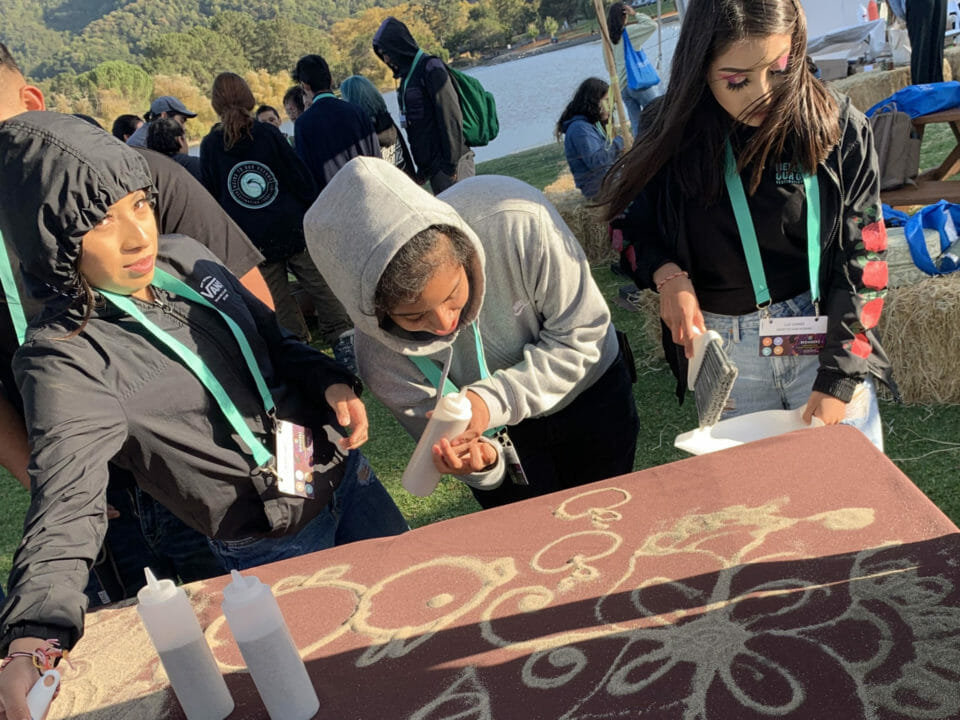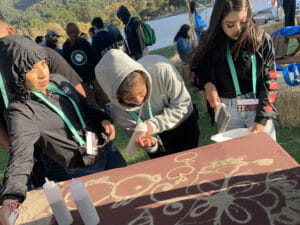 One of the things that struck me when I arrived at Bioneers was the amount of young people that demonstrated interest in environmental issues. I thought Bioneers would consist of the usual people at conferences that I frequently go to: white people. It was to my surprise that I saw people like me, brown people. I am grateful that many tribes could make it, so they could show us their wonderful view of life. I am grateful that I got to learn from different tribes, a bit about their culture since my indiega traditions died out a long time ago. I wish I could embrace my inner-Native more, but at the same time I am not sure what tribe I belong to, so being part of the indigenous workshop made me feel closer to my culture and the ways my ancestors lived.
One particular event that impacted me the most was a small group discussion. From there, I got to see other people's perspectives, solutions and issues on climate change. During the discussion my group got together and discussed how we can educate people. I was encouraged to start looking at the world differently, not only think about the animals, but also to think about the entire ecosystem. There were many ideas on the table and I am now ready to bring these ideas to my community.
I never thought that Bioneers conference would have a significant impact in my day to day life; however, I was wrong, and I am grateful that I had the privilege to attend this conference where voices of indigenous and young people are heard.
Miguel Mendez, California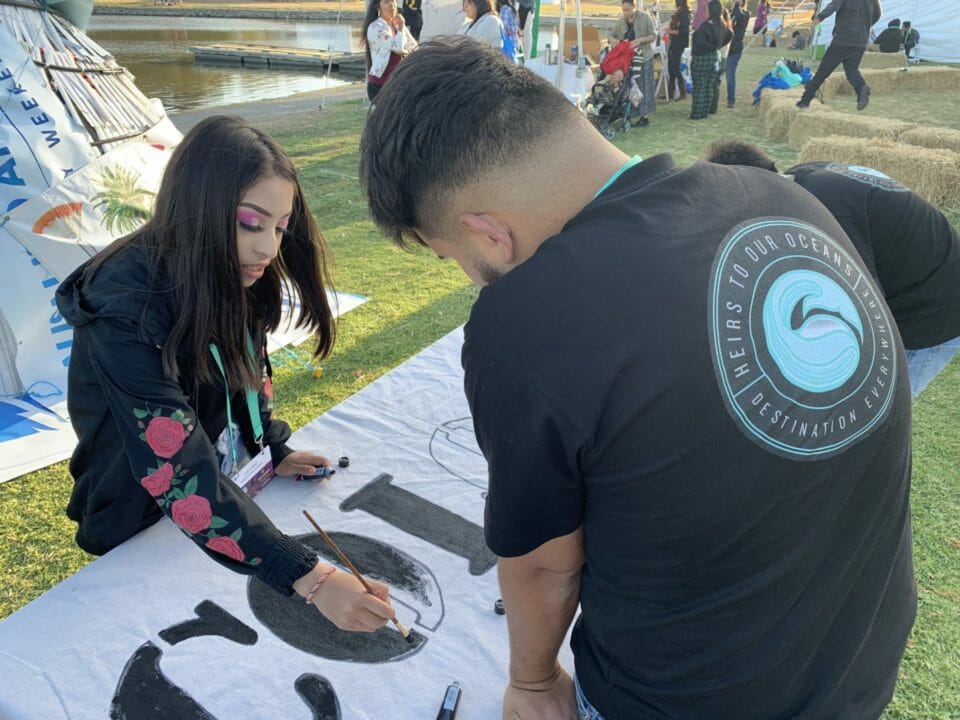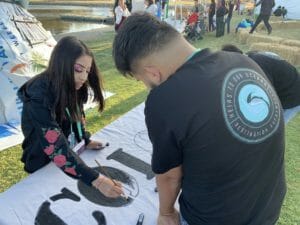 The most memorable part of Bioneers was when the speaker Jerry Tello spoke about his grandmother and the way our ancestors connect with the earth and how he communicates with his plants. I resonated with him on a cultural level, as I too share a Mexican identity and a strong grandmother figure in my house.
As he spoke, I have learned to appreciate the beans my mom makes. The time she takes to process, cook and season because they are made with love. I connect my identity to the food that is made at home and the traditions. The words and facts he presented about Mexican culture was very similar to my own.
My participation in this conference has helped me as an indigenous youth and water protector in the ways of showing love and respect to the humans who we share this earth with. Love, respect and kindness are what the earth needs and what every human needs on the planet as well. If we would have continued that since the beginning, the world would not be where it is now. In knowing this I will move forward in my life with love, respect and kindness as my guiding principles.
Cinthia Vazquez, California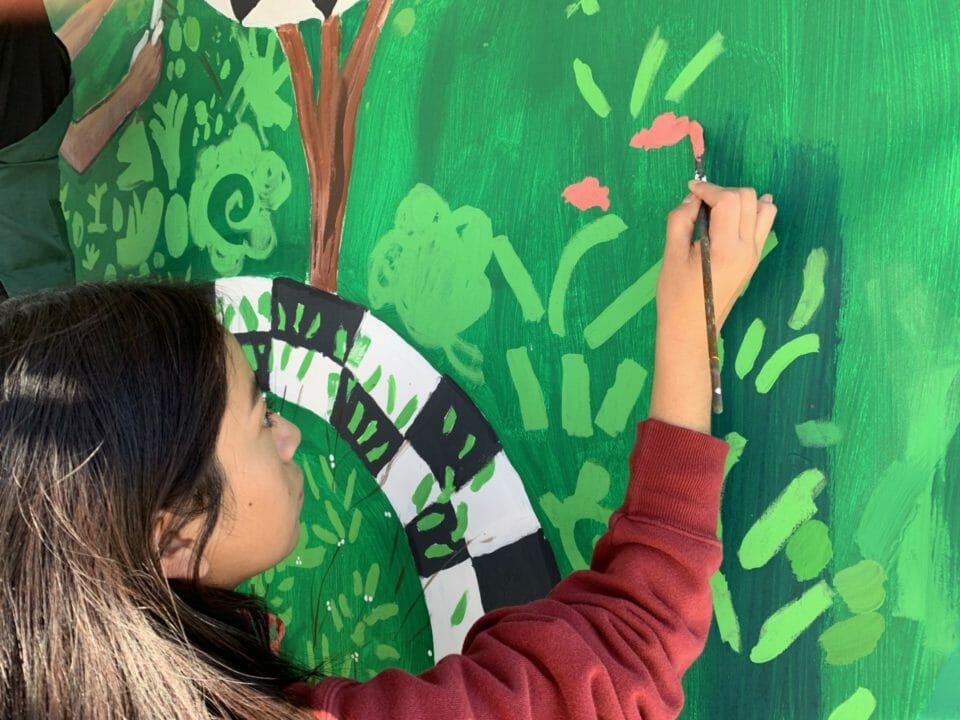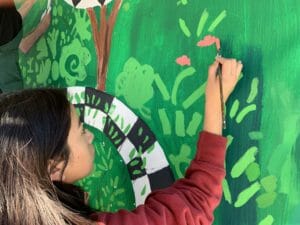 The panel that interested me the most was Isha Clarkes. I admire how she expressed environmental issues in low income communities clearly. I admire her also because even though she is young she is able to go on stage in front of hundreds and speak on behalf of the youth environmental activists.
I learned about environmental issues but also on issues like indigenous rights. Meeting people of my own origin and also meeting the indigenous people of the Bay Area is one of the things I am grateful to take away from this experience. Connecting and learning about them made this trip memorable. I enjoyed feeling welcomed by everyone and enjoyed hearing everyone's stories.
Someone important I met at the Bioneers Conference was Aurora who was building little rafts out of branches and leaves. She was building a floating island to clean the dirty lake full of goose poop and algae. The concept of the raft itself was interesting. It would float in the water while growing plants on top. Since the raft would be constructed with no dirt the plant would have to take nutrients from somewhere else. The plant would have to take the nutrients from the overgrown algae and geese poop in the water, cleaning the water. I think she could help lead Pescadero Heirs on building rafts like that for our contaminated waters near us.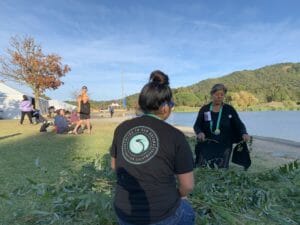 Aliyah Lechad Tadao, Palau
Originally growing as a Pacific Islander on the island of Palau, I have never been so touched spiritually and emotionally than I was at Bioneers! Walking around the conference I came upon a tent that had a table. On the table they had bottled sand that you would pour on the table to create art. I later went walking around to discover these beautiful sculptures and the tiny houses were so cool! One of the people there that stood out for me was Paloma. She was one of the staff that conducted the youth activities. One of the best parts was when she made us go into a circle and chanted these words, "I am the sun, I am water, I am love, We are love." Then she snapped her fingers while she whispered sweet words in our ears. I never felt so loved and emotional at the same time. For once I realized what was surrounding me.  Spending time with her and making friends with the youth was unforgettable.  Isn't it great to discover that there are other youth just like you with the same passion for all these worldly issues? How great is it to be talking with the same purpose and good intention for things that need to be spoken for?
As a youth, creating art is one of my interests. The mural painting activity was therapeutic, I was so happy on the outcome of the painting. With so many helping hands from a variety of ages and colors it radiated so much meaning behind it. My highlight and favorite activity was to help Monique and Aurora set up their freshwater float converter! I was honored to be the one to have the rope of the float as we set it to float on the Lake the next day.
As an Heir to Heirs To Our Oceans, youth leadership, passion, creativity, and originality is what I acclaimed from this event. I want to go home to spread new ideas and topics to be discussed with government officials and decision makers. It gives you hope and regenerates motivation to fulfill the purpose. I look forward to more events like this!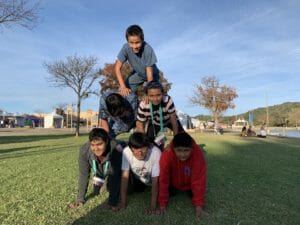 Luis Miguel, California
At Bioneers I saw a lot of indigenous people and people of Mexican identity and people of color.  At the conference I learned more about how non-Native people have pushed indigenous people off their land.  That makes me angry and upset that they are losing their land and have been set aside for hundreds of years.  They have even been killed for their land. Non-Native people are going into Native American land and destroying sacred land.  They're mining and getting oil from Native's land.  An example was in San Francisco there was a sacred statue/place that non-Native people destroyed. They built a road and covered this sacred place. There are many more but this was an example that stands out for me.
My favorite speaker was a Latino guy who told his life story. I could relate to what he experienced and what I am experiencing as I grow up. There were many good speakers that spoke; It was a great experience. Another one that stands out was a presentation in the rainforest in brazil. The wild fires that are burning the rainforest, The fires are not by the sun. The fires are intentional there being set up by people on purpose. The rain forest produces more than 20 percent of our world's oxygen. The government is ordering people to burn it down because they want more land. They are killing animals' habitats. Bioneers taught me a lot of stuff I didn't know. Stuff about what's happening around the world and how people are trying to fix it before it's too late. That motivated me to get involved more in my community.
Attending the Bioneers conference was a great trip.  I would definitely go next year.
___________________________________________________________________________
Heirs To Our Oceans is immensely grateful to Dr. Alexis Bunten and the Bioneers Indigeneity Program for sponsoring 7 indigenous Heirs to attend the Bioneers Conference and for including all 12 participating Heirs in the Indigenous Youth Program.
Also, we are greatly thankful to our donors. Through your donations indigenous youth have opportunities such as this to further inspire them as they process their connections with each other and their natural environment and develop empowerment skills and confidences.