2019 NEWSLETTER 
Tis' the sea-sun for reflecting upon a fin-tastic year for Heirs To Our Oceans!
Our waves would not have been possible without supporters like you, so kia ora,kwe emmal, sulang, gracias, obrigados, danke, merci, thank you from wherever we are in this world we share.
What tides were had in 2019? Read on! And this is just the tip of the iceberg of our action and efforts these last 12 months.
Please give us a push into 2020. Our plate is already fully loaded with opportunities and possibilities, and you can ride next year's tide along with us.
Read on to learn what we've focused on this past year.
---
Pushing for Solutions to Non-Point Source Pollution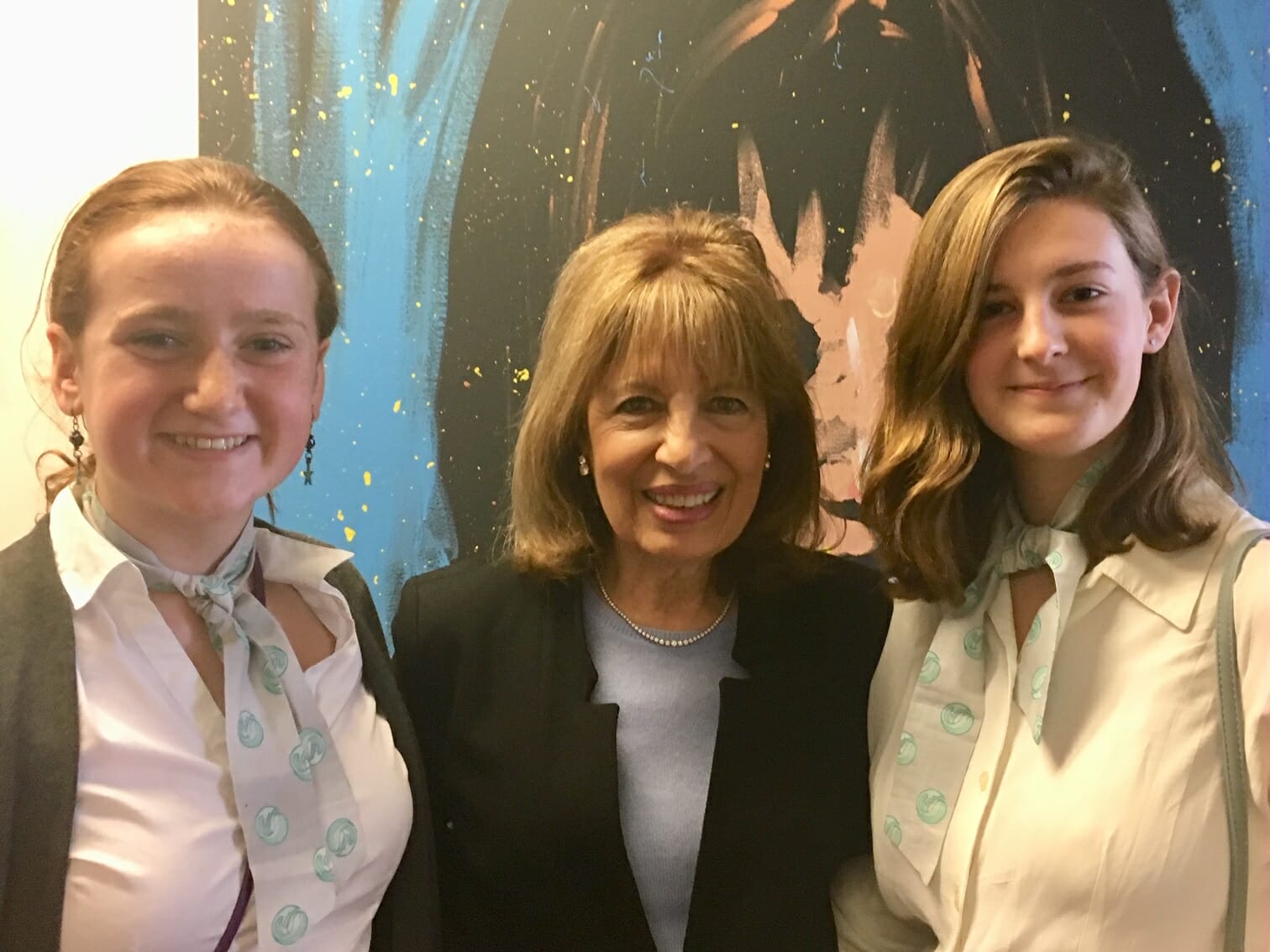 Heirs Dakota Peebler and Aislinn Clark, California
The H2OO Fertilizer Initiative has been very busy this year making big splashes with policy! In February, we spoke with Emily Woodward from U.C. Davis's Russel Ranch and other experts about sustainable methods of fertilization to prepare to talk to legislators about our big ideas — regulating significantly the amount of fertilizers used in California to prevent land-sea pollution and harmful algal blooms from affecting our coastal waters, marine life and drinking water. In the coming year the warming waters of the climate crisis are only making matters worse.
March was a busy month. To start, we met with Jackie Speier, our national Representative, about the impact of chemical fertilizers on marine ecosystems and human health. She said that we were 'sounding the alarm' about this important and often overlooked issue. A couple of weeks later, we participated in Oceans Day at our State Capitol where we created an infographic about the issue to share with seven State Assembly Members and Senators as we discussed our Initiative and how they can support it. All of them were incredibly receptive to the idea. Next, we attended the Ocean Protection Council's MPA workshop where we learned more about how MPAs could include regulations controlling water quality and chemical fertilizer runoff. Additionally, we connected with Matthew Dumlao, the Environmental Policy Director for the Lieutenant Governor's office, and Michael Esgro, a leading member of the OPC's MPA team.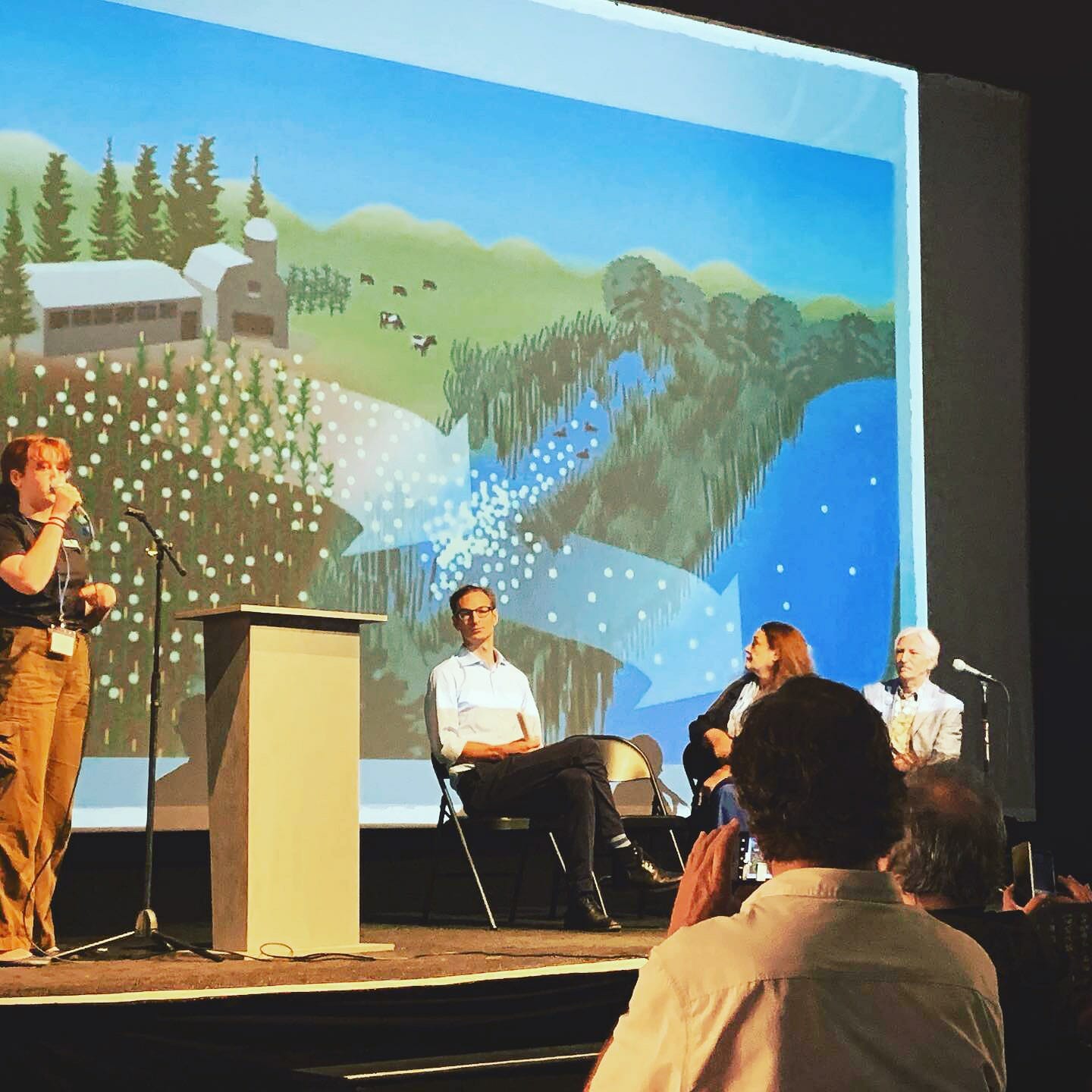 We gave a public comment on the OPC's 5 year strategic plan after reviewing it, asking for more immediate action and incorporation of policies protecting against nutrient pollution at the source.  To conclude our year we advocated around this issue. Heir Shay presented to the San Mateo County board about the impacts of chemical fertilizers in her community of Pescadero. Heir Dakota presented at the Soil not Oil conference in San Francisco about the issue of chemical fertilizer use and our the goals of the Initiative. As the Initiative builds steam, Heirs from our Pescadero chapter have become more involved, even taking leadership roles in this Initiative. Moving into the next year, we will be filing an amicus brief in support of the Eastern San Joaquin agricultural order, petitioned by Steve Shimek of The Otter Project.. We're looking forward to supporting this order and further driving our government to acknowlege the severity of the Harmful Algal Blooms in our waterways.
---
H2OO Hair and Body Potions!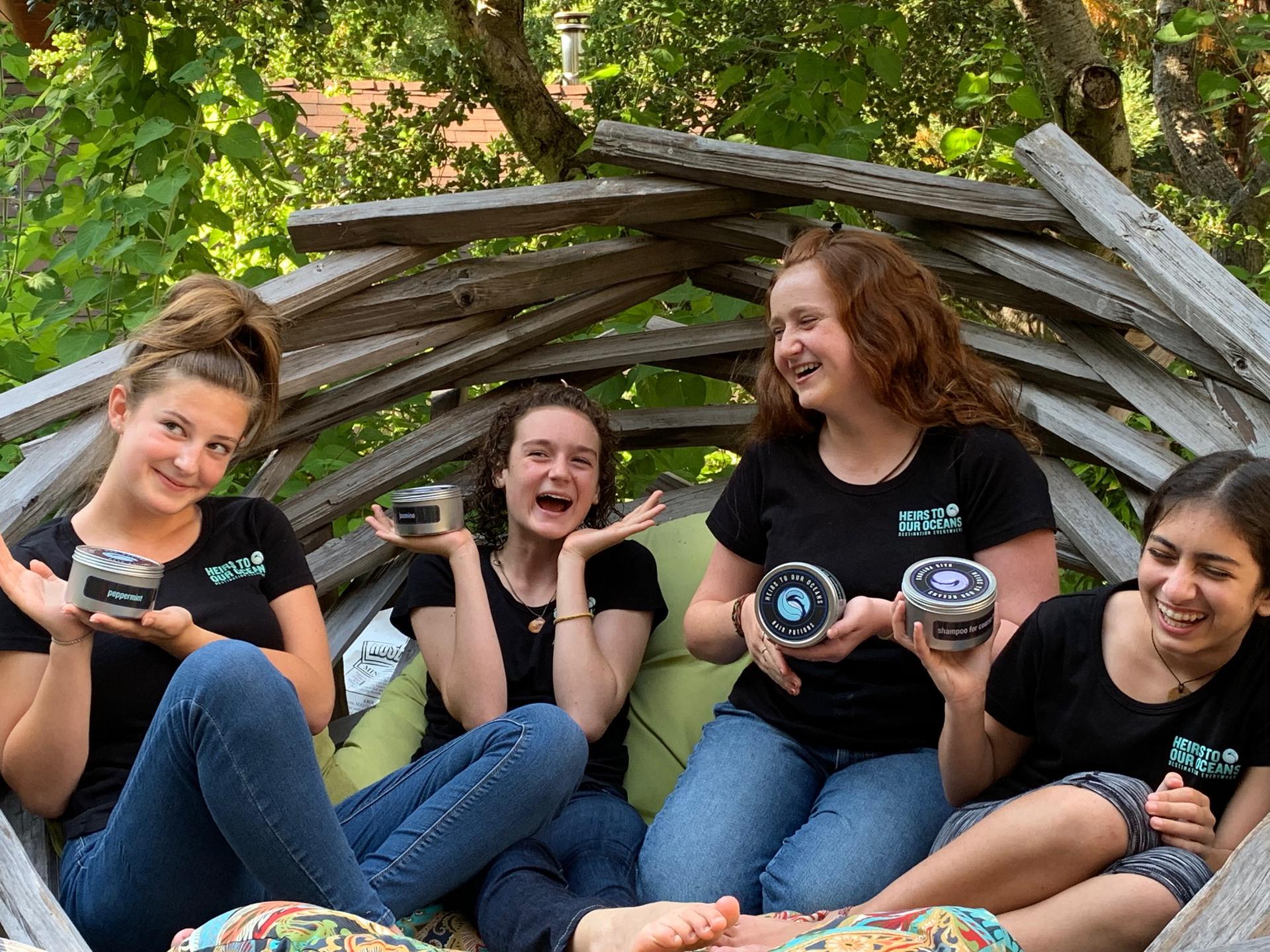 Heir Charley Peebler, California
Heirs Aislinn, Dakota, Heidi and I worked together over the last school year to make a plastic-free, all-natural shampoo that is better for us and the environment. We started by testing shampoo formulas and eventually created our own formula. We tested our product on ourselves and our families and continued to refine our formula so we could make sure we had a good, healthy product for the world.  We finalized our shampoo — one for fine hair and one for course hair, each available scented with peppermint essential oil or jasmine essential oil — in May of this year.  Our H2OO Hair Potions got accepted into a plastic-free and all-natural shop in Pescadero, California — Pescadero Essentials!  Stop in and buy some if ever you're visiting Pescadero — funds raised by our Hair Potions go directly to SEAL.
---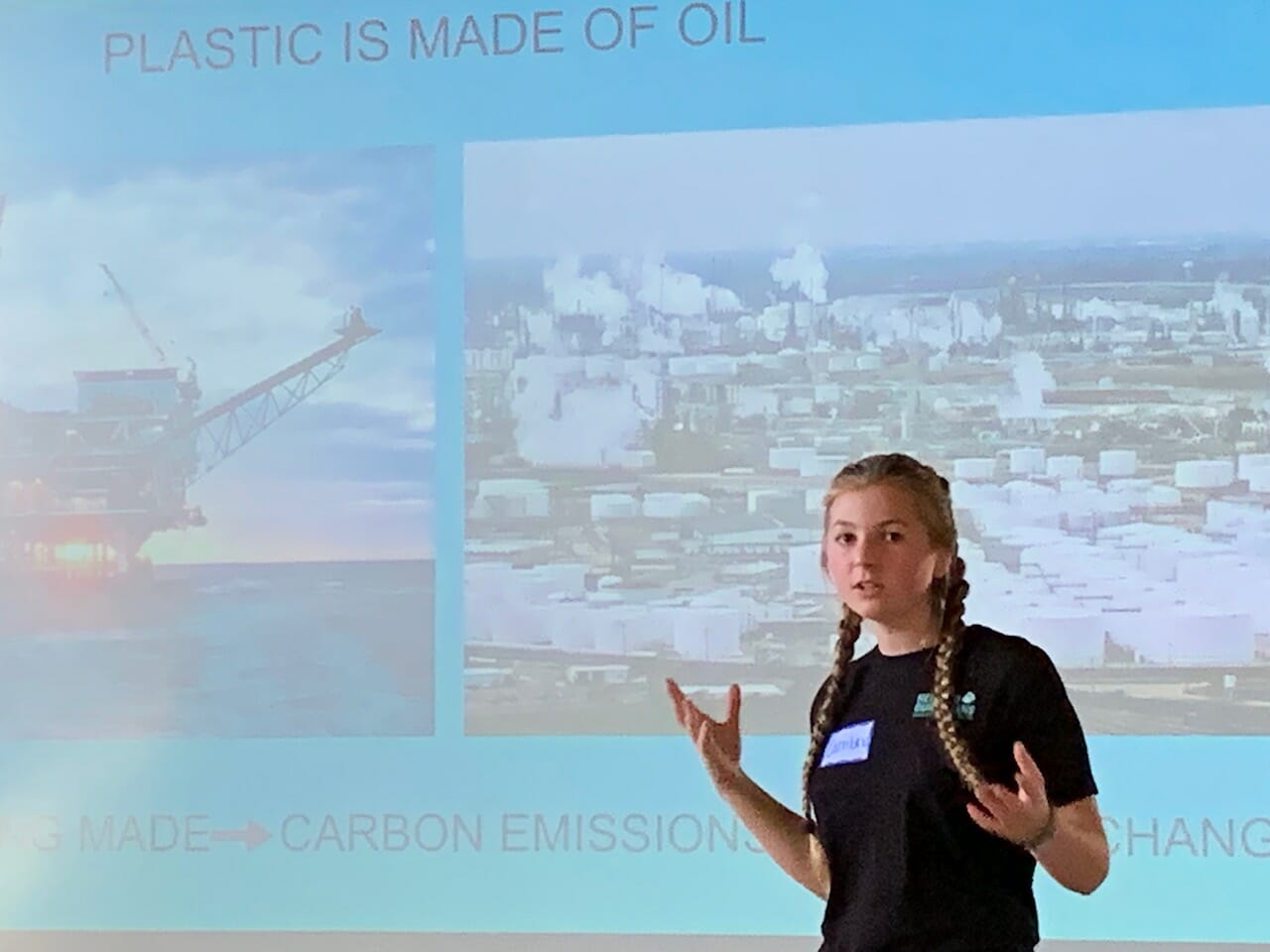 Heir Cambria Bartlett, California
Climate change is one of the biggest issues we are facing today. Plastic, a material that fills our daily lives, is contributing to this crisis. Many people are aware of the numerous negative ways in which plastic is impacting our oceans. But plastics have another hidden threat: climate change. In this way, plastics are a human health crisis and a human rights crisis.  Four major petro-chemical plant fires occurred in Texas this year. Fires like these have a direct negative human health impact on the vulnerable communities who live in the areas.
How are plastics contributing to the climate crisis? Plastics are made from fossil fuels and contribute to climate change from cradle to grave. Extracting fossil fuels from the earth and transporting them releases huge amounts of greenhouse gases into the atmosphere. The refining and manufacturing process is also full of emissions that contribute to the climate crisis youth are inheriting. Plastic production is predicted to go up, and with it, so will emissions released into our atmosphere and into our planet's water system. Plastics add to the climate crisis and directly impact human health throughout their existence.  We Heirs are always working to connect the dots between issues like plastics and the climate crisis including impact upon communities that are most heavily impacted by anthropogenic impacts.
We recognize that one of the most crucial solutions to the climate crisis is educating and empowering all youth. Heirs learn in a project-based way. We are out in the field talking with scientists, leading and participating in workshops, and practicing thinking critically about what we learn. With this knowledge we can engage in shared-learning with other youth, inspire others to learn about impacts on their ocean and waterways, think critically and work towards real world solutions for the world we are inheriting.
---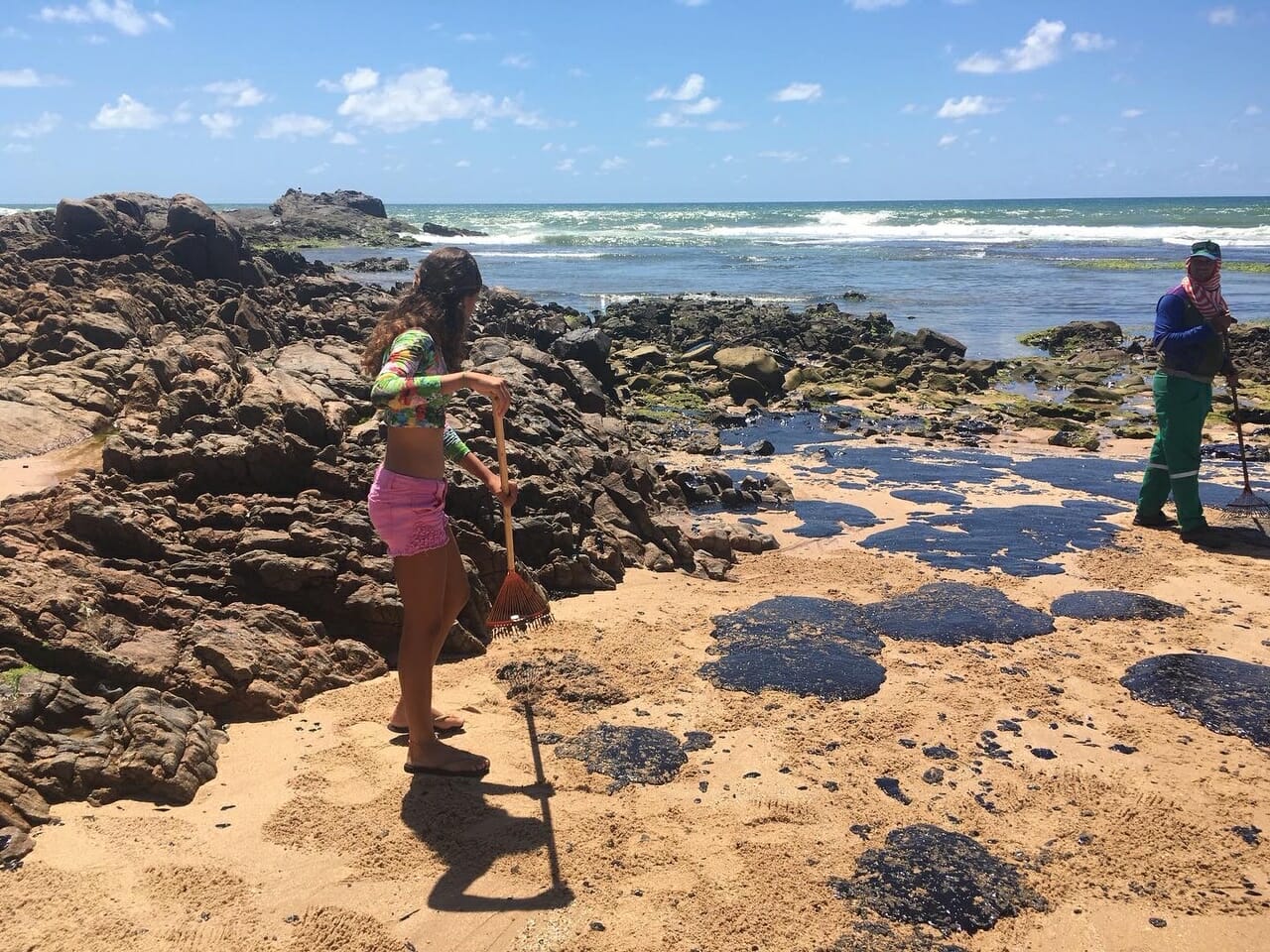 One by one, the golden beaches in northeastern Brazil have begun to turn black. Thick clumps of oil have been washing ashore since late August, killing marine animals, threatening the livelihoods of coastal communities and tainting 2,500 kilometers of coastline spanning nine Brazilian states. Once-pristine beaches now look like something resembling a Rorschach inkblot test, and the complex root systems of carbon sink mangrove forests have become polluted mazes. This oil spill is one of the largest environmental disasters in Brazil's recorded history — and for months, no one knew where it was coming from.
Heir Catarina Lorenzo, Brazil
We don't know where this oil is coming from, but we know that it is causing a tremendous environmental disaster. Oil is blanketing the North-eastern Brazilian beaches. There are people that are taking action, like myself and the Guardiões do Litoral, a group that formed in response to the spill. This group gets together to clean what they can of the oil from the beaches and also provide clean up materials to people that need it. The government of my city, Salvador, has taken action on its own beaches, contracting a clean-up company, LIMPURB, to clean what they can of the oil. This has proven to be a daunting task as each day more oil piles back onto our beaches.
I am always doing my part in different ways. I have started monitoring the beaches to see if they are being affected by the oil or not. When they are, I alert the Guardiões Do Litoral, local groups of people and the local government to come together and clean we they can of the oil. Also, I am spreading awareness of the extent of the damage through social media. I give what I can of the materials necessary to clean up the oil, principally those beaches that need the most help.
---
Reflections from H2OO SEAL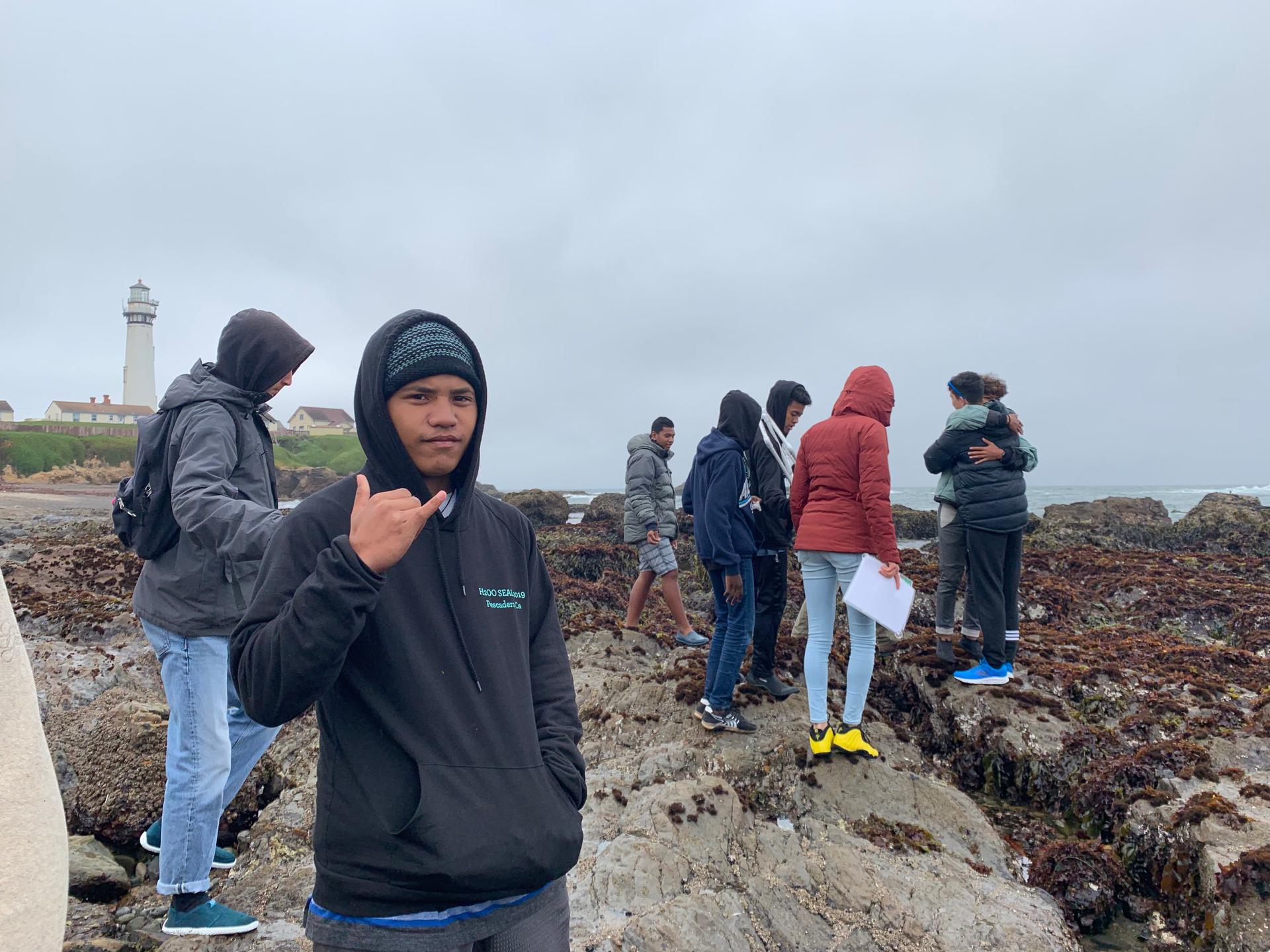 This year our annual two-week international intensive Summit for Empowerment Action & Leadership (SEAL) was held in Pescadero, a rural agricultural community located on the beautiful coastline of Northern California.
Heir Ranton Anjain, Marshall Islands
Attending SEAL 2019 was really hard, and I did learn a lot of new things. I made new friends who are passionate about saving OUR ONLY PLANET. Being at SEAL 2019 was an experience I will never forget. I learned how to be an effective leader, a brother, and built confident.After returning to my school, Xavier in Chuuk (in Federated States of Micronesia), I created an Heirs To Our Oceans chapter. My friends have joined me and we having gained our principal's approval,  we will be doing a lot of activities that will help transform students into leaders.
Heir Carlos Manuel, Palau
I have been a part of Heirs to Our Oceans for 4 years now and it has been a really great experience learning about the issues that our planet is facing and working with youth who share the same passion as I do: protecting our blue water planet and working to restore and preserve its beauty.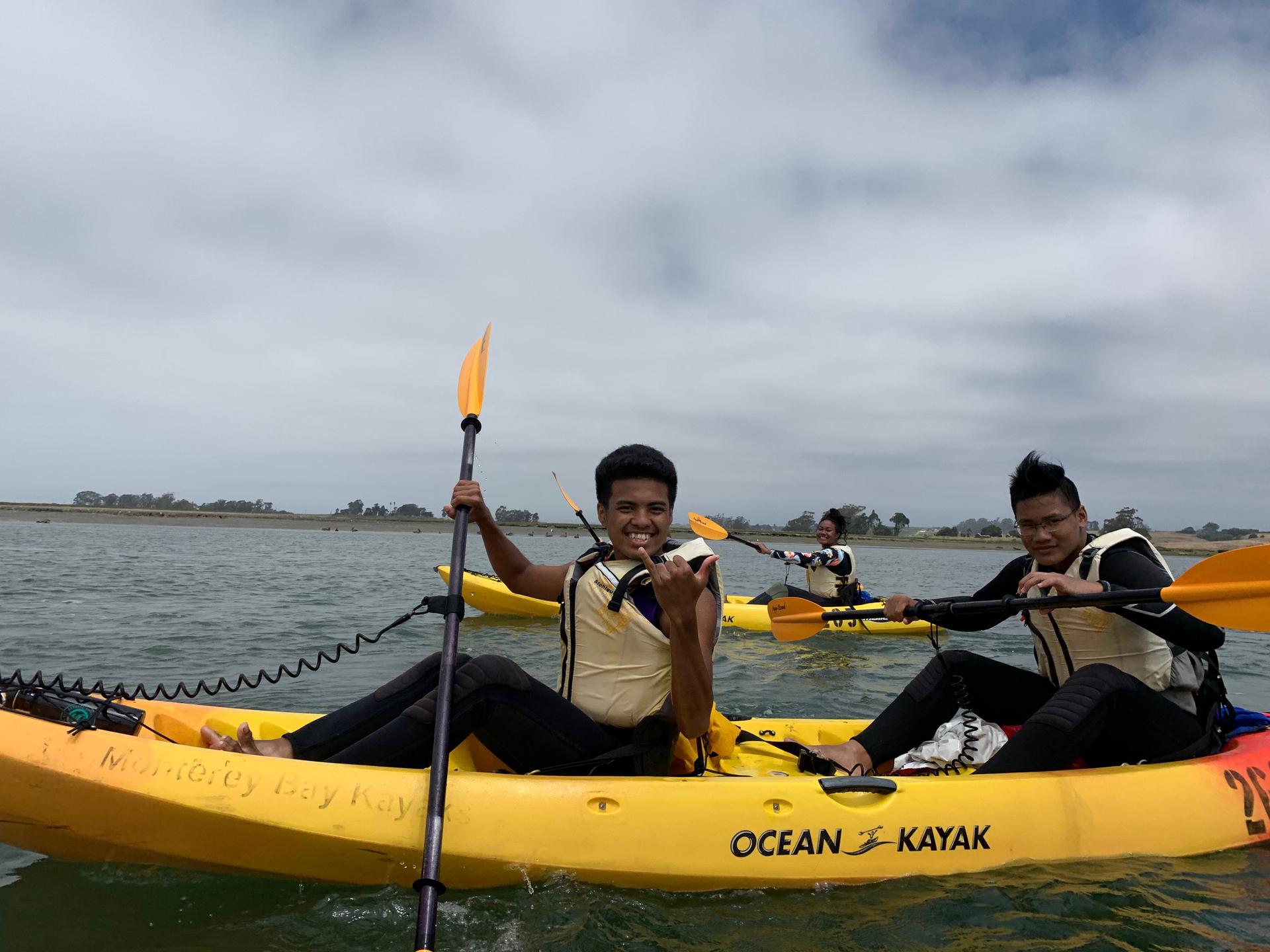 SEAL 2019 was one of the most memorable experience that I've had in my life to date. I was able to work with youth from different places around the world, learn about their cultures and how climate change is affecting their countries, and most importantly learning how to work together as a team.
After SEAL 2019 we established the first H2OO Leadership Council here in Palau. I am currently one of the members and we work together as leaders for our school chapters and plan future activities that we will do as a collective, not just with our individual school chapters. So far we have conducted 2 beach sweeps + brand audits as a group.
Back at H2OO Palau Mission Academy, my school chapter, we recently facilitated a Plastic Free November challenge where we challenged all the students and staff to participate to help reduce their use of single-use plastic.  Ultimately we want to ban single-use plastics here in Palau.
Overall, my experience of being an Heir has been memorable. I'm very grateful for all of the people who have given me so many opportunities and helped me connect with youth from different places around the world who are also passionate in trying to protect our blue water planet, not just for ourselves but for future generations as well.
Heir Baylee Ashby, New Zealand
Attending SEAL in California was the first time I had ever left my own country, or even stayed away from home for so long. It was a really exciting opportunity. At school and with my whanau (Māori-language word for extended family) I learned how important the evironment really is and that we should work hard to protect it. The environment is a part of who we all are.  I was really interested to also see what other youth were doing.
At the Summit, we were busy each day with fun activities. I enjoyed learning about other cultures and their practices, especially about how they look after the environment. We were all one whanau at SEAL, and it was important for us to flow together and trust one another. I met some really cool people from other countries, and I still remain in contact with them today.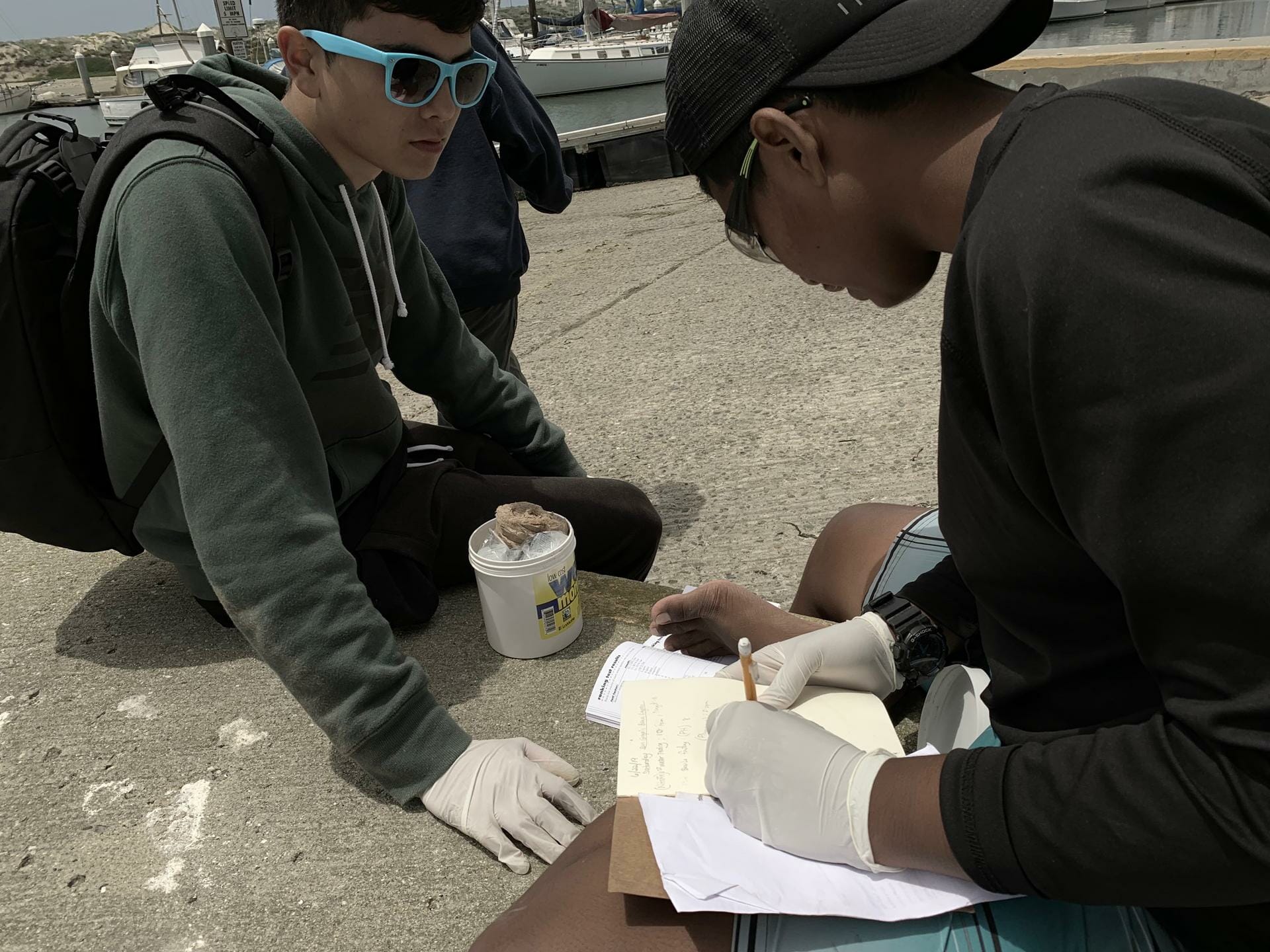 There were so many new topics that I was learning about for the first time and I discovered that I need to concentrate more so that I can retain all of this information. I was really blown away by the knowledge that other youth shared about our impacts to the environment. I found this really inspiring, and it encouraged me to want to do more about the climate crisis and to remain connected in this learning.
I am thankful to my whanau and everyone that supported me and helped me fundraise to be able to take part in this opportunity. When I returned to New Zealand and with the support of Yani, my teacher and SEAL counselor, I helped create a Kaitiaki group which aims to bring together other youth in my area to look at ways that we can protect our local environment.  So far, we have completed a beach sweep with more to come.
---
Children vs. Climate Crisis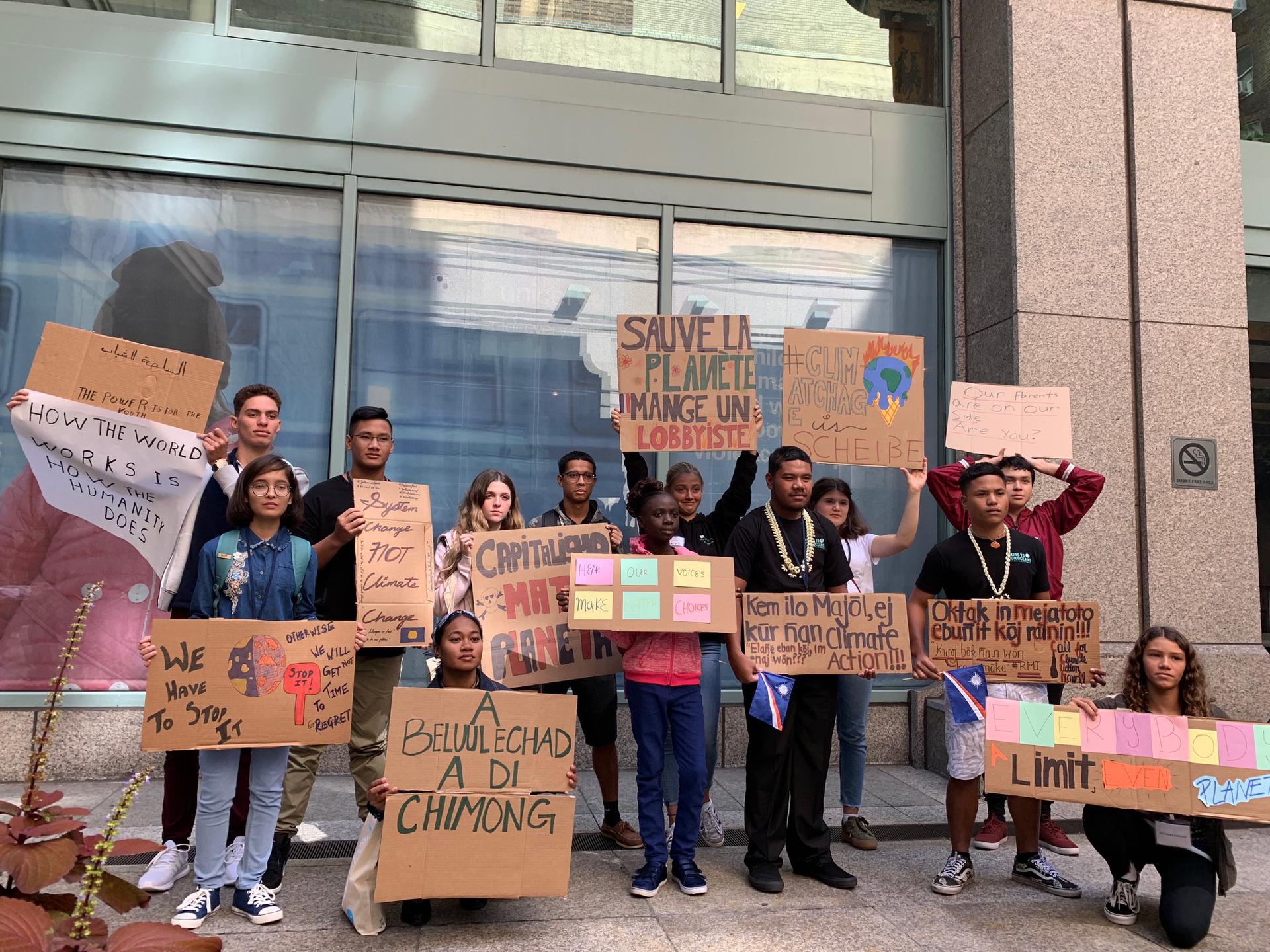 Sixteen youth from around the world filed a Petition against the 5 worse emitting countries that signed onto the "Optional Communication" of the ratifying Member States of the United Nations' Convention on the Rights of the Child (UN CRC) holding some of the world's leading economic powers accountable for their continuing failure in meeting carbon emission rates that will reach no more than a 1.5 degree celsius average global temperature increase (from 1972 baseline temperature) and for the damages the youth are suffering.  Ten of the youth were of Heirs To Our Oceans.  Here are some of their stories: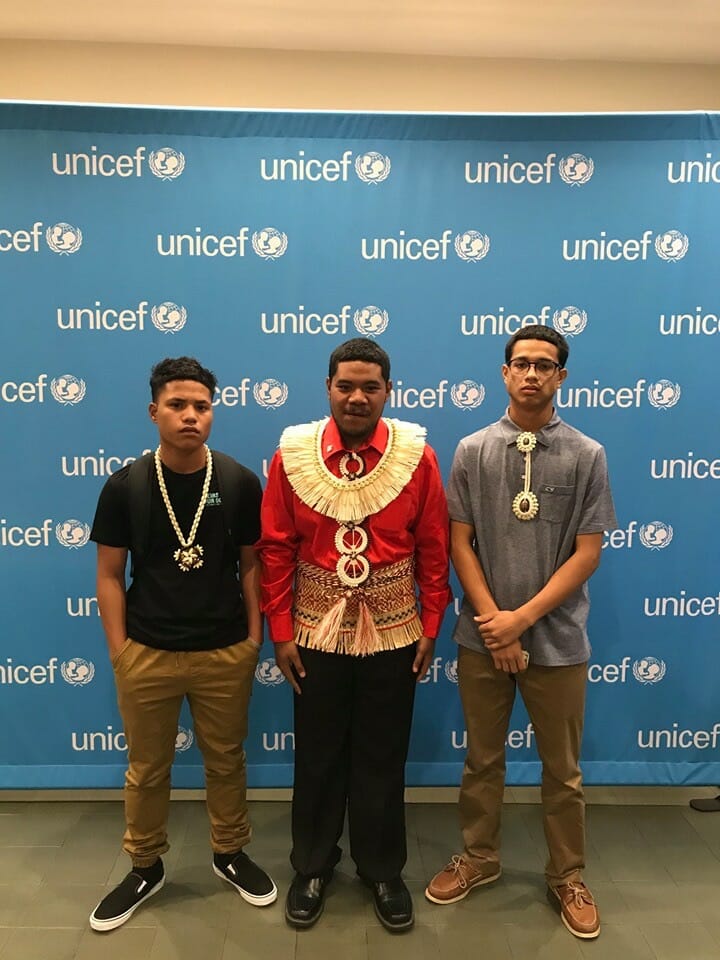 Heir Litokne Kabua, Marshall Islands
My home, the Marshall Islands, has been experiencing a lot of changes due to the climate crisis. My home is a low-lying coral atoll which consists of small islands all of which are really struggling in the fight at the front line of the climate crisis. Tropical storms, droughts, rising seas, dengue fever all contribute to our fear of the increasing impacts of the climate crisis.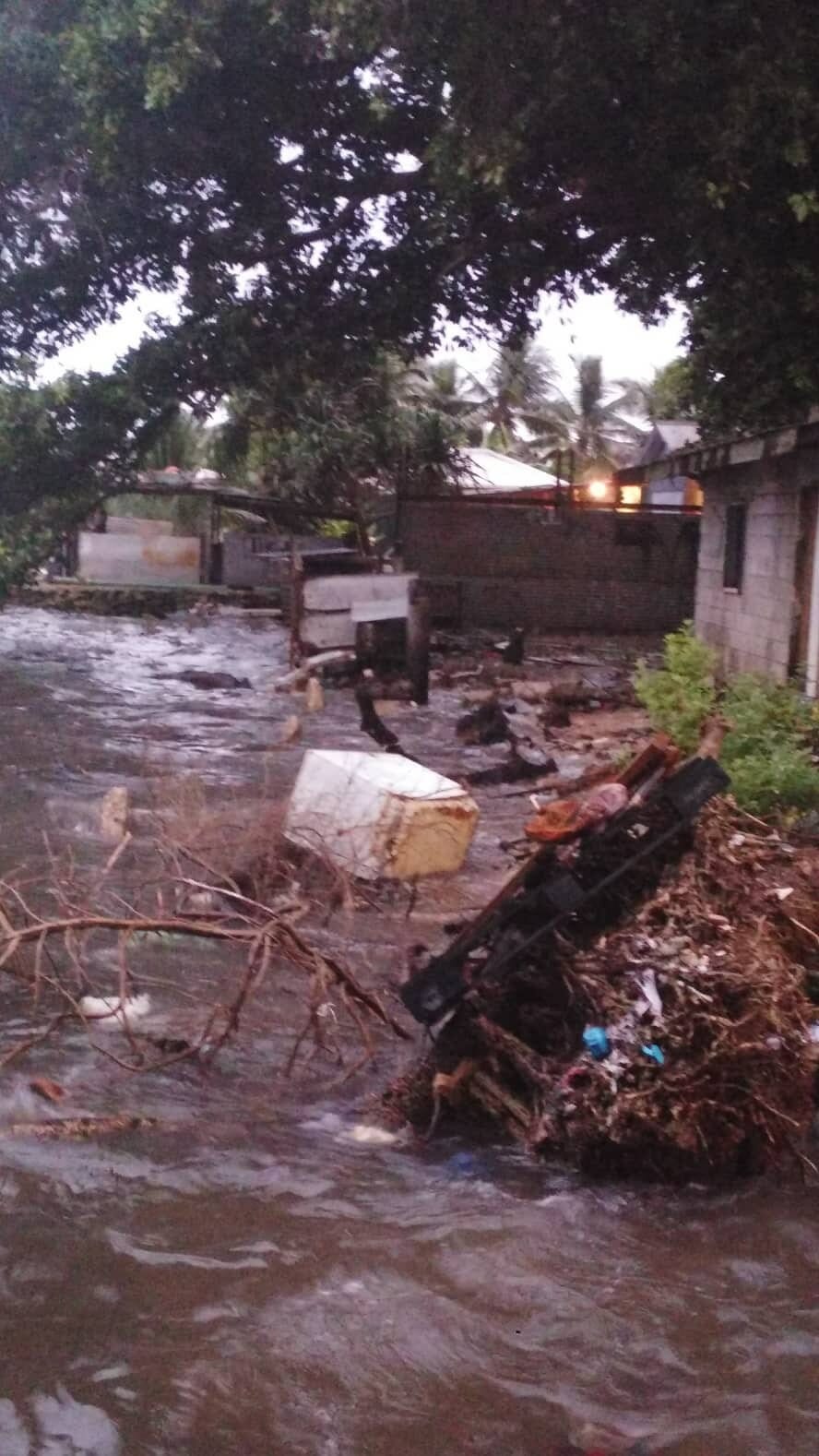 Tropical storms bring strong winds and heavy rain which blow our rooftops off without notice and our homes flood. These floods can be very extreme. Our droughts are getting worse and worse, much more than those from the past. Due to the dryness, attaining resources becomes more difficult, especially for those who live in the outer islands who depend on them daily. Our coconuts, pandanus, breadfruit trees, which we depend on for a source of income, are destroyed.  Drought brings water scarcity throughout the islands, and people can't live without water.  The greatest terror to us is the rising sea. It just won't stop. Sea-level rise has began to force my people to move out of our country, about one-third of the Marshallese. Rising sea-levels can easily come and cause waves to crash into homes, even when people are unaware.
Being part of the Children vs Climate Crisis event was such an amazing experience. I had an opportunity to learn other people's opinions on the climate crisis from the other side of the world. I was honored to meet my fellow Petitioners. I was able to meet distinguished leaders who also seek climate action.  Also, I participated in the mass demonstration for the climate crisis in Manhattan, which was indeed a great opportunity. As I journeyed through the event, I became more aware that I am not alone in calling for climate action. Looking back, my experience during that time was extraordinary.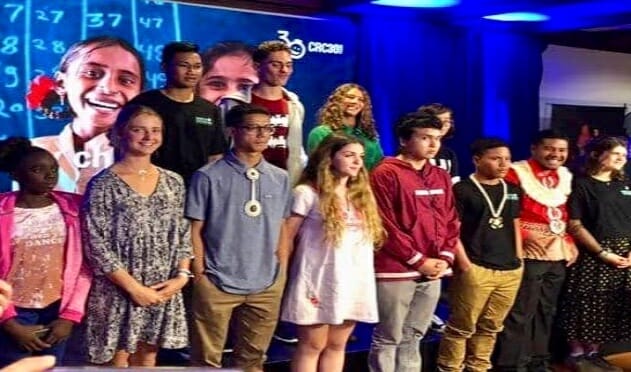 Heir Iris Duquesne, France
In October of 2019, with a group of fifteen other youth including Greta Thunbrerg, I went to the United Nations headquarters in New York to file a complaint against five countries, including mine. The countries we filed against are not respecting their obligations toward us under the UN CRC and they are failing to protect us from the climate crisis. With this action, we want to show world leaders that we will not let our future be wrecked by governments that choose profit over the planet. The petition is yet to be responded to by the Responding countries, but we have great hope it will encourage those countries to lower their CO2 emissions and go carbon free.
The entire world is being affected by climate change. France is affected too. I come from Bordeaux, a city internationally known for its excellent wine. Viticulture is therefore really important to our economy. For several years now we have had intense hail in the winter and multiple droughts in the summer causing the grapes to dry up and fall off of the plant. Thus, farmers make less wine and the economy crashes. Grapes are harvested two months earlier than usual and the wine is getting way too sweet.
Another big player in Bordeaux' economy is tourism. Being located on the Atlantic coast, its beaches always attract a lot of tourists from all Europe, especially the Dune du Pilat. This dune is the tallest in Europe and has a height of 106.6 meters. However, because of the warming temperature and the tides getting stronger, the Dune is advancing inwards, on houses and camp sites next to it. These camp sites are losing money and have to close every access to the Dune to prevent it from coming any closer. Our geography continues to undergo abnormal changes, causing it to unbalance the fauna and flora. This impacts the economy and the geography of the place.
When going to the UN with my group, I learned multiple valuable lessons. I have learned to stand up for what I believe is right, even though some people are against me and it can be scary. I have learned how to be on a team and how to uplift the people around me. It taught me that no person is too small to make a difference.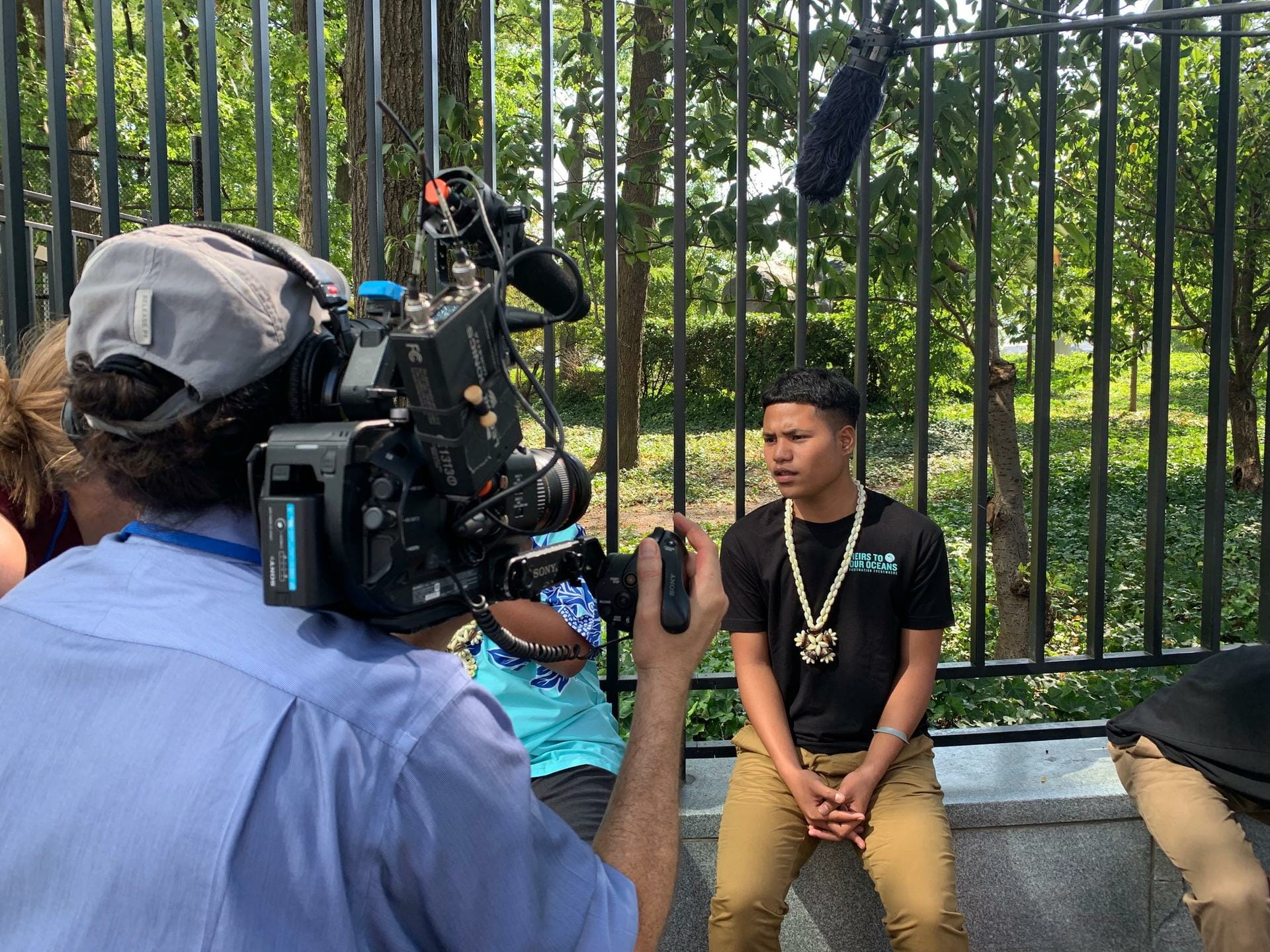 Heir Ranton Anjain, Marshall Islands
While I was at SEAL this past summer, April told me that I was being invited to the UN to join 15 other youth from all around the world to file a Petition against the top 5 countries that ratified the Committee for the Rights of the Child that contribute most to greenhouse gas emissions.  After SEAL 2019, I prepared myself for the UN. I did a lot of meditation by myself because I get shy when people are pointing a camera at me.  Going to the UN and speaking on behalf of my Islands and on behalf of other children was an experience that I will always keep in my heart. Being there was like a dream come true. I was so happy because I was given an opportunity to speak to world leaders about our rights as youth and about how I've seen the climate crisis destroy my Islands.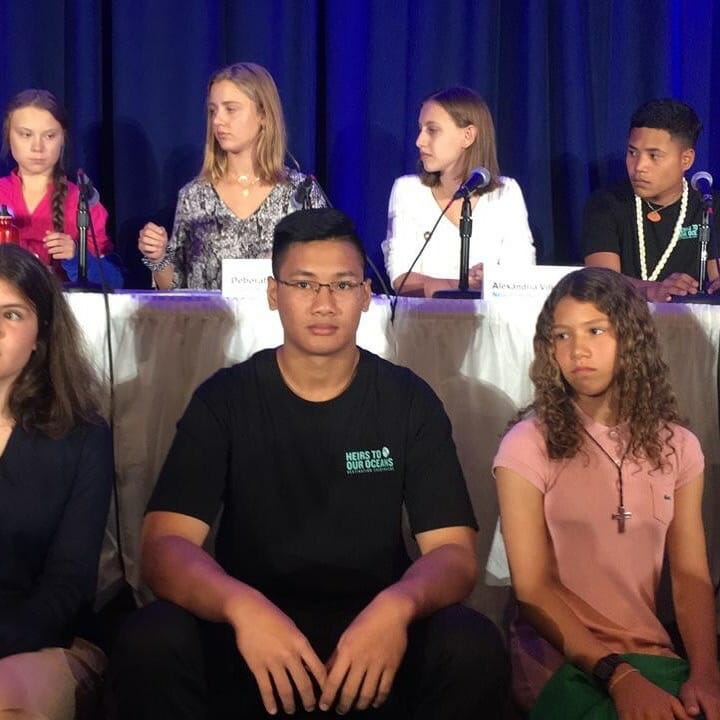 Heir Carlos Manuel, Palau
The biggest thing that I have done since SEAL 2019 is being one of the 16 Petitioners, along with Greta Thunberg and some of my fellow Heirs, who filed a complaint to the United Nations Committee of the Rights of the Child against 5 countries that signed the "Optional Communication" that contribute the most to greenhouse gases and carbon emissions. We filed this Petition because our Rights to Life, Health and Culture are being violated.
H2OO Action in Palau!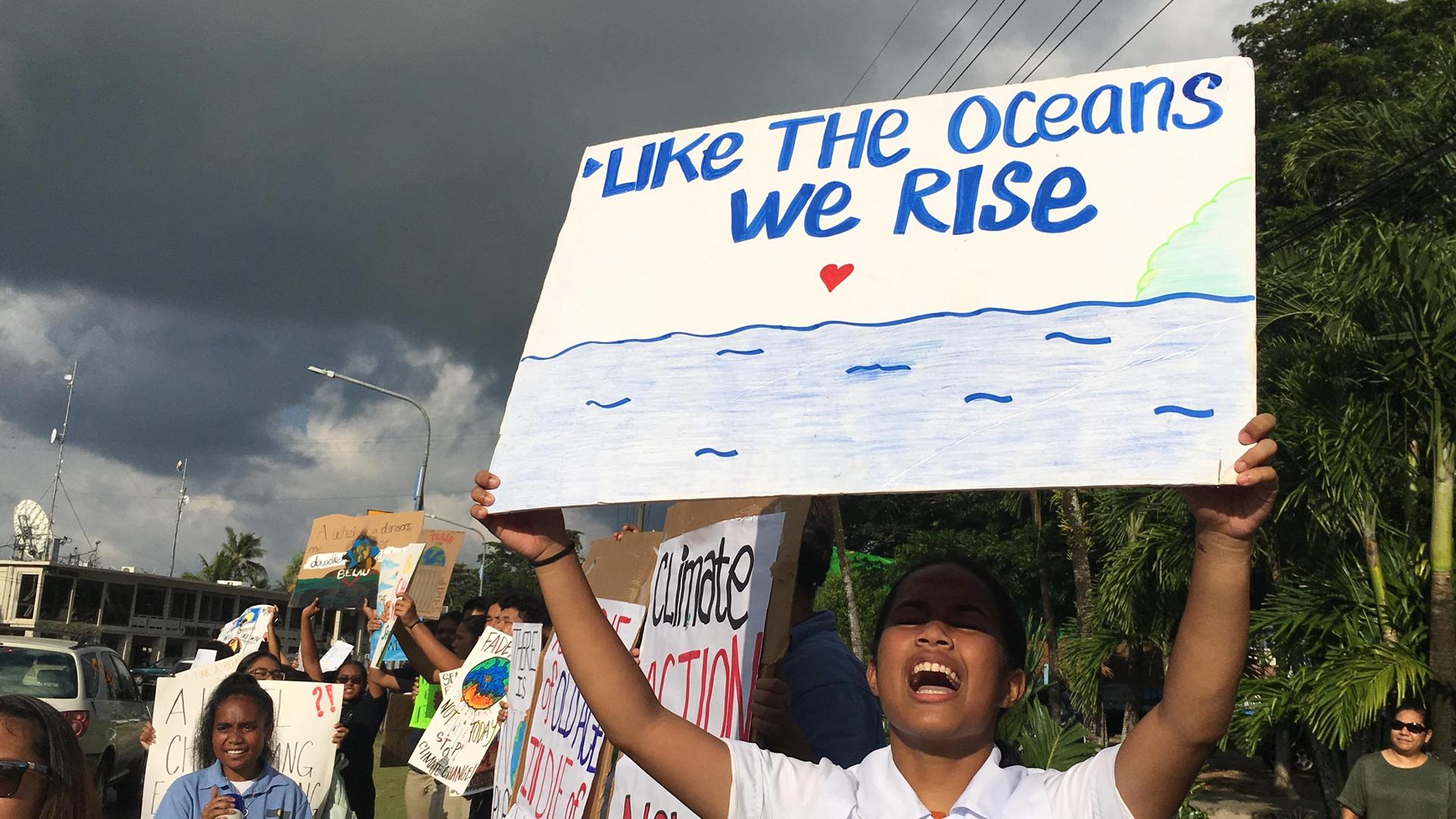 Heir Rur Masang, Palau
Our chapters in Palau have been active and working together to help educate not just ourselves but also the other youth and elders of Palau about the problems we are facing and how we can rise up against them. In my H2OO chapter at Mindszenty High School we have been meeting and planning for our activities, the most recent activity being the climate strike. We made posters and walked down to Midtown holding signs to show that we are serious about these issues. It was an eye opening activity because it showed that educatign the public on the issues around climate change is needed in order to make any significant changes.
---
Heirs at the UN CRC's 30th Anniversary Meeting in Geneva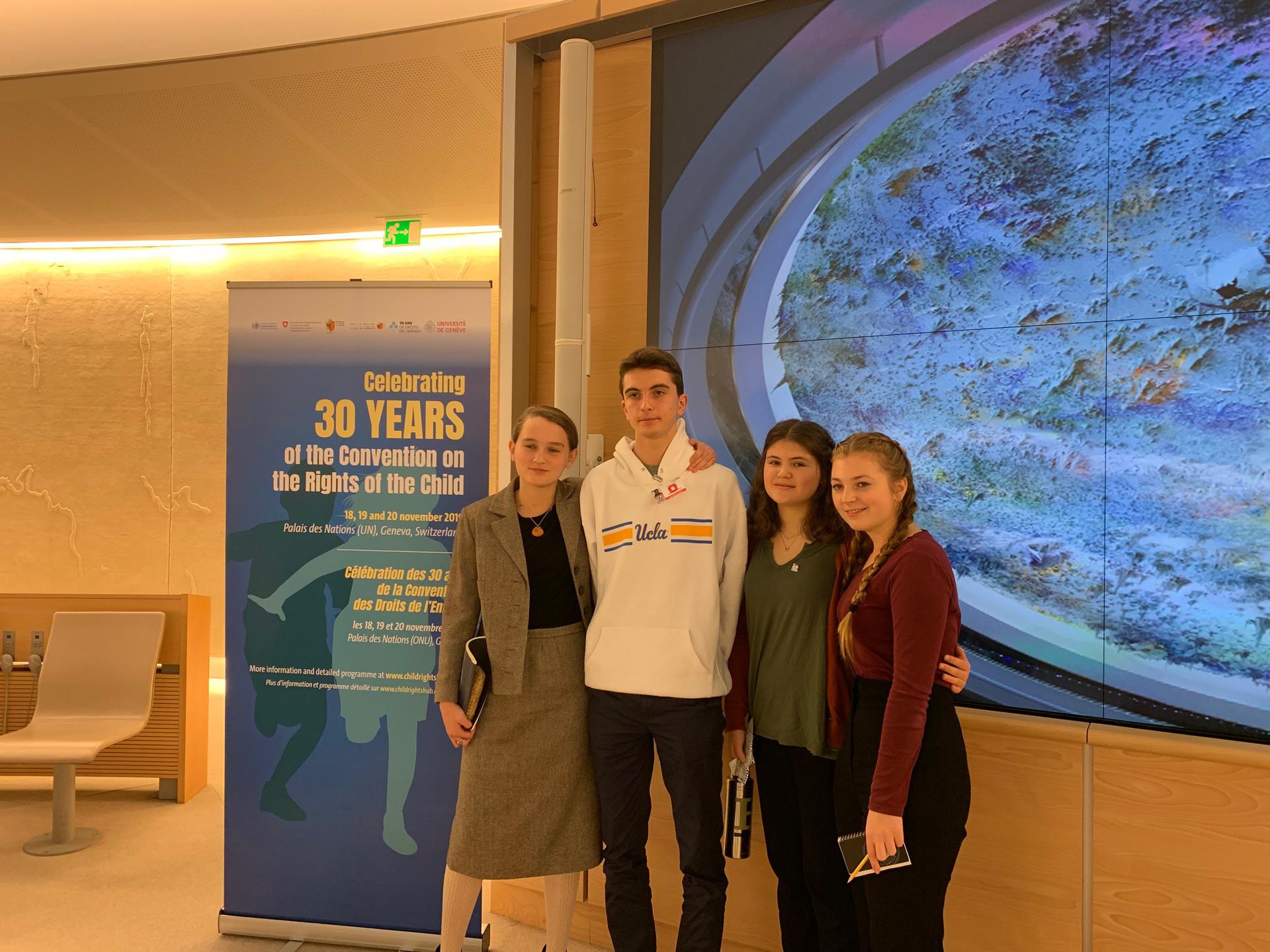 Heirs from France, Germany and the US attended and spoke at the United Nations' Convention on the Rights of the Child 30th Anniversary 3-day event held in Geneva at the Palais des Nations.  Heir Raina, the Children vs. Climate Crisis Petitioner from Germany, shares her experience: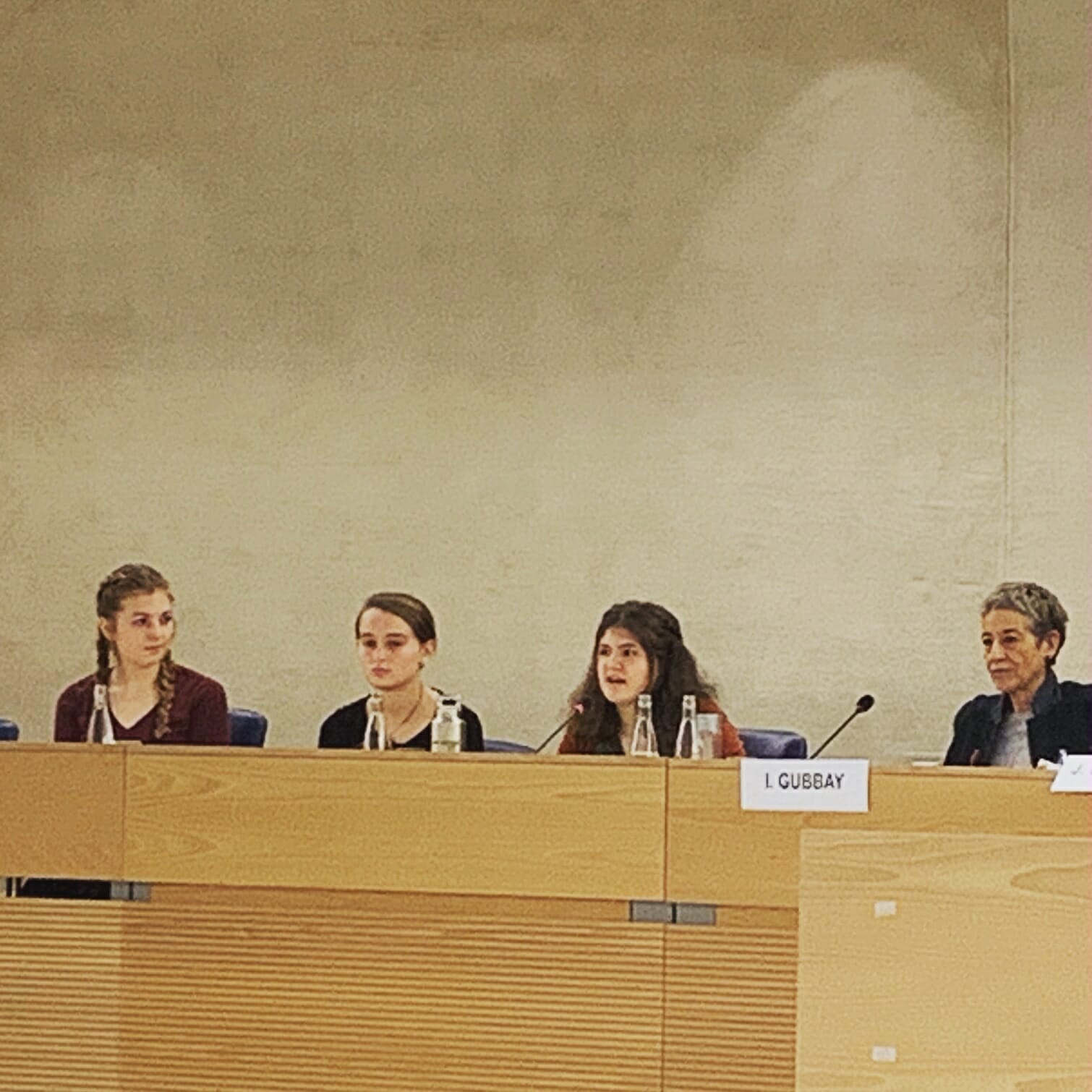 Heir Raina Ivanova, Germany
At the Rights of the Child event in Geneva, Switzerland, I got to hear from children around the world who were talking about the problems with their homes. I'm very thankful that I had a chance to speak to them face to face and hear about the initiatives they are taking. I saw the crisis from a new point of view, and it was also very interesting to hear the viewpoints of the adults.
I was engaged in a session that was focused on the environment and how it affects our rights — Past, Present and Future of Children's Environmental Rights. I spoke about the Petition we filed and about the impacts the climate crisis has on our rights. Next time I would love to see more children attending the event and talking about the things happening in their homes. Also surprisingly the climate crisis wasn't on the agenda of the event.
I want to share all this gained knowledge with other youth so they can share again, over and over. I want every child to know that they are being heard, and that it is never too late or too soon to make a stand. With Heirs To Our Oceans I am given the opportunity to share my knowledge easily with fellow youth as well as share incredible experiences with amazing people. I can't wait to do more and continue to impact people in the best way possible.
---
H2OO-U: Studying Hard and Doing Good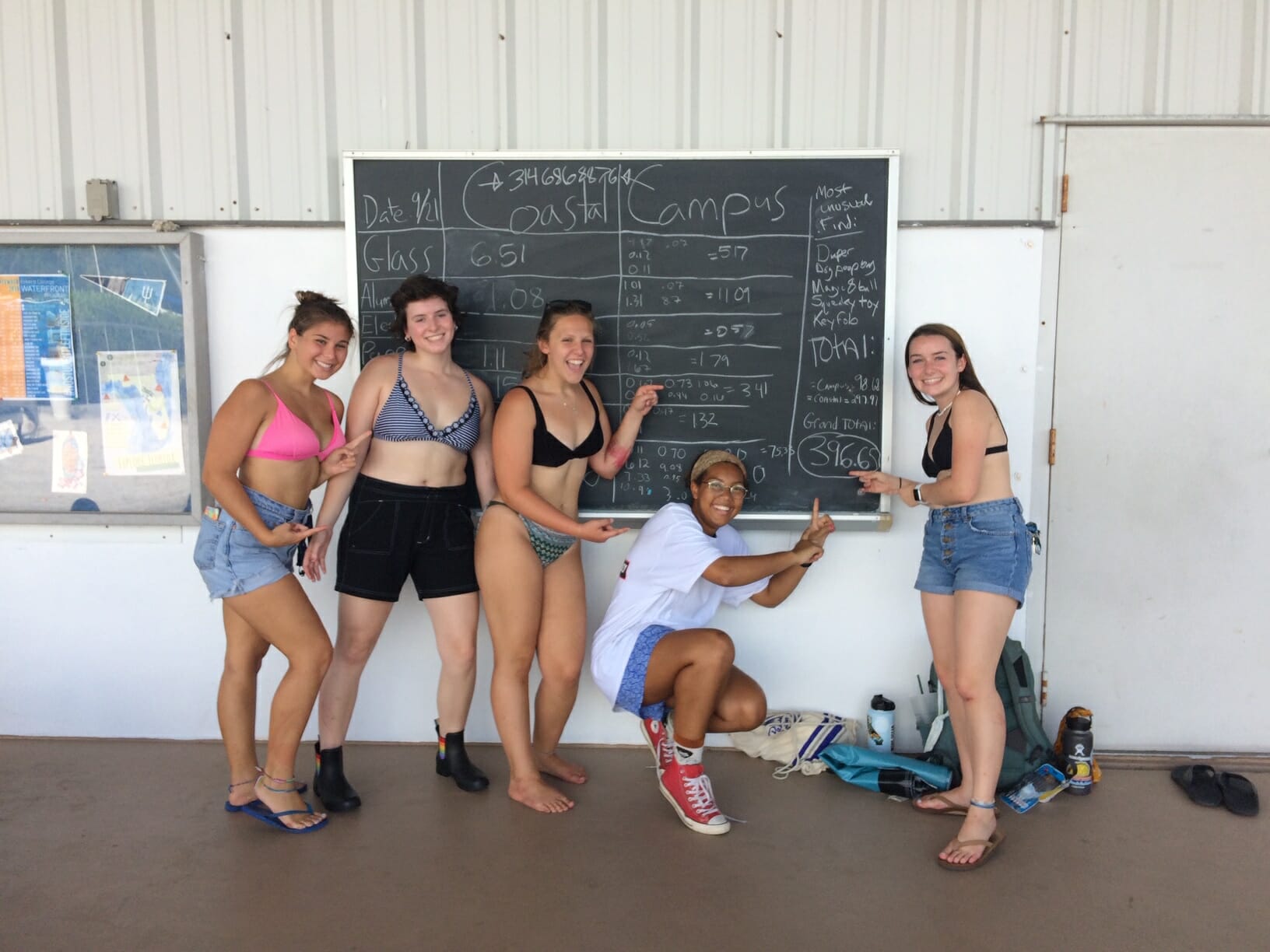 Heir Chloe Mckenna, Florida
In June 2019, I graduated high school at Orange County School of the Arts! I am now attending Eckerd College in Florida and am getting ready to finish my first semester in December. Right now, I am planning to double major in Environmental Studies and Political Science. As I have been involved with H2OO for almost three years now, I hope to continue my involvement by bringing H2OO into colleges, whether that is by being an intern or by starting a chapter on campus. I am still focusing on plastic pollution and greenwashing, but am also passionate about coral! I am hosting a week in March called Care for Coral Week, which I hope will be a way to introduce H2OO to the student body. In September for Coastal Cleanup Day, there was a beach cleanup held on campus and I orchestrated an accompanying brand audit. Heirs do brand audits at our beach and creek sweeps and encourage others to do as well because it puts pressure on companies to stop polluting our oceans with their products. Eckerd just passed the Break Free From Plastic Pledge, which puts a purchasing policy on non-essential single-use plastics. We are the second school in the country to sign the pledge and the first to implement it! It is exciting to see my school being a leader in sustainability to other colleges across the country. Using what I have learned as an Heir, I hope to help continue to move Eckerd in that direction as a youth leader.
---
Cruise Control in Monterey Bay: The Need is Crystal Clear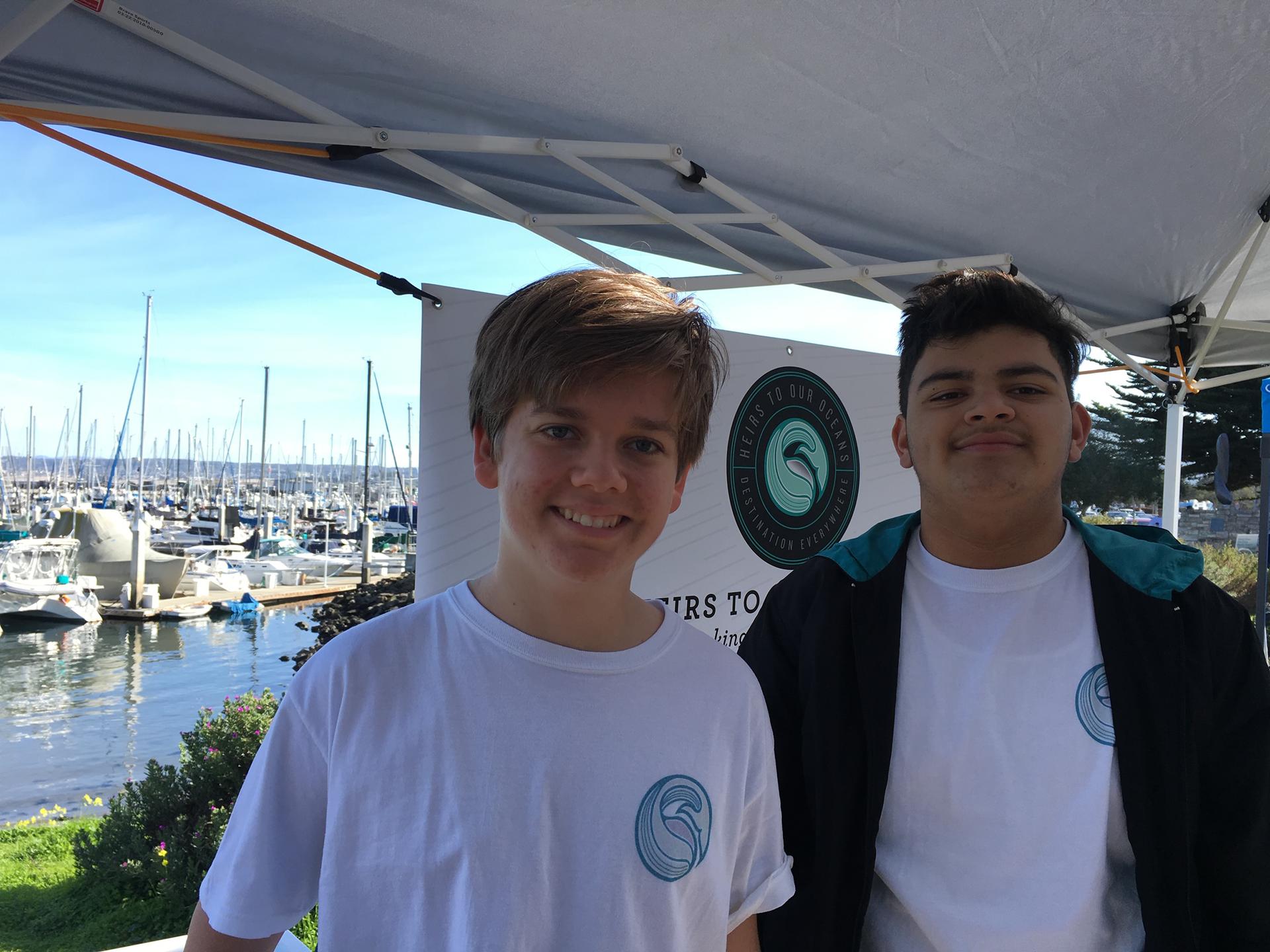 Heir Seth Weinfield, California
In October of 2002, the cruise ship Crystal Harmony operated by Crystal Cruises dumped 36,400 gallons of sewage, oily waste, and gray water into the Monterey Bay National Marine Sanctuary causing detrimental effects to the Monterey marine ecosystem. This is precisely why cruise ships should not be allowed back into the Monterey Bay.
We cannot have this waste dumped into Monterey Bay. The marine ecosystem is hurt when the marine animals ingest this waste and the local economy is hurt when local fisheries cannot sell their products. The presence of cruise ships has detrimental effects on human health as well. According to Forbes, over 50,000 Europeans die prematurely every year as a result of shipping-based pollution. We do not want that happening to the community of Monterey. I have so many memories as a kid of going to Monterey Bay and enjoying the beautiful ocean. If the coastline is dotted with cruise ships, I am afraid that my kids and my grandkids will not have the same opportunity as I to see the beautiful water. By prohibiting cruise ships from entering, we can keep the beautiful Monterey Bay clean.
1. Driscoll, Aloe. "Should Cruise Ships Be Allowed in Marine Sanctuaries?" San Francisco Chronicle, San Francisco Chronicle, 1 June 2018, www.sfchronicle.com/travel/article/Should-cruise-ships-be-allowed-in-12958259.php.
---
Interning with H2OO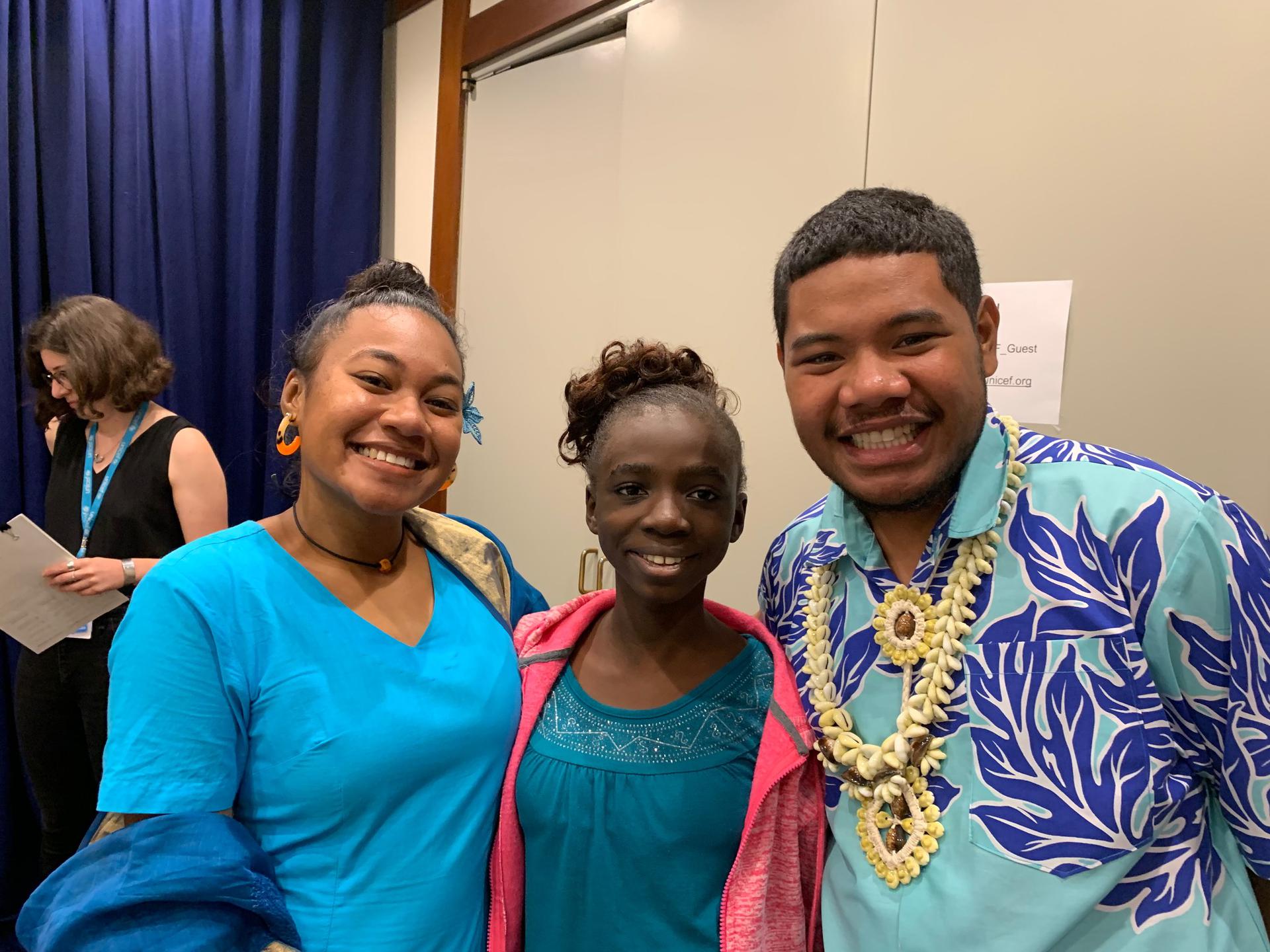 Heir Olilai Chilton, Palau
When I first heard about the movement and program of H2OO, I was a sophomore in high school. Like any other person that was being introduced to something new, I was hesitant to participate with H2OO. But through their communications and encouragement from my parents, I took a huge leap and I represented Palau on behalf of H2OO at Algalita's Plastic Ocean Pollution Solution Youth Summit (POPS) in 2017. Going on that trip with Heirs Carlos and Laden from Palau was the beginning of my journey and my interest with H2OO.
My journey so far, from leading a chapter at my school to becoming their intern, has included some challenges such as managing and prioritizing my time, organizing activities for the Heirs properly, encouraging others to be active, and more. But I'm glad that I had the opportunity to have gone through those obstacles, because I believe that it is a way for myself and for any person to grow and slowly become a young adult. I truly enjoy being in and working with H2OO because it provides the space for me to grow as an individual as well as to grow in my knowledge and passion for our mother ocean and earth.
I've experienced some very exciting activities with H2OO while meeting other passionate youth leaders from California, Nigeria, New Zealand, France, Saipan and the Marshall Islands. H2OO has even provided me opportunities to enhance my leadership skills, my knowledge on what are some of the things that harm our ocean, our earth, and how they intertwine with each other.  H2OO has helped me fuel the fire within me to fight for our ocean and earth that we will inherit for our generation and for generations to come. What makes H2OO stand out from all others is the global family we've created through our actions, knowledge, passion, and teamwork.
---
Heirs Active in Local Government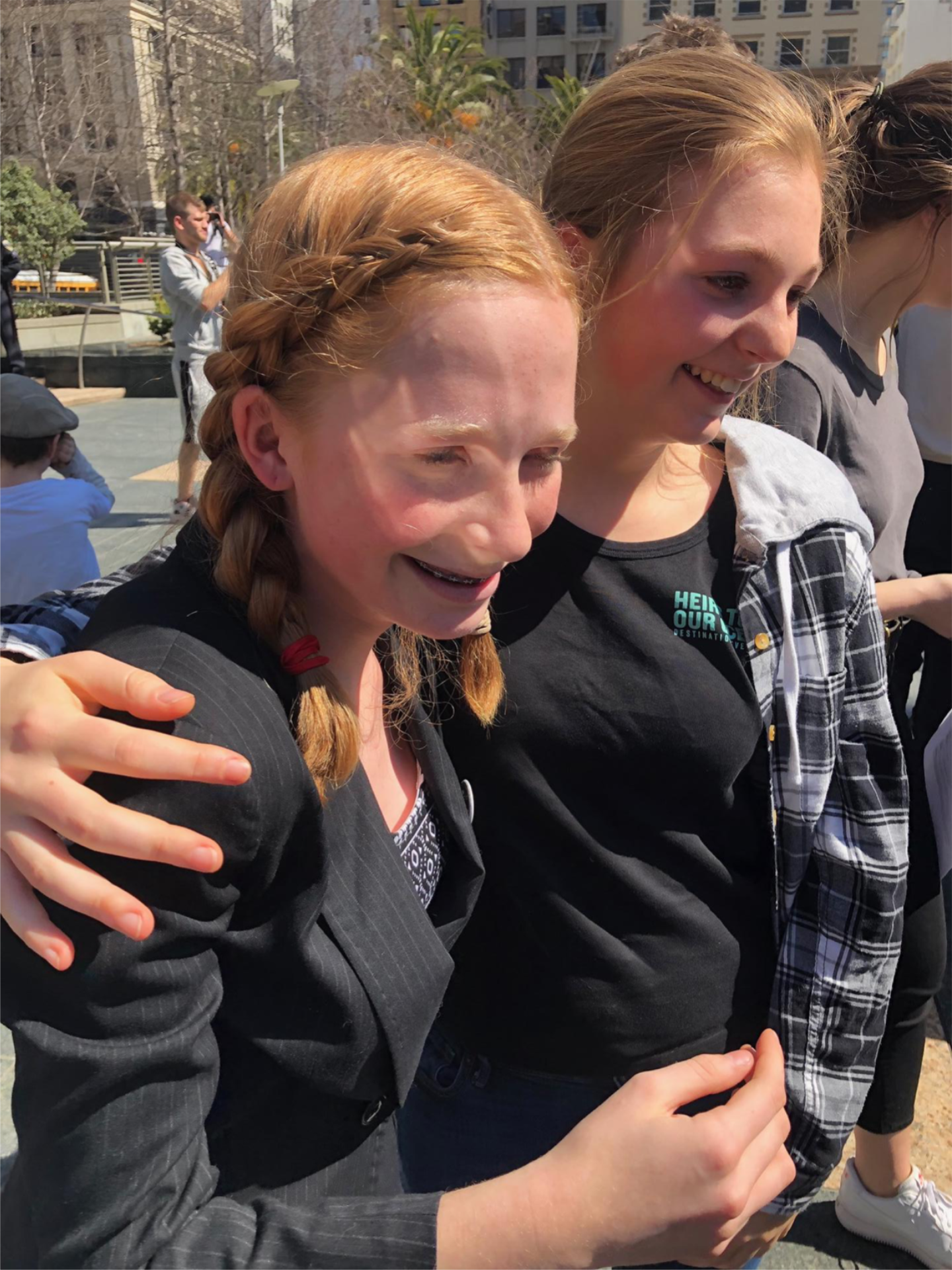 Heir Sophie Mateja, California
My experiences both in the San Mateo County Youth Commission and in collaboration with Andra Yehogian, the head of the Environmental Literacy Initiative of the San Mateo County Office of Education, have been informative and empowering. Both youth and adults involved in our county government are dedicated to making a change, especially around prevalent issues facing our oceans today, such as climate change and nutrient pollution.
Through my work with Ms. Yehogian, I've accessed the resources to organize my school in two climate strikes in solidarity with global movements led by Greta Thunberg. The Environmental Literacy Initiative organizes a series of environmental conferences every year, most of which I have spoken at and attended. Meeting, educating, and learning from other environmentally inclined youth has been a humbling and uplifting experience, for which I am most grateful.
Earlier this year, along with fellow Heir Shay Barton, I joined the San Mateo County Youth Commission, a board of twenty-three youth serving as advisors to the San Mateo County Board of Supervisors. Currently, the commission is drafting a letter declaring a climate emergency and encouraging the Board of Supervisors to do the same. I am confident that the Youth Commission will move in a direction that will address the dreadful reality of the future of the environment in which we live.
---
Life is Better Down Where It's Wetter: Palauan Youth Dive Certified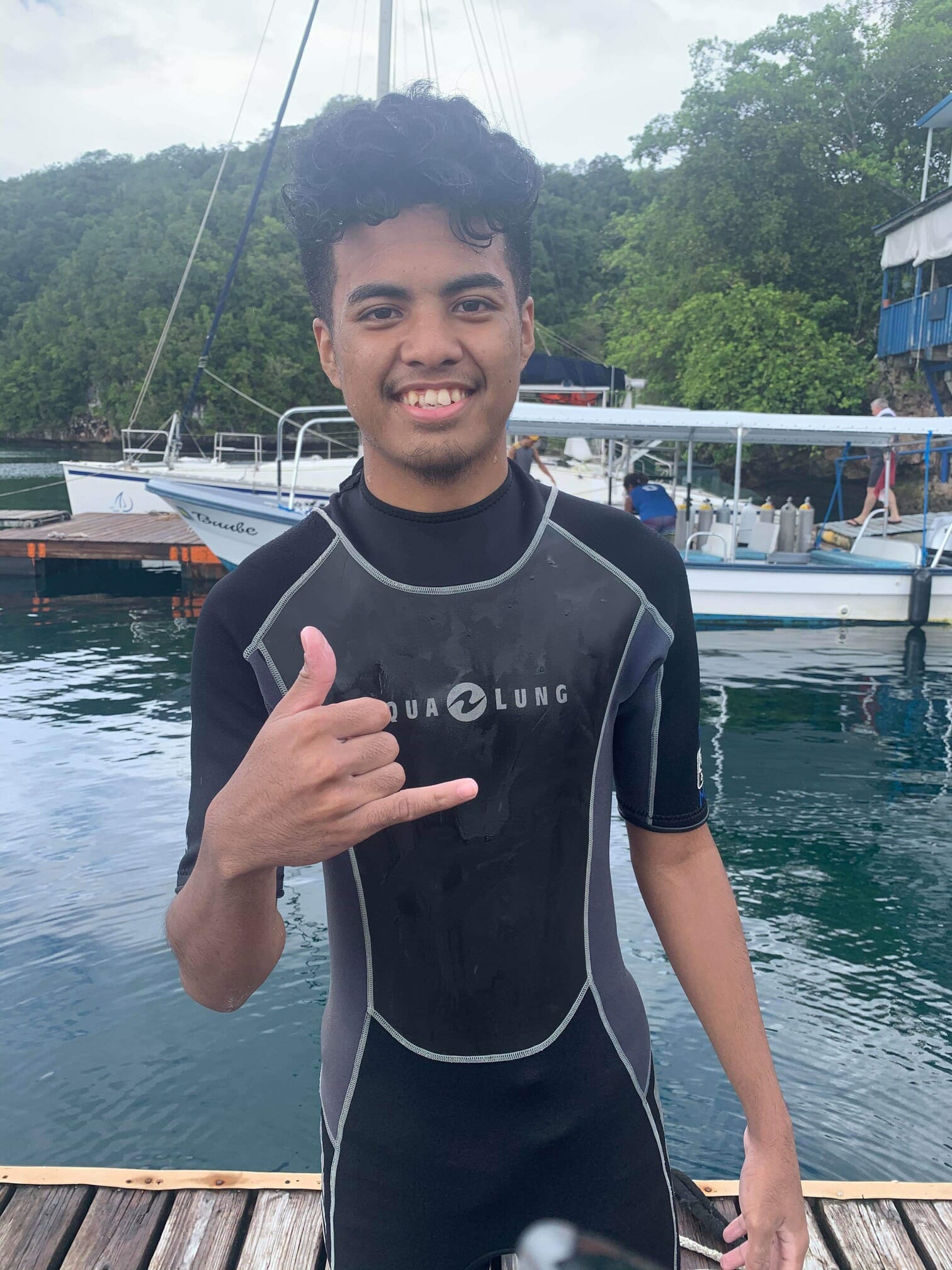 Heir Laden Kloulubak, Palau
I have recently been certified as an open water diver. Heirs To Our Oceans provided me a scholarship to be certified and I couldn't believe it at first. I spent about three weekends taking classes and learning the skills I needed to know as a diver. The final day came for my last dive class and I passed! I am now able to dive and see the ocean through a new perspective.
I feel more connected towards the sea creatures and their homes because I can now interact with them in a new way. On the 29th of November, the Heirs that are dive certified went on a dive together in Palau at two dive sites. I was thrilled to go and I couldn't wait to get into the water and experience it. I have to say it was incredible. I saw many different species of fish and their habitats. I saw many different types of corals and how beautiful they are.  The best part was seeing this gorgeous female Manta Ray just float by. It was one of the best experiences of my life.
Not only did I get to see the beautiful side of the ocean, but I also saw the mistreated parts of the ocean. At the dive sites we had gone to, there were many corals that had lost their color due to the increase of temperature. Seeing those kinds of negative effects made me want to fight harder for change. In order to do this I must build my own knowlege to understand each part of the issue.
---
Heirs in Patagonia, Argentina

Two Heirs from New Zealand, two from California and one in Florida experienced a once-in-a-lifetime excursion to the Valdes Peninsula in Patagonia, Argentina, where they stayed with and learned from orca researchers Dr. Ingrid Visser, Dr. Joseph Gaydos and Dr. Marcela Uhart for a week.  Amazing!  A couple of the Heirs share their stories:
Heir Baylee Ashby, New Zealand
I felt honoured to be offered the opportunity to go to Valdes Peninsula in Patagonia, Argentina, and to represent H2OO there.  This was my first time representing H2OO on an excursion, and I was privileged doing so alongside Rakau and the other Heirs. It was an amazing experience and I got to do things that I have never done before like spending the day with elephant seals and penguins. Being still for long periods of time observing what was around me was really interesting.  I enjoyed learning how to imitate the elephant seals in order to be able to move closer to them.
I enjoyed living alongside the local scientists and visiting scientists like Dr. Ingrid Visser from New Zealand and learning what they do.  Something I noticed is that we need to keep the oceans and the beaches clean.  I saw a sea lion with a plastic strap around its neck and there was nothing we could do. It would die…this was sad! I would like to know more about Ngati Kuri's (my tribe's) connection to seals as they are our symbol animal. I also what to know more about my local iwi/ tribes thoughts and views on our environment so I can share this knowledge with others when I travel.
My goal is to become more confident in my ability to write and speak in front of others so that I can share my ideas and learn more from those around me, as my first language is not English.  I would like to say thank you to H2OO for giving me this experience and I look forward to continuing to grow in this space in the future.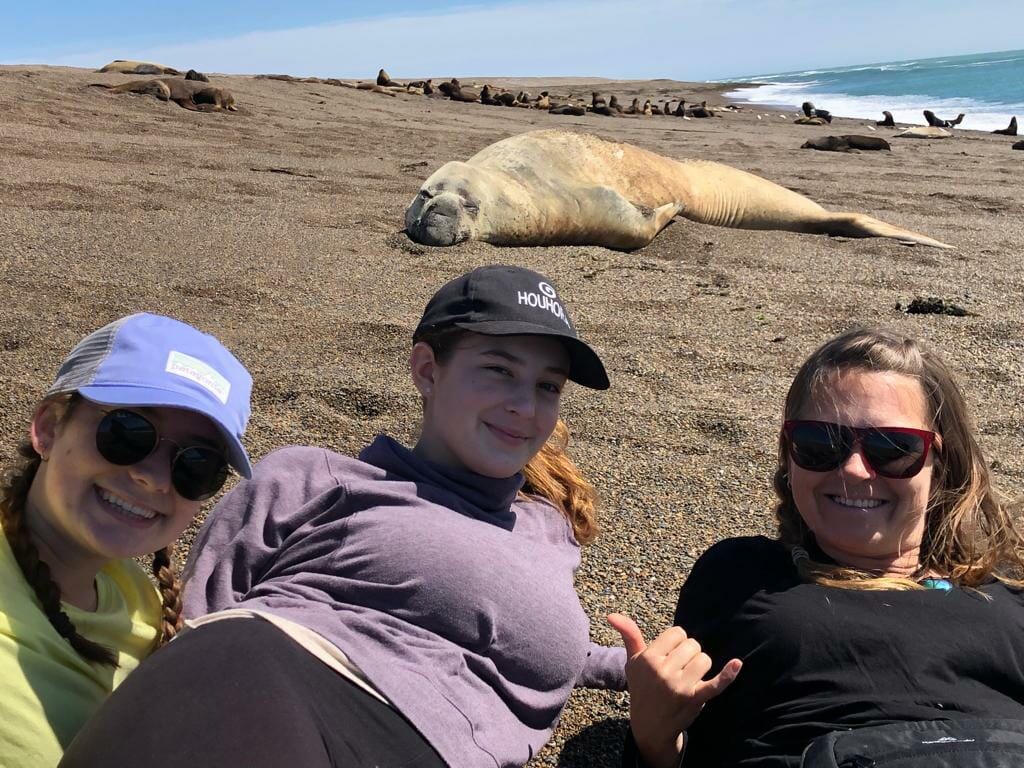 Heir Aislinn Clark, California
On November 16th, some of my fellow Heirs from New Zealand, Florida, California and I embarked on a week-long journey to one of the most beautiful and awe-inspiring places on the planet: Patagonia. During that week we stayed at Estancia La Ernestina, a sheep farm on the Valdes Peninsula that was 3 hours removed from any cities. There we went out in the mornings and late afternoons to see and learn about the wildlife, including elephant seals, sea lions, penguins, southern orcas, wild guanaco and the balance of their ecosystems on the Patagonian coast and desert.
We also were able to learn from renowned scientists Dr. Ingrid Visser, Dr. Joe Gaydos, and Dr. Marcela Uhart about whale strandings, the lives of captive orcas, and the lives of the wild orcas out on the Valdes Peninsula. They seemed to know everything there was to know about the wildlife and conservation! It was a little intimidating to talk to them at first, but by showing our interest in what they were doing and their knowledge, by the end of the trip we were not only learning from each other but good friends as well. This just goes to show that by reaching out to people whom you may be a little scared of, you can easily connect by asking questions and staying curious about their work. We got to watch first-hand as they compiled data that had been collected over 15 years about the orca's pod dynamics and hunting events, and we learned more about what it truly meant to work in their field.
Though many of the places we visited had been almost untouched by humans, we still saw their impact there. We found a plastic bottle inside of a penguin nest, and we collected a huge pile of other trash that had washed ashore on one of our beach walks. This, combined with our experiences of seeing these animals up close and not just learning about them as populations, but as individuals, has renewed my passion for protecting these places and the people and animals that live in them.
---
A Poem for the Valdes Peninsula, Patagonia, Argentina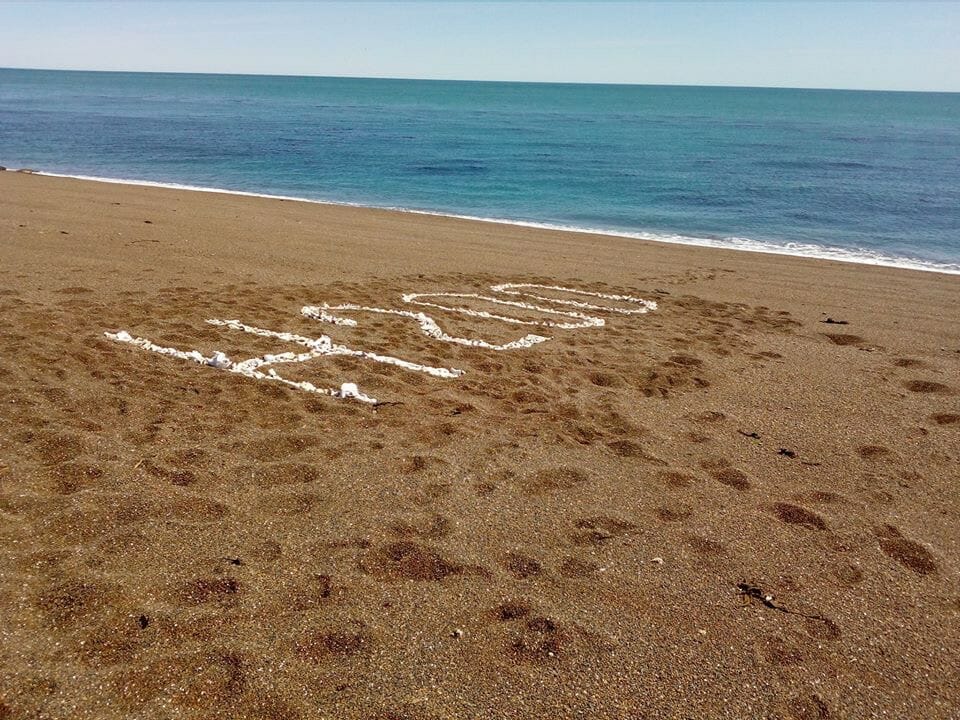 Heir Chloe Mckenna, Florida
The ocean waves break,
Crashing onto the untouched land.
We've travelled all this way,
We've come to make a change.
Each day a new adventure,
Each day a surprise.
We are in the land of opportunity,
No telling what treasures we'll find.
We've seen the elephant seals sneeze,
We've seen the sea lion tracks.
We've even seen trash in a penguin nest,
With this problem, there's no going back.
But our passions have brought us together
Which I am so thankful for.
I'm leaving with a bit more hope
Then when I first came through the door.
In our silent sittings on the shore
I thank the ancestors of Peninsula Valdes
Who kept the land so pure.
Yet now it's filled with plastic
Our generation will be the cure.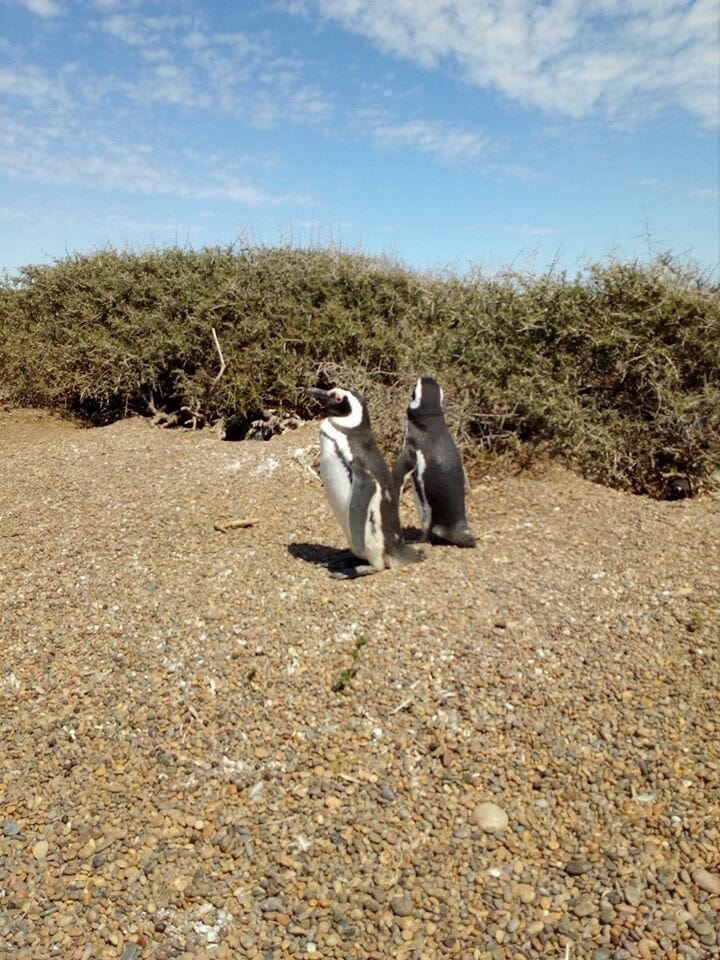 ---
Heirs Processing a Blue New Deal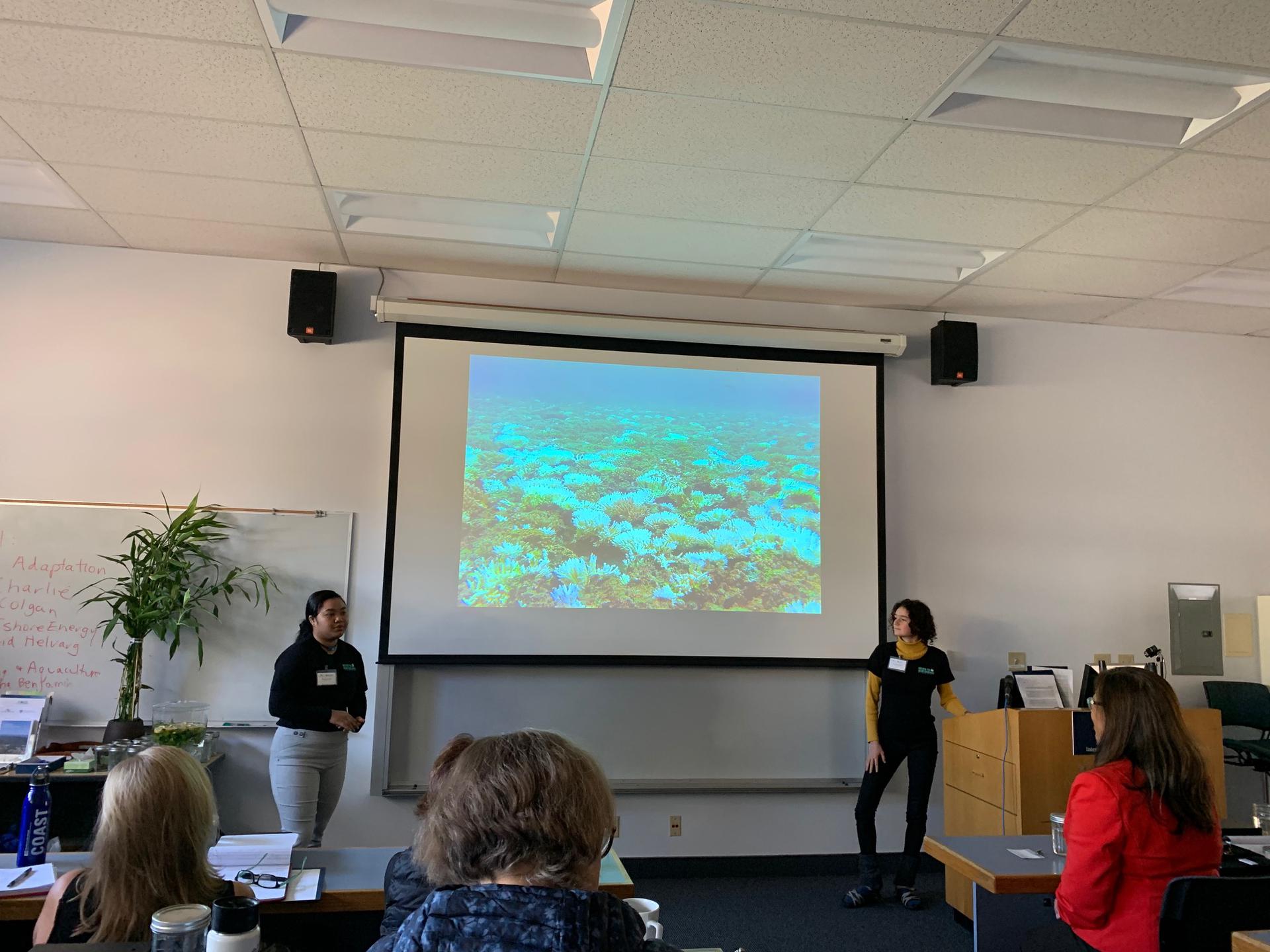 Heir Charley Peebler, California
Heir Aliyah from Palau and I spoke at and participated in the Ocean Climate Action Summit hosted by Jason Scorse of Middlebury Institute of International Studies and David Helvarg of Blue Frontier.  The intention of bringing people together from different sectors at this event was to process an Ocean Climate. Action Plan, or a "Blue New Deal" to accompany the Green New Deal.
Among other things, Aliyah and I highlighted why it is important to have a diverse youth group, one that represents all communities especially the most vulnerable ones, involved in processing an action plan regarding the climate crisis as we are the greatest stakeholders.  We requested a Youth Advisory Council in the processing of a Blue New Deal.  The adults at the helm of the Ocean Climate Action Plan see the importance of including youth as well.  We are happy to share that a BND YAC is being currently formed, and we look forward to working with all involved in preparing and advocating for protection of our planet's blue waters, for our generation and future generations.
---
Going Back to Our Roots at Bioneers 2019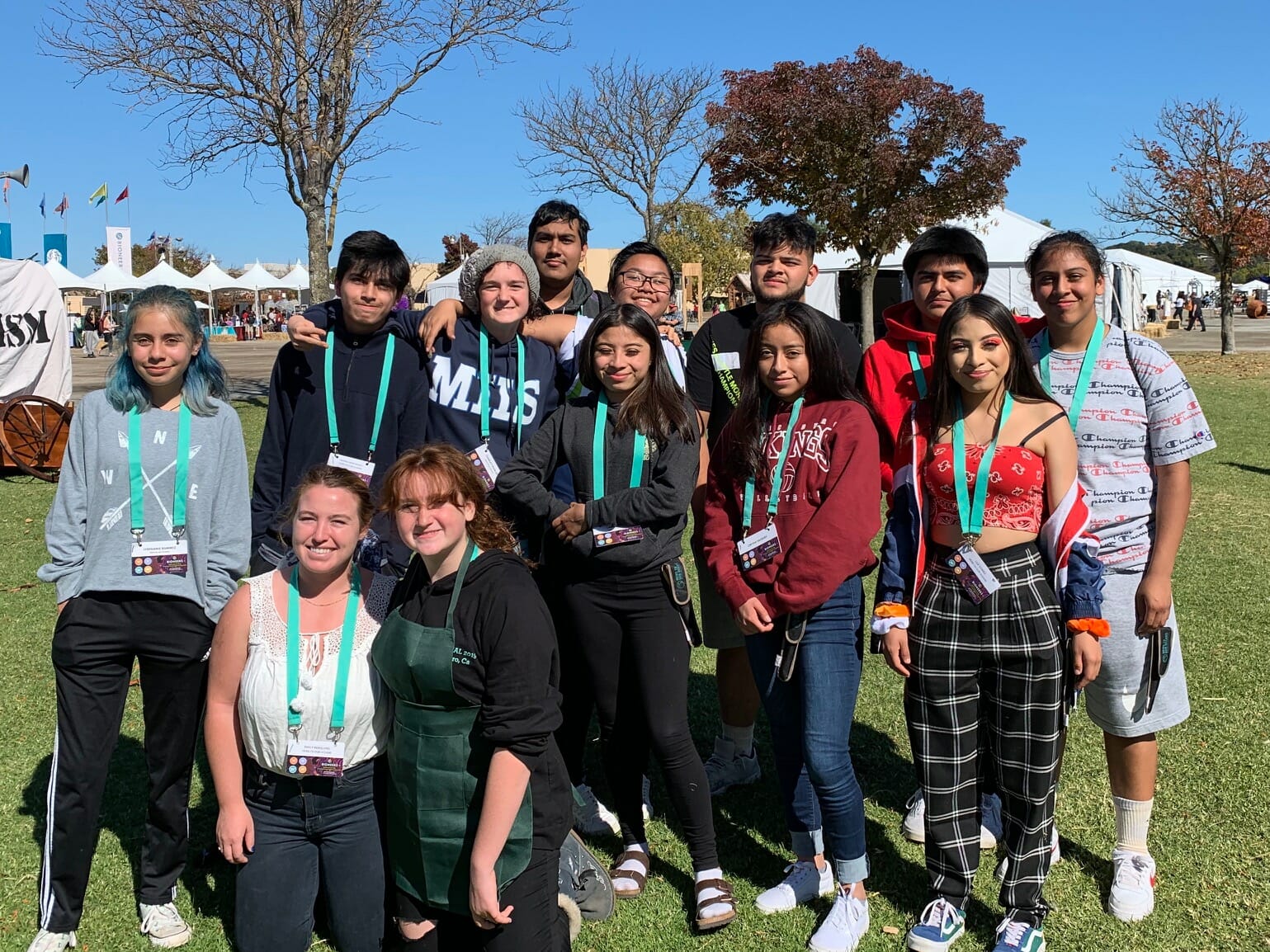 Ten indigenous Heirs were given scholarships to attend the 2019 Bioneers conference Native Youth Leadership Summit. The experience for them was transformative and helped inspire and shape future indigenous leaders by placing them at the center of a growing movement. Heirs Luz and Miguel share their experiences here:
Heir Luz Gomez, California
When I first came to Bioneers, I saw many young people that care about the environment. The last day, there was a workshop that I particularly enjoyed. It was a small group, so I did not feel shy talking to them. We talked about climate change and plastic and how we felt about it. Everyone had similar feelings. Some of us live in a small town, where there is nature everywhere, but some lived in the city and were not that lucky. I met a third grade girl, and she spoke better than some adults I have heard present. She helped me remember that there is hope in the youth. She made me realize that YES, we are her and our voices need to be heard. And YES this is our planet, our mother and we need to take care of her.
My favorite part of Bioneers was when a woman was reading the apology she always wanted to hear from her Dad, the man who sexually abused her for ten years. Her story made me tear up. I thought her speech was not going to get better, but it did. She apologized to Mother Earth, and her words stuck with me. "I am sorry, the bees that are dying…" and just like her I am sorry that us humans have made the Earth a place where ecosystems are dying. A place where the air is limited because of us. Because many people value money more than their children's futures. I loved the experience at Bioneers and hope to come back in the future, it was truly a self-reflecting experience.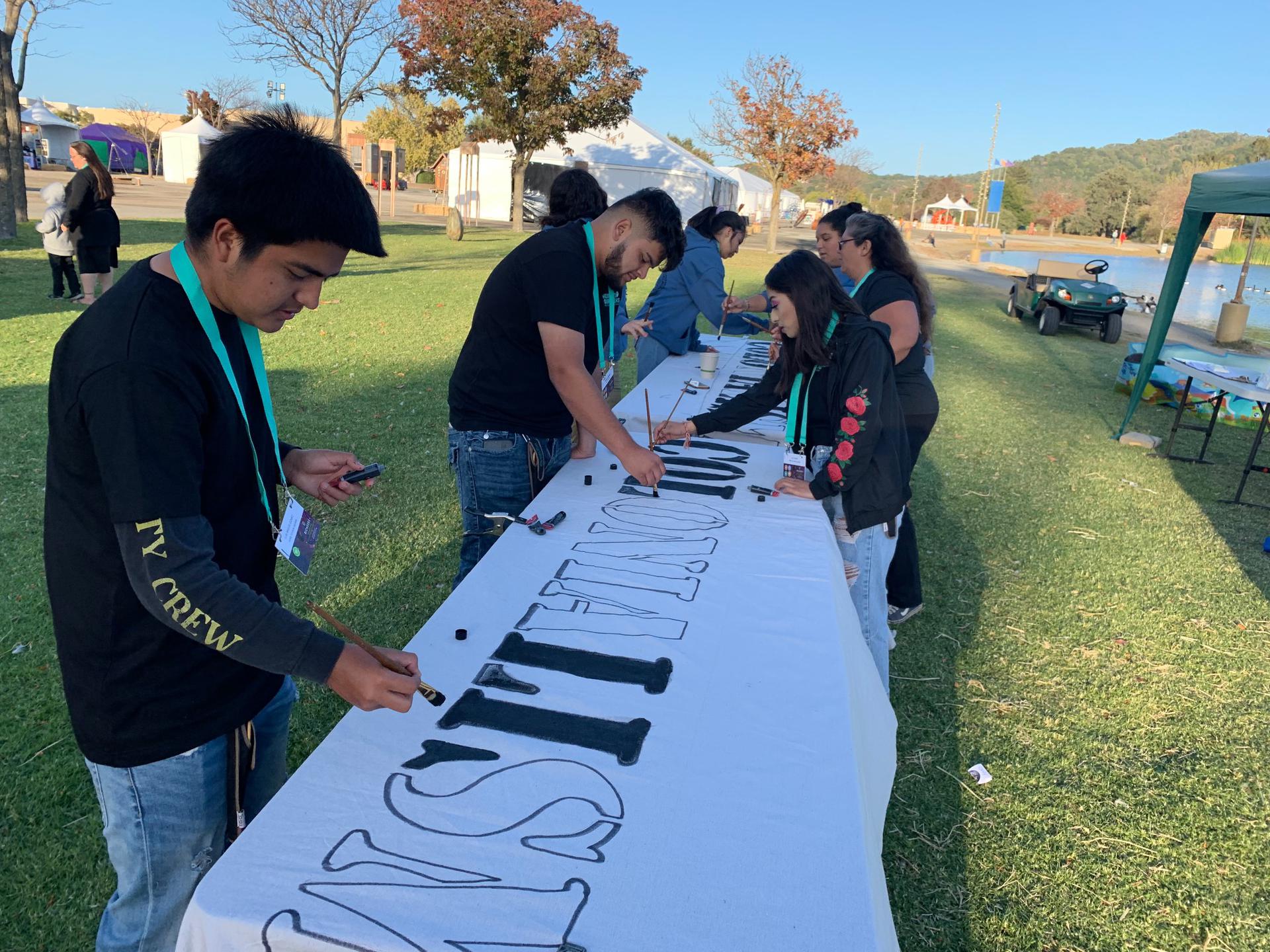 Heir Miguel Mendez, California
The most memorable part of Bioneers was when the speaker Jerry Tello spoke about his grandmother and the way our ancestors connect with the earth and how he communicates with his plants. I resonated with him on a cultural level, as I too share a Mexican identity and a strong grandmother figure in my house.
As he spoke, I have learned to appreciate the beans my mom makes. The time she takes to process, cook and season because they are made with love. I connect my identity to the food that is made at home and the traditions. The words and facts he presented about Mexican culture were very similar to my own.
My participation in this conference has helped me as an indigenous youth and water protector in the ways of showing love and  respect to the humans who we share this earth with. Love, respect and kindness are what the earth needs and what every human needs as well. If we would have continued that since the beginning, the world would not be where it is now. In knowing this I will move forward in my life with love, respect and kindness as my guiding principles.
---
Why We Do Beach and Inland Waterway "Sweeps" + Brand Audits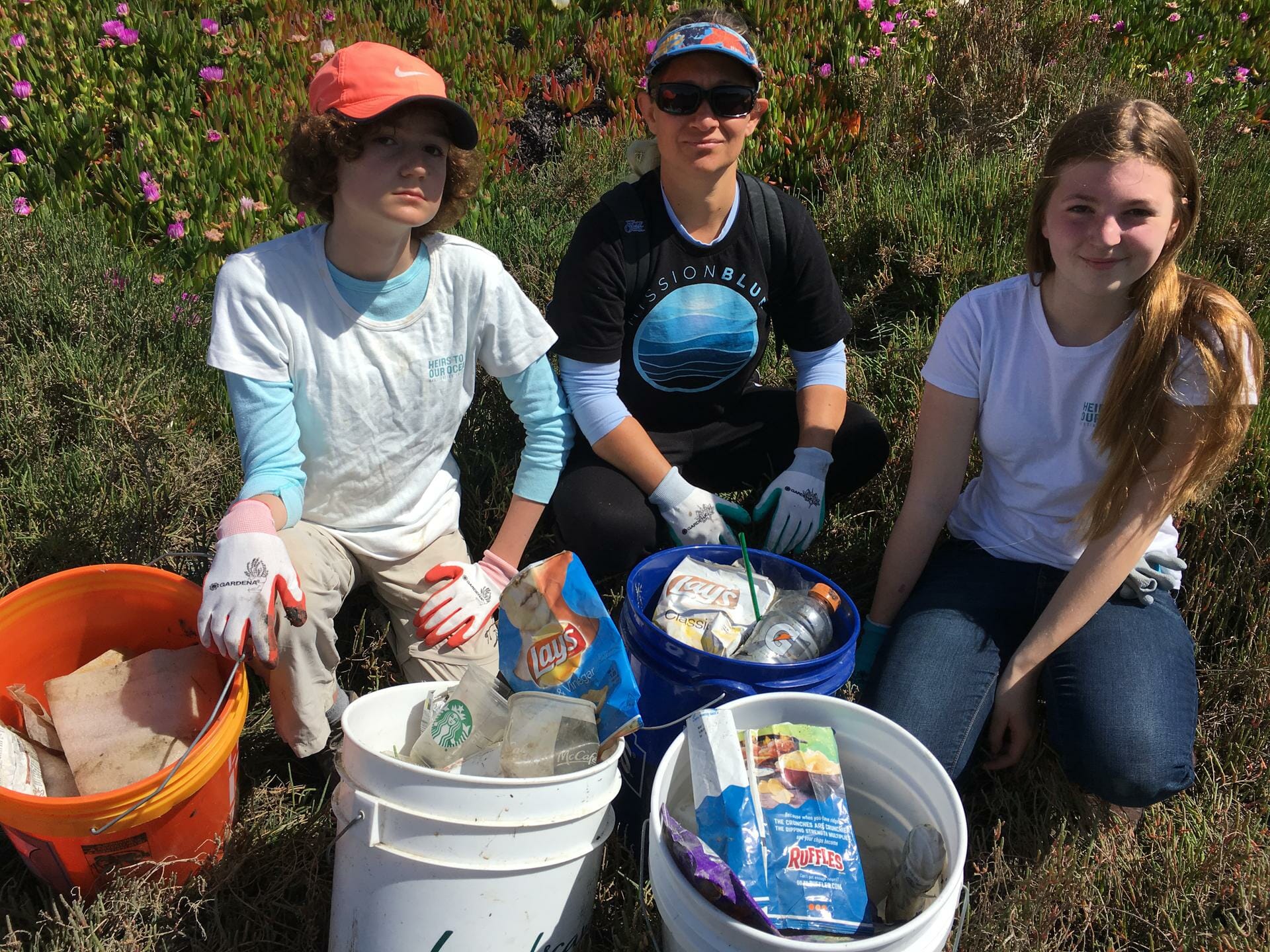 Heir Cambria Bartlett, California
We need to stop single-use plastic manufacturing at the source. Current recycling methods are not the solution. They have been proven to be ineffective. Our recycling bins are easily contaminated simply by making the mistake of not cleaning out a container properly or miss reading a label. In addition, proper waste management systems and recycling facilities are not readily available in all communities.
So what is the solution to plastic pollution?
First, we all must reduce our single-use plastic consumption.
But that isn't enough. Single-use plastics are so pervasive in the market place as petro-chemical companies and oil companies are for-profit together.  Plastic is oil, so the petro-chemical plants contribute to the success of the oil industry.  We believe the answer, therefore, is corporate responsibility.  Corporations like Coca-Cola and Proctor & Gamble must be held accountable for using so much plastic packaging for their single-use items.
Brand audits are a way for us to put pressure on corporations to reduce their plastic usage. We have done brand audits around the world, including at SEAL.  We hold a beach or inland waterway "sweep" (because we can't "clean it up") for some time period in a designated location, then we conduct an audit of the brands of the plastics we collected.  The data we collect goes to Break Free From Plastic (BFFP), a coalition that we are a part of.  With this data BFFP prepares an annual brand audit report. To no surprise in 2019 BFFP found that Coca Cola, PepsiCo and Nestle are the top brands found as plastic pollution through brand audits worldwide.  You can read its reports on its website. BFFP then has data through which it can effectively have discussions with polluting corporations to make change in their packaging.
We encourage everyone to get involved in conducting a brand audit in your communities and uploading your data to BFFP's website!  If you'd like to join us in a community where we're located or would like us to send instructions, please contact us at info@heirstoouroceans.org or through our website contact form at www.H2OO.org.
We Must Protect the Ocean's Floor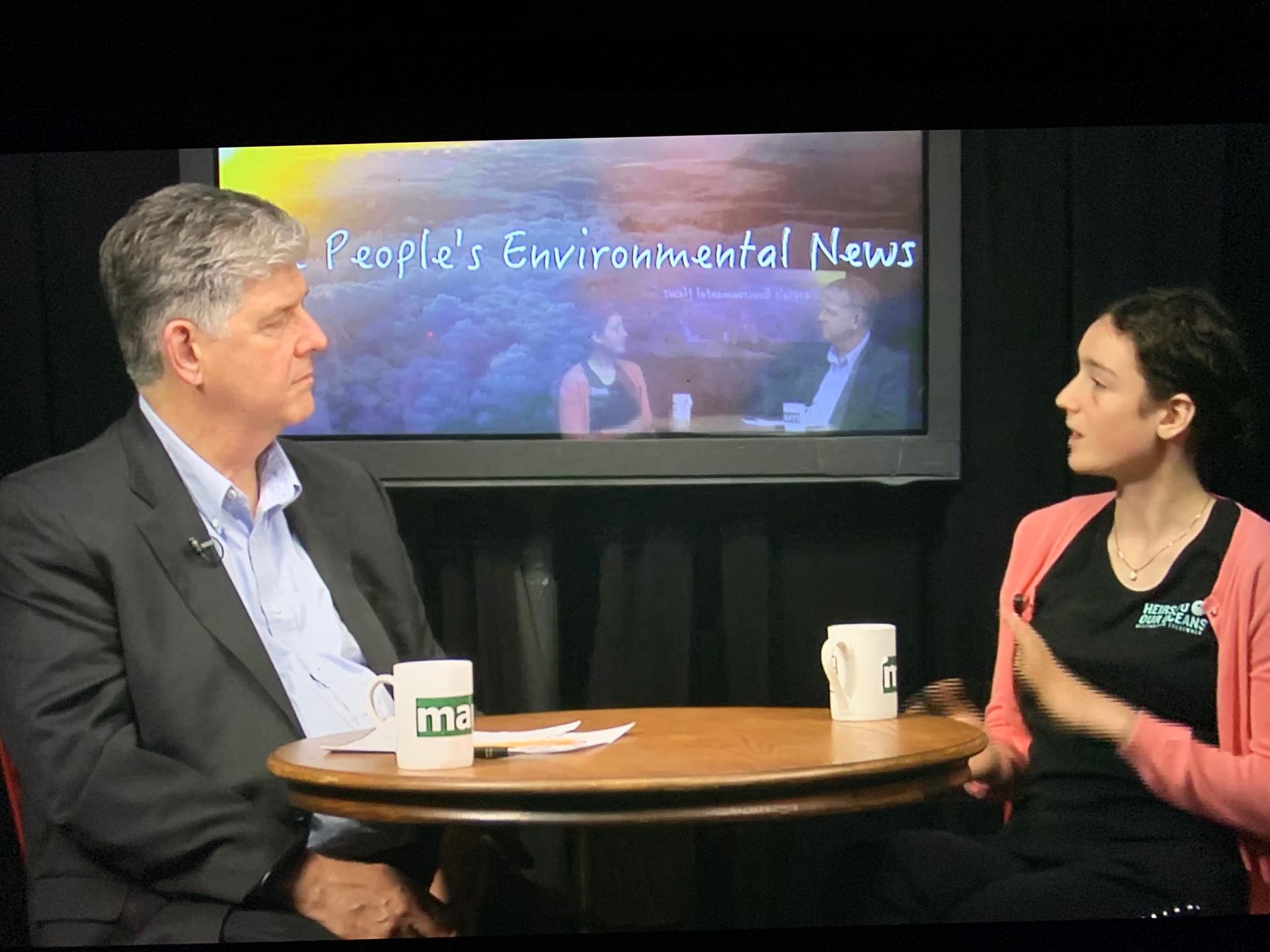 Heir Charley Peebler, California
I have learned about deep sea habitats and their involvement in our daily lives. The deep sea has absorbed approximately 25 percent of all the carbon released up through present day. Currently, these ecosystems are storing around 37 billion gigatons of carbon. That amounts to 37 trillion tons of carbon in the deep sea. You can see now why the deep sea is really important, not only for all the life it supports, but also for how it affects our inland habitats. Deep sea ecosystems are fascinating and beautiful. Unfortunately, there are many issues facing these ecosystems.
Aside from humans releasing vast amounts of greenhouse gases into the atmosphere, deep sea mining is the human activity that is most concerning tp me as I look into the future.  It destroys important ecosystems while extracting metals from the ocean's floor, including carbon sequestering ecosystems! Once the metals and minerals have been mined, processing these materials produces sediments that are dumped into the ocean as waste. This smothers sensitive species and can also poison fragile species. The noise emitted from this destructive practice also harms marine animals.
The metals obtained from this unfortunate practice are mainly used for new electronics.  To make things worse, this upcoming threat is a form of greenwashing. Greenwashing is putting an eco-label on a company that is, in fact, not eco-friendly. The claims of deep sea mining companies are that they do not promote deforestation or child labor.  I am committed to raising as much awareness as possible on this issue, through presentations, paneling, policy advocacy, writing and media opportunities.
The problem though:  They excavate and destroy our important deep sea habitats! We need better solutions to both humanitarian and environmental issues. We shouldn't ruin one ecosystem, such as our terrestrial forests, and then move onto another.  The deep sea is literally "the last frontier" of our blue planet. What will happen once we exhaust the deep sea? We must protect these ecosystems because they are crucial to our survival.
To Thailand for a Hands-On Reef Restoration Workshop!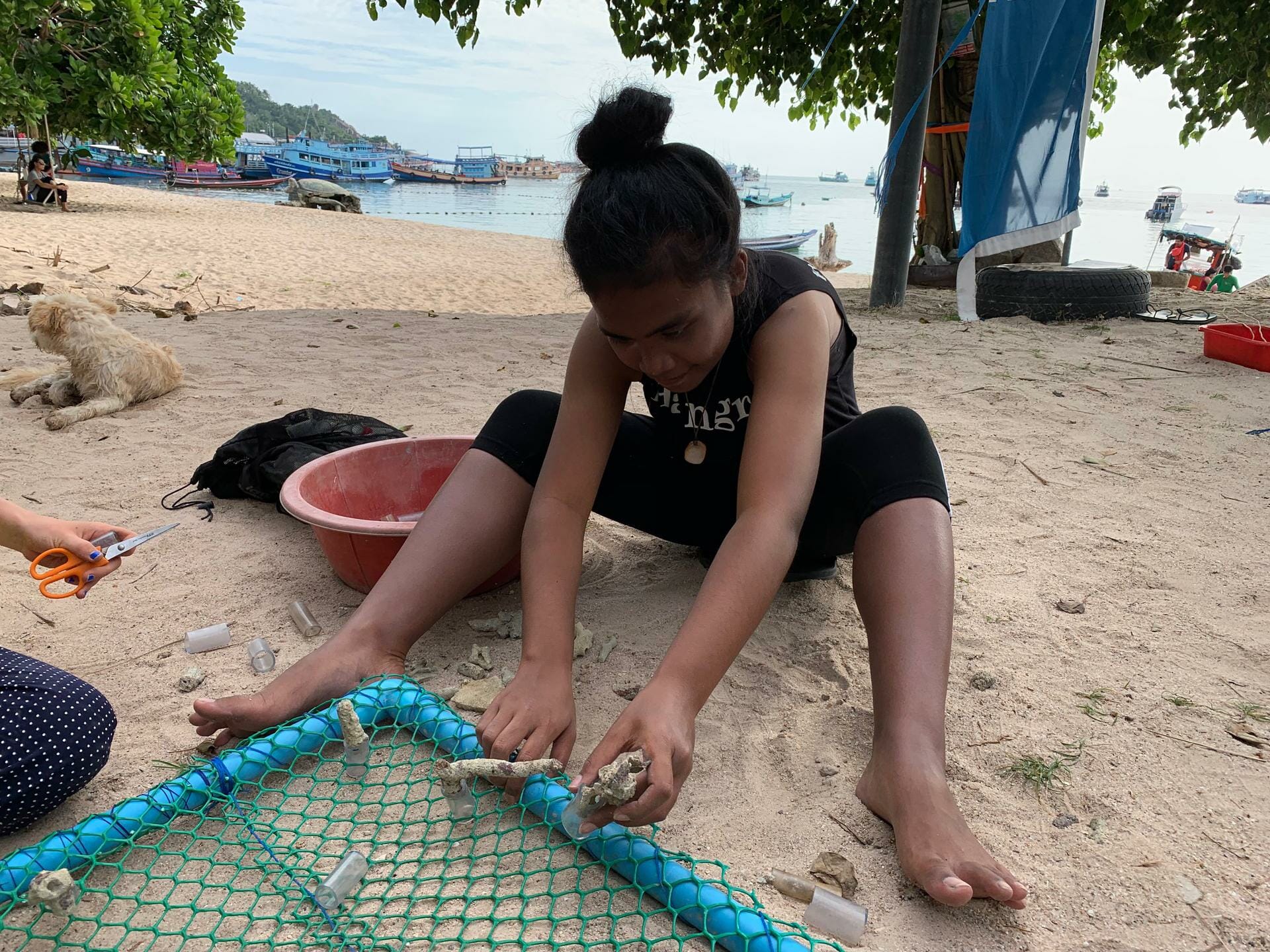 Seven Heirs went to Koh Tao, Thailand, last summer for a hands-on Reef Restoration Masterclass organized and facilitated by Nathan Cook of Reef Ecologic.  The experience was not only educational, practical and solution-oriented considering the impact warming waters is having on coral worldwide, it was also eye-opening.  Heirs Uldekel and Max from Palau share their experiences:
Heir Uldekel Ililau, Palau
The journey to Koh Tao, Thailand, this summer was very fun, exciting and adventurous. Not only did I have a good time, I learned a lot of very valuable lessons which motivates me even more to protect our oceans. Reef Ecologic's Coral Restoration Masterclass introduced me to some techniques to protect the ocean and its natural habitat allowing it to thrive and provide habitat for marine life.  We learned techniques to create our own artificial coral reef, attaching corals onto allowing them to it grow and repopulate. We used materials like ropes, nails, hinges, cement, and a type of paste to construct the housing for growing the corals. I feel that this is definitely something we can construct in my home as a project. It would be awesome to monitor it to see its growth over time.
Through this hands-on class I was able to understand that there are many ways to protect the oceans and that there's always hope when it comes to drastic effects that those of climate change to our small islands.  As I was doing this work, I felt relieved and comforted.
Having this opportunity in Thailand — in my training, in making observations, practicing new techniques, and working with professionals — has expanded my knowledge about the ocean and the importance of protecting it. I'm most thankful for Heirs to Our Oceans for allowing me to join this training.  I am excited to share the skills I have learned during this training upon returning to my island Palau and also share with the youth as well.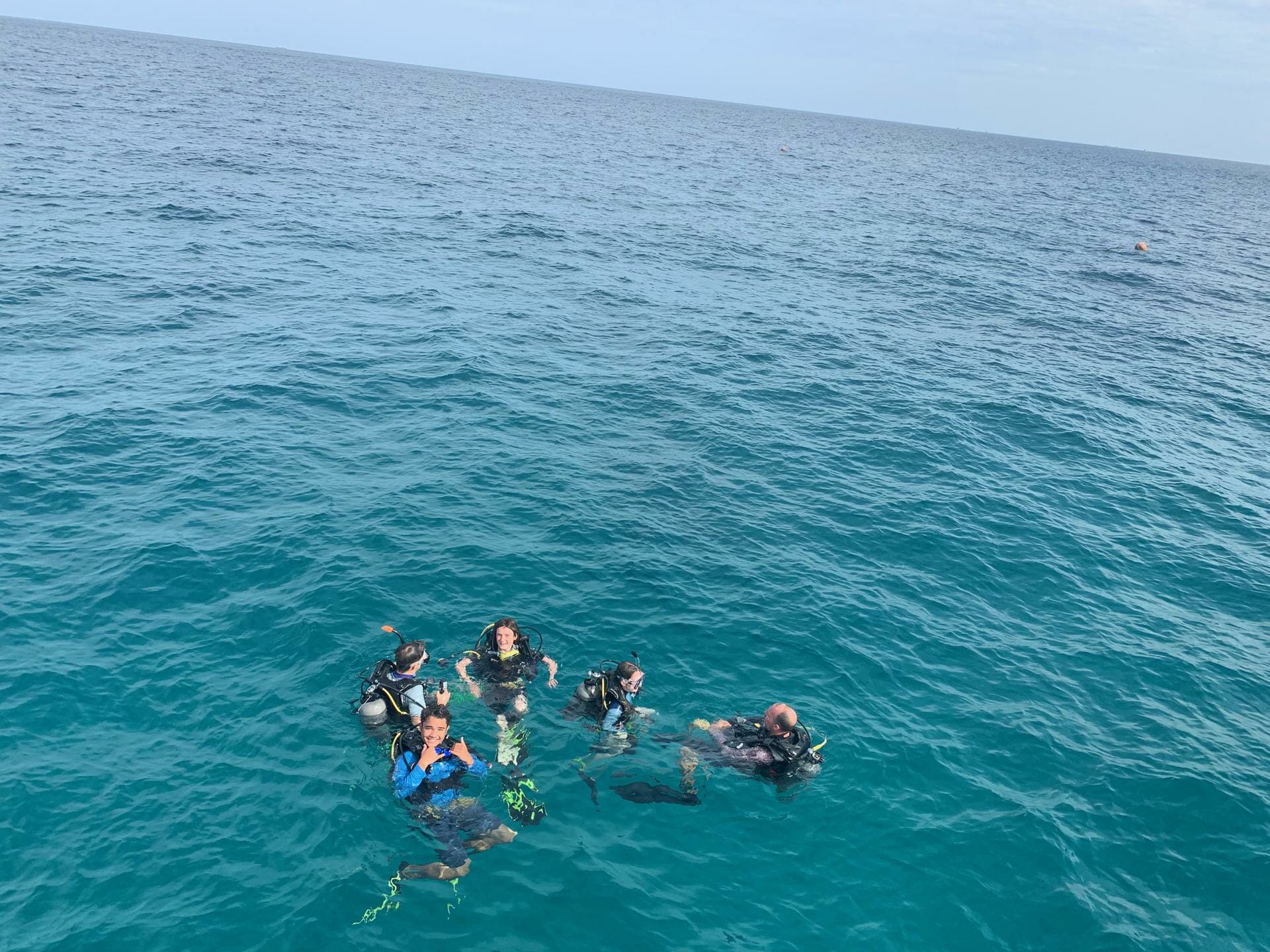 Heir Max Scott, Palau
During my trip to Thailand I along with six other Heirs from around the world took a masterclass in reef restoration taught by Reef Ecologic. During the course we learned about the reproductive cycle of corals as well as different ways to help boost the revival of coral reefs. I had the opportunity to take a look at different techniques that would be exceptional for use in Palau, one of these methods being coral reef nurseries. In a coral reef nursery, you have sets of coral fragments set in various positions to excel growth. Once the coral fragments have reached a certain size they are placed onto the reef and set in place to grow into large corals. Building nurseries provides a larger survival rate for the corals which, in turn, leads to a larger likeliness of all of the fragments surviving.
With the opportunity to dive in Thailand came the saddening experience of seeing how dire the situations of other ocean-dependent countries really are, but I want to see it as a wake-up call for all countries because we all need a healthy ocean. It is our lifeline and without it we are nothing. Palau as a small nation needs to take a stand for its lifeline. As a youth as well as citizen of Palau I want my nation to be a role model for other countries to take a stand and save our ocean.
Setting up coral reef nurseries in Palau and spreading coral growth to places where the coral population has died down would help Palau before the problem of coral decline arises.  Also, communication about ocean issues is also very important. Being able to speak to people about the problems our oceans face is the first step to ocean conservation.
---
E-Recycling in Kentucky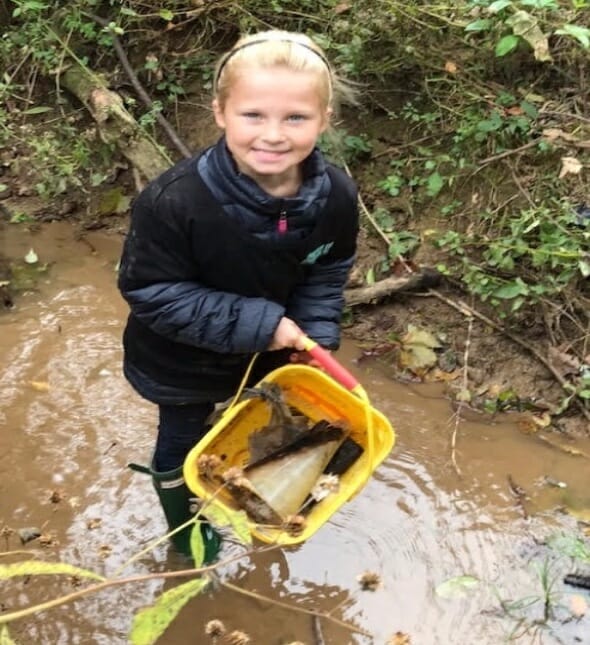 After finding significant amounts of e-waste in their local waterways during waterway sweeps, heirs in Kentucky decided to do something about it. The Kentucky H2OO chapter has been hard at work educating students and adults about the dangers of e-waste importance of e-waste to be kept out of landfills.
The consequences of improper e-waste disposal in landfills or other non-dumping sites pose serious threats to current public health and can pollute ecosystems for generations to come. When electronics are improperly disposed of and end up in landfills, toxic chemicals are released, impacting the earth's air, soil, water and ultimately, human health.
However, there is no federal law in the United States requiring e-waste recycling or banning this waste stream from landfills and incinerators. Instead, states and local governments must create their own programs, which 25 states and the District of Columbia have done with limited success. Because of the lack of federal management, it is imperative that steps be taken at the local and state level to ensure this rapidly growing waste stream is managed appropriately and that all US residents have access to e-waste recycling.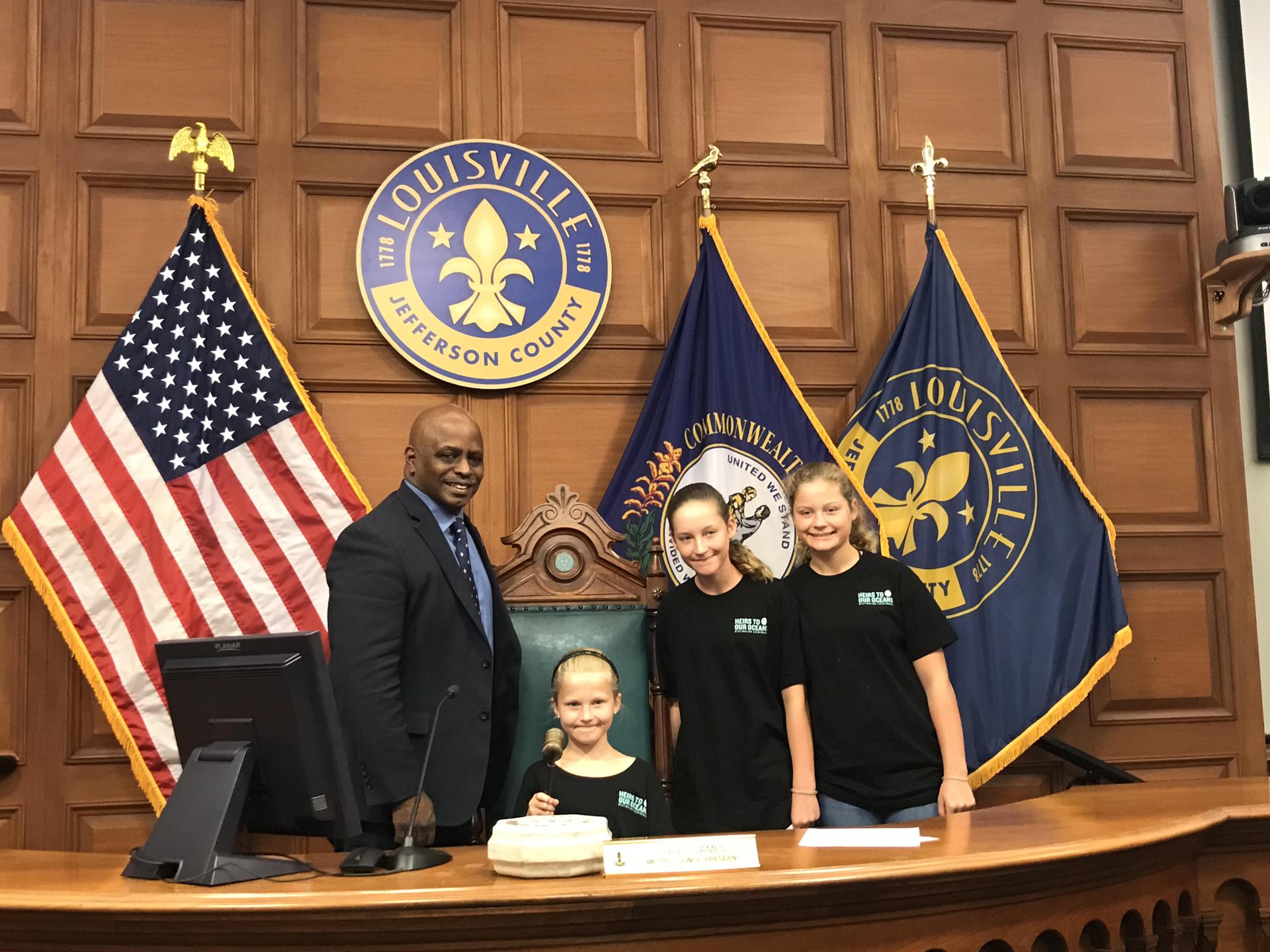 ---
Berkeley Heirs Combat Disposables
The Oxford Heirs have had an amazing year. The year began with the Heirs being the pivotal speakers and the ones spearheading the push of the City of Berkeley's Disposable Free Dining Ordinance into law. The Heirs speaking power, and history of having achieved zero waste in their classroom over multiple years, garnered them press conferences and speaking engagements at David Brower Center's Sea Change, the Zero Waste USA Youth Conference and the Ecology Center Friendraiser. In May, they received the Sierra Club's Emerging Voices Youth Award.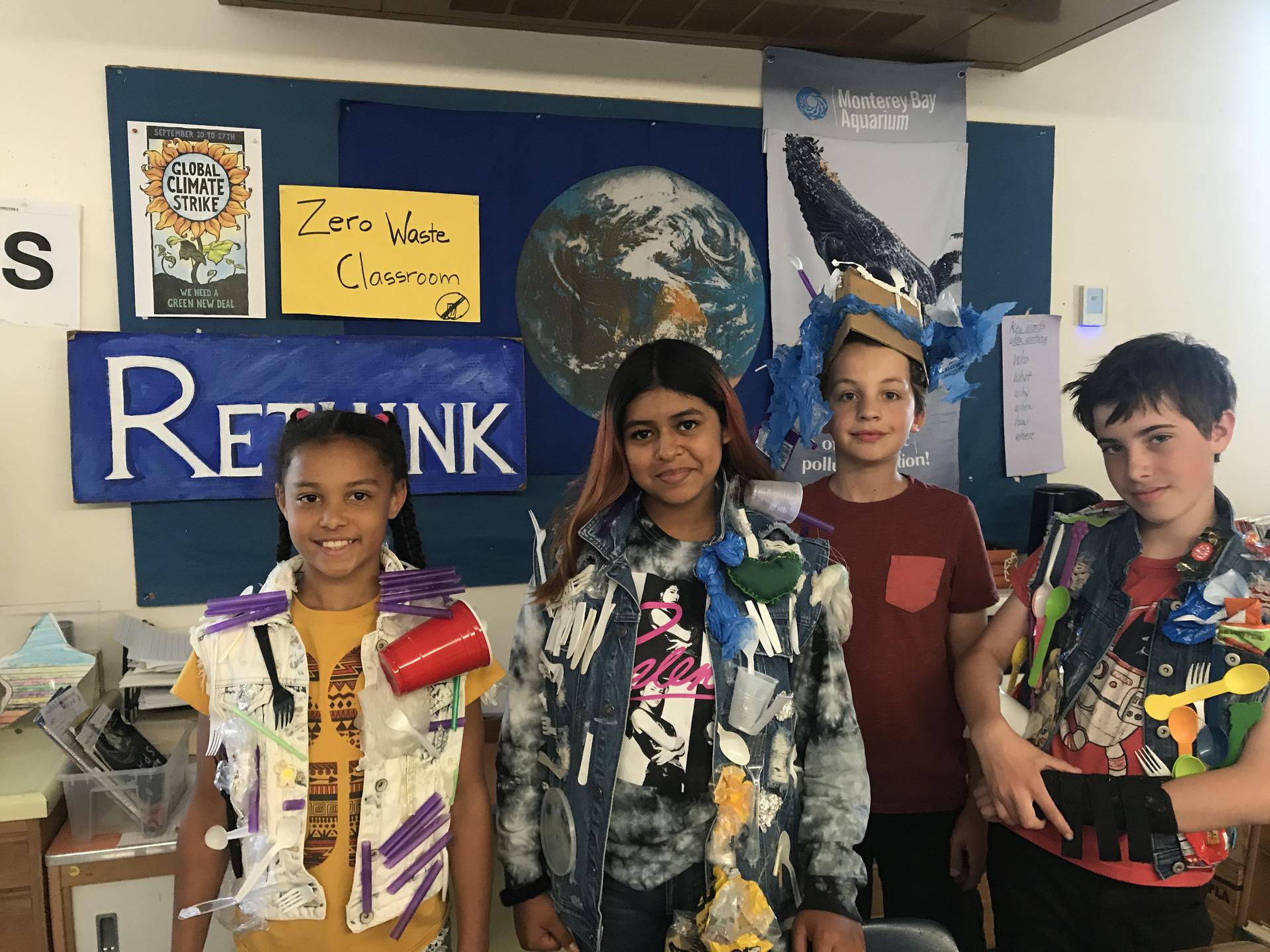 The Oxford Heirs are now deeply connected in the community with the head of Ecology Center and the Mayor and the Berkeley City Council. The elementary school Heirs are currently engaged in projects in their working groups which include environmental responsibility in fashion (as some modeled for Athleta), advocating against balloon releases and leading Heir Jr, an educational program designed to educate kindergarteners with an Heirs mindset. This year also marked the start of Oxford Heirs middle school group. This group of four students is studying the roll out of the new law, the Disposable Free Dining Ordinance, with 'person on the street' interviews both before the law starts and after January 1, 2020, the date the law goes into effect. Additionally, the middle school Oxford Heirs have been accepted to attend Algalita, an international youth conference on plastic pollution.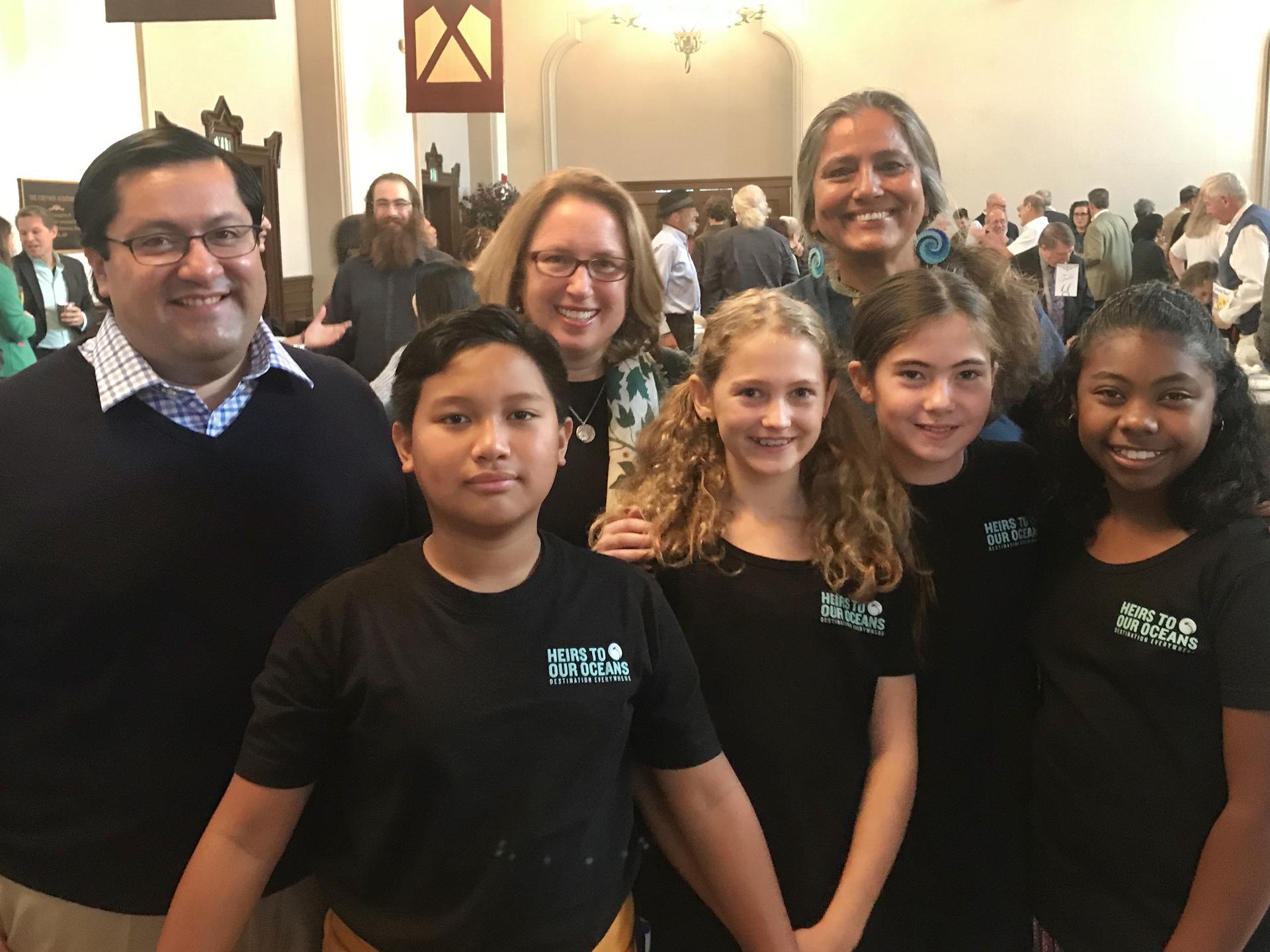 ---
The Power of Connecting Person to Person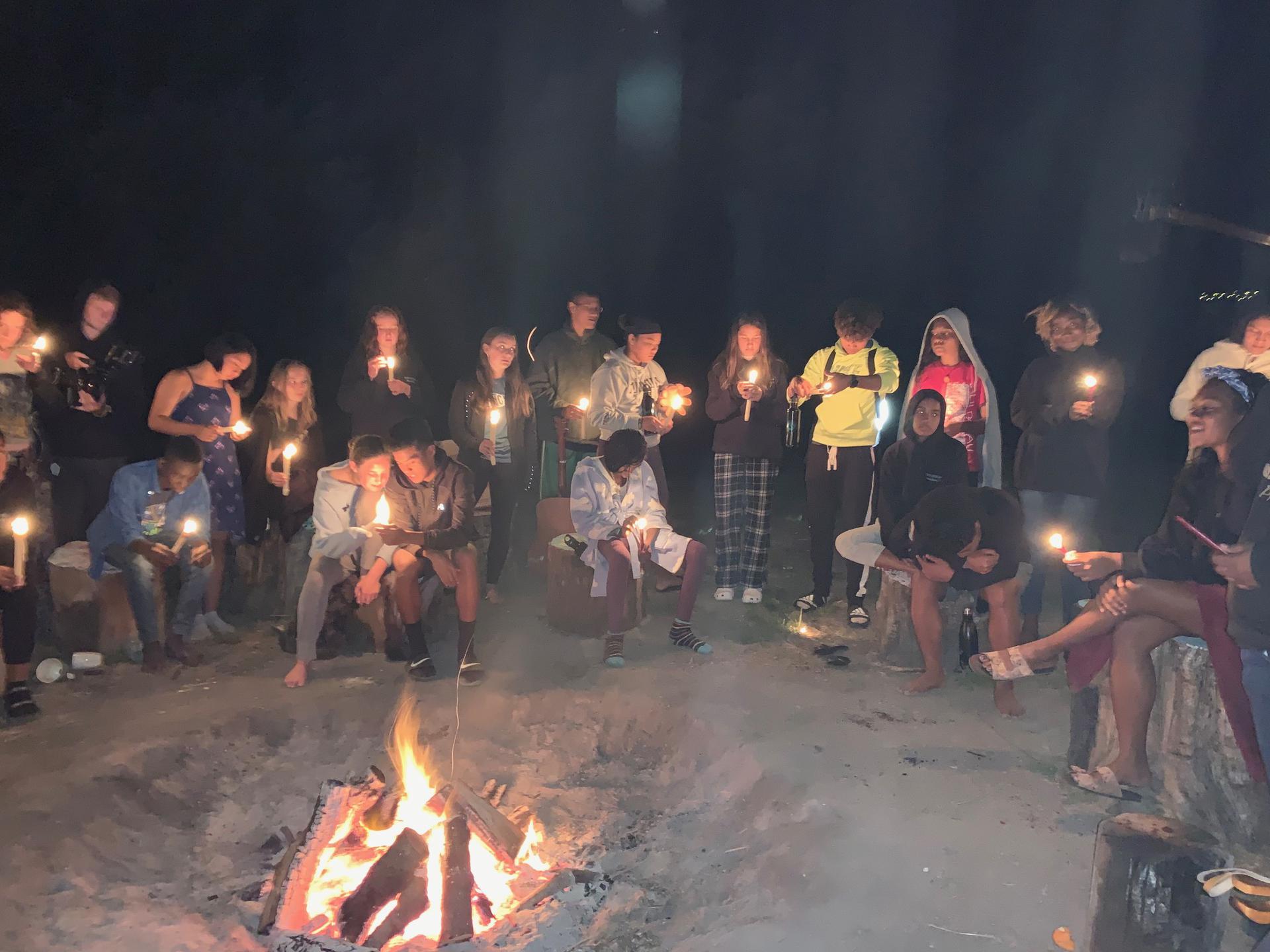 April Peebler, Executive Director
Heirs To Our Oceans is an organization that supports youth in becoming educated and empowered together in managing the climate crisis they are inheriting and in protecting their oceans and waterways. The power of youth coming together physically from around the world in processing the challenges they share, from devastating storms and wildfires to resulting humanitarian crises, is beyond effective; it's necessary for their mental health and well-being.   Youth learn from each other and inspire one another to protect their natural environment and their communities and to take care of themselves and each other in doing so, regardless of their different backgrounds.  Developing empathetic leadership skills in youth through human contact and engaging them in related workshops is key, we have found, in encouraging love for one another and appreciation of differences.  This humanity is very much in need of today more than ever it seems, and our kids' generation could very much use a world of empathetic leaders as they tackle together the challenges our generation and the generation before us will leave them.
As an international organization we have struggled with the cost of connecting humans:  carbon emissions due to travel.  We have processed greatly the cost-benefit analysis and have determined that H2OO's carbon footprint for the purpose of connecting youth today outweighs the option of no travel emissions and disconnection.  To offset travel carbon emissions we give to https://carbonfund.org/ generously calculating more miles than we travel — 100,000 for this year — for purposes of "reforestation and avoiding deforestation".
In a global world, where we unavoidably are all connected in economy and in impacts, to be connected by heart also feels so very important.
---
H2OO Helm Gains Two New Helpers
This year H2OO welcomed two new additions to assist with the operations of the organization. Emily and Rufaro have been hard at work increasing capacity within H2OO and fostering new alliances as we continue to expand our reach.
Emily Berglund, Program Coordinator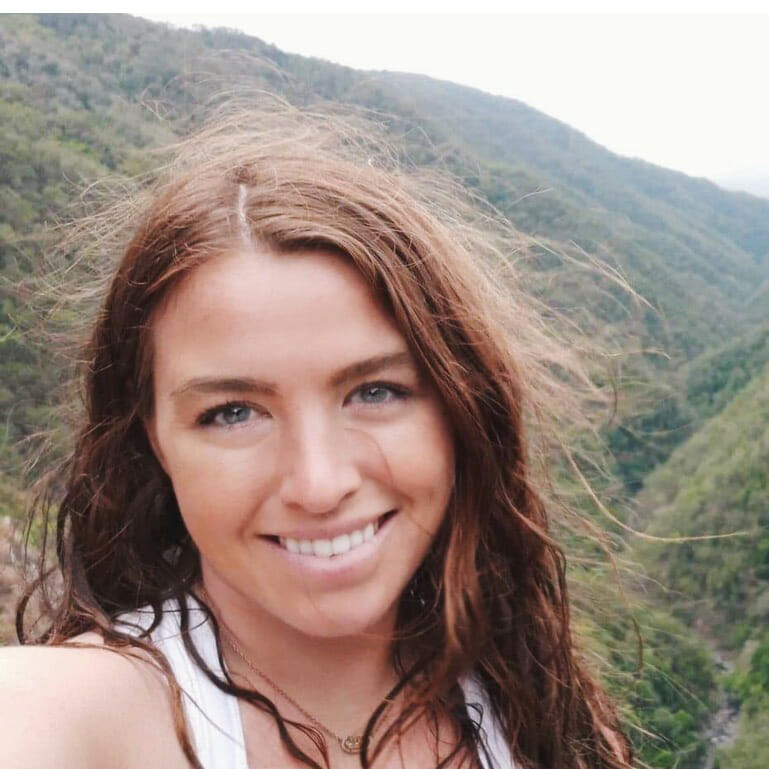 My journey so far with H2OO has been remarkable and jammed full of exciting opportunities. I have learned so much from the Hiers already in my short time here. I have had the chance to spend time with some amazing kids who are passionate and strong-willed, something I hope to see grow as they spend more time in H2OO.
A highlight has been attending Bioneers 2019 as I was able to watch each heir tune into their ancestral origins to better understand themselves and their indigenous roots. Their demonstrated eagerness to participate and contribute to the various forms of indigenous art at the conferece was inspiring!
I can't wait to see what this next year will bring.
Rufaro Kangai-Sibanda, Development Director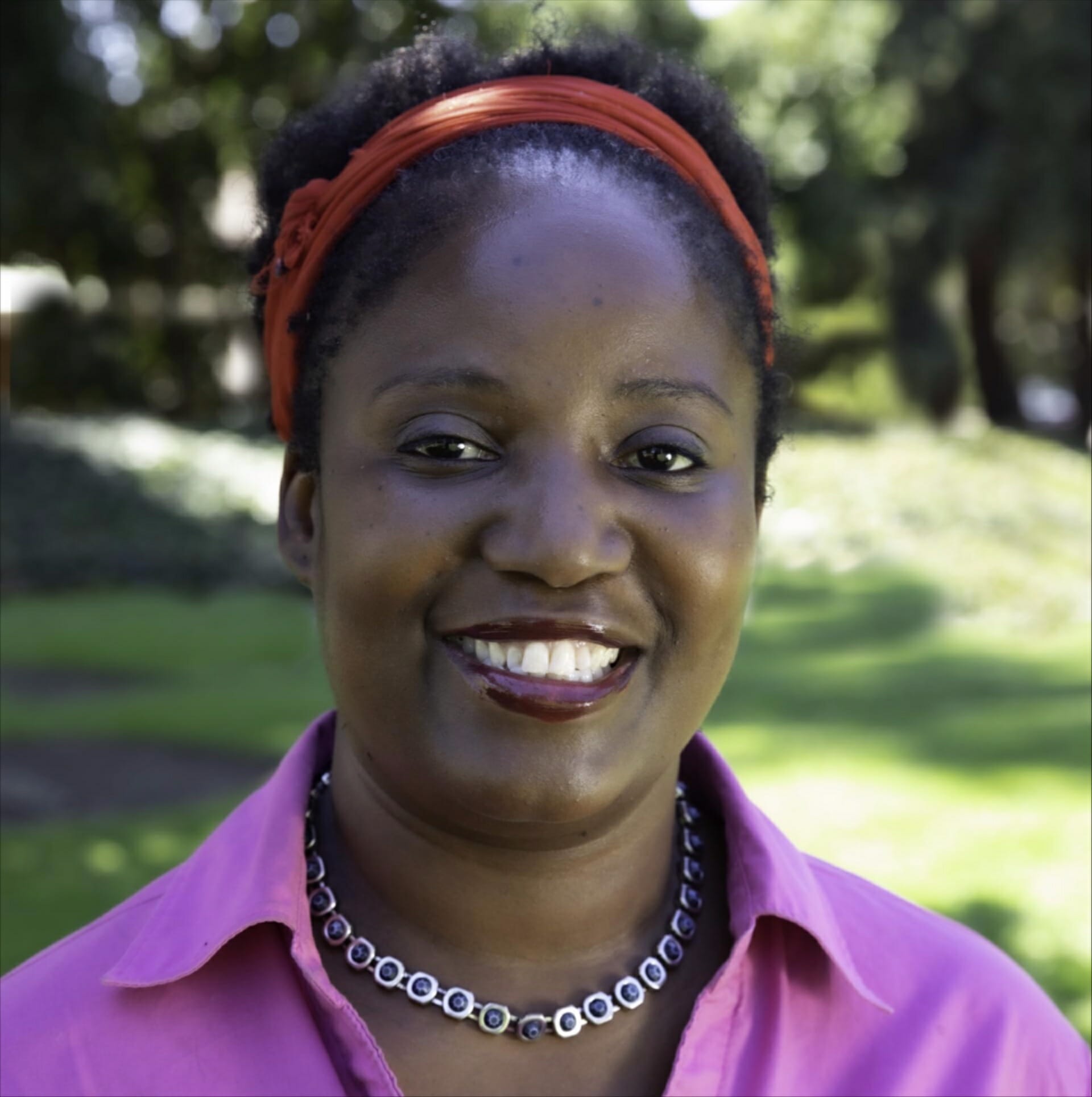 The highlight of 2019 for me was becoming involved with Heirs to Our Oceans. I appreciate the level of transparency and systems of governance operated by the organization in ensuring that Heirs to Our Oceans is aligned to its mission and values — for example, young people are included in the decision-making process which includes providing input on fundraising and corporate engagement strategies.
I am much inspired by how Heirs to Our Oceans intentionally reaches out to underserved youth and provides youth with platforms to voice their concerns at the local, national, and global levels.
---
Heirs To Our Oceans is inspiring the next generation of environmental leaders.