During the 
OCEAN DECADE 
youth around the world
are taking action
to protect
their blue planet
including solutions to the
PLASTIC POLLUTION 
crisis.
MISSION
Youth AGENTS globally will conduct a "sweep" + brand audit to:
(1) raise awareness that plastic pollution is an issue of corporate responsibility, not consumer responsibility, and
(2) hold the SUSPECTS — the polluting corporations — accountable for the plastic pollution our generation is swimming in today creating this plasticene era.
THIS NOVEMBER 2021 HEIRS TO OUR OCEANS IS ORGANIZING ITS OPERATION GLOBAL SWEEP AS A SATELLITE ACTIVITY FOR THE UN OCEAN DECADE'S LABORATORY "A CLEAN OCEAN".
THE AGENT TRAINING:
Developed and executed by youth, for youth, at our AGENT TRAINING you will receive information and skills needed to execute your MISSION including:
– Who are our SUSPECTS?
– What is an EVIDENCE form and how will the DATA be collected and used?
– How do we safely lead our TEAM OF AGENTS into the field?
– How do we further our MISSION through an IG LIVE?
AGENT TRAINING will be offered on:
– November 6th if you live in Africa, Europe, US, Canada, South America, Central America, Mexico, Caribbean
OR
– November 18th if you live in US, Canada, Hawai'i, American Samoa, South America, Central America, Mexico, Caribbean
OR
– November 19th if you live in Micronesia, SE Asia, New Zealand, Australia, South Pacific, Asia
THE AGENT SWEEPS:
AGENTS will head to nearby waterways, beaches, uninhabited islands, outside homes, into communities and cities to collect plastic pollution as EVIDENCE of corporate irresponsibility.
During a "sweep" we will gather trash, sort it, and then record the EVIDENCE through a brand audit. Afterward, our EVIDENCE is uploaded to the Break Free From Plastic website so that the coalition may produce an annual report revealing the worst offenders of plastic pollution. To date, USUAL SUSPECTS include Coca-Cola, Pepsi-Co, Nestle, Proctor & Gamble, Dannon and Unilever.
DAYS OF THE SWEEP:
The weekend of November 20-21! You pick the time during daylight hours that you would like to conduct your sweep and collect the EVIDENCE.
WHAT HAPPENS AFTER THE MISSION IS COMPLETE?
Your EVIDENCE — or DATA — collected during your sweep will be submitted to H2OO headquarters where youth investigators will compile the DATA received from AGENTS around the world to produce a MISSION report to be posted on our social media, newsletter, this webpage, and our discord server. The EVIDENCE will also be shared with Break Free From Plastic coalition for its annual report and next steps.
Template letters will be available so that you can send notes to your lawmakers to urge them to address #plasticpollution at the source by requiring polluting corporations to manage their plastic pollution.
THE PLASTIC PROBLEM CANNOT BE SOLVED THROUGH A "JUST CLEAN IT UP" MENTALITY. TO SOLVE THE PLASTIC CRISES WE ARE DEMANDING CORPORATE RESPONSIBILITY: STOP IT AT THE SOURCE!
ARE YOU READY TO JOIN OUR MISSION AS A SECRET AGENT IN OPERATION GLOBAL SWEEP?
FOLLOW THESE STEPS:
STEP 1: Register here
If you are under 18, please register with your parent or legal guardian as there is a liability waiver to prepare before you head out into the field to collect evidence. Safety is always our number one concern as well as ensuring everyone is aware of risks in picking up garbage in the wild.
Determine if you want to be an individual SECRET AGENT or lead a TEAM OF AGENTS. As a Lead Agent you will organize your community, friends and family to be involved in the sweep and brand audit. We highly recommend bringing others along with you to collect as much EVIDENCE as possible!
STEP 2: Join H2OO's Discord Server to stay updated in communications, connect with other AGENTS and hear MISSION updates in real time!
STEP 3: Attend our AGENT TRAINING event.
STEP 4: Get familiar with your AGENT TOOLKIT which provides essential information.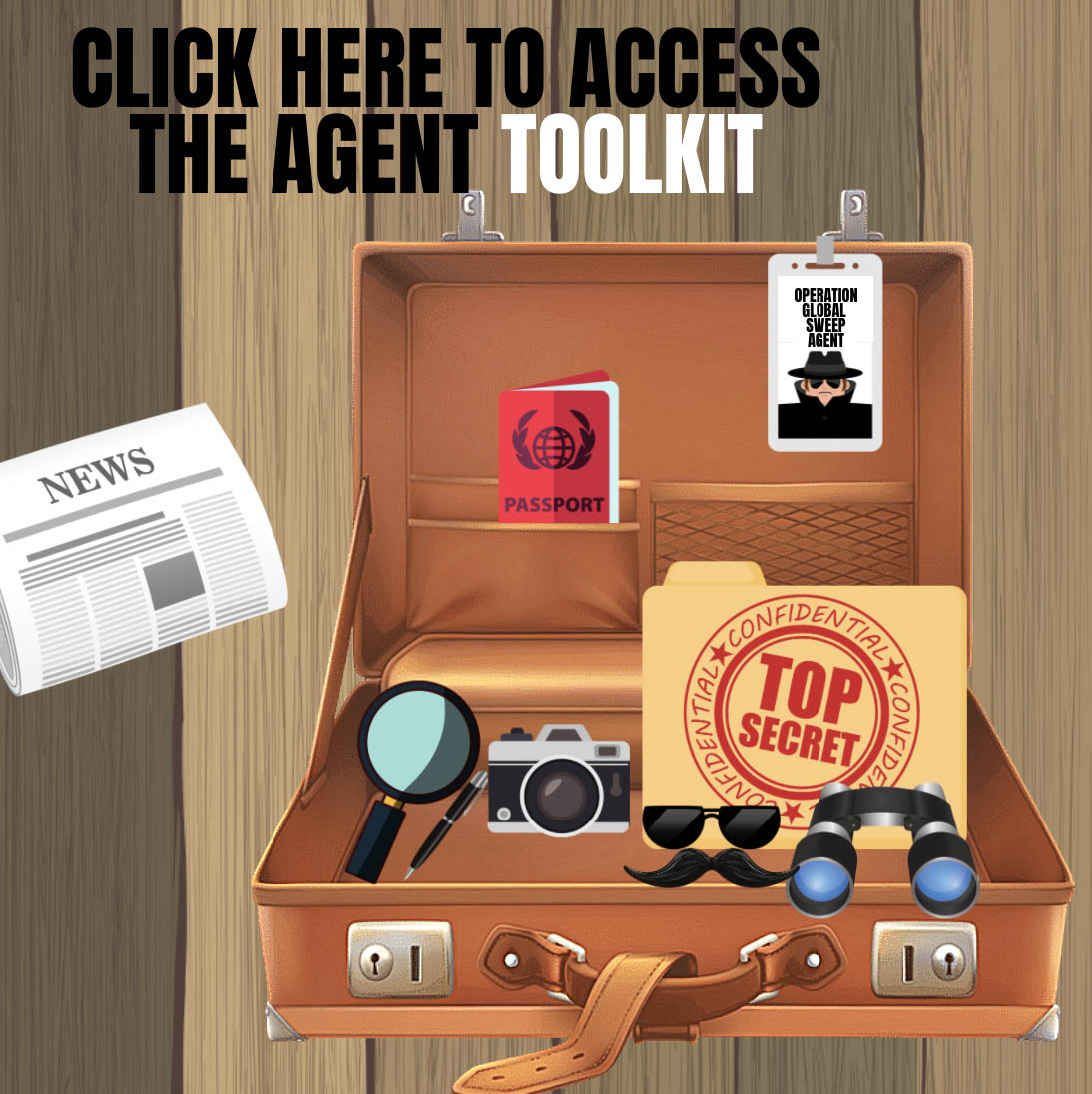 STEP 5: Execute our shared MISSION.
Read the entire AGENT TOOLKIT before you head to the field. All steps for conducting your MISSION are located there.
AGENTS conduct your sweep!
Take the items identified in your TOOLKIT with you.
Collect photos and videos at your sweep and submit them to the EVIDENCE ROOM as well. (See examples in the toolkit.)
Arrive prepared for your IG LIVE.
Submit your EVIDENCE
Follow the steps in your AGENT TOOLKIT.
Submit your EVIDENCE to the "Evidence Room" within 2 days completing of your MISSION (April 27th end of day, US PST).
WE NEED YOU TO JOIN AS A SECRET AGENT AND FORM A TEAM OF AGENTS FOR THIS MISSION. LET'S TAKE AGENCY FOR OUR FUTURES NOW AND DEMAND CORPORATE RESPONSIBILITY TO END THE PLASTIC POLLUTION CRISIS.
LET'S DO THIS. TOGETHER. #H2OOunstoppable