HELP FUND
YOUTH SCHOLARSHIPS
FOR SEAL 2022!
Invest in a global youth movement for paradigm-shifting change by giving to the SEAL 2022 need-based scholarship fund. Make a donation using the donate button on this website or Venmo @heirstoouroceans.
Make your donation go farther with a corporate match! If you sponsor a youth with a corporate match, then for the same amount you could sponsor 2-3 youth! Check with your employer.
Heirs To Our Oceans is proud to share that at least 4/5 of youth who attend SEAL are fully sponsored.
Only through the generosity of our community of donors are we able to support youth who otherwise wouldn't have opportunities to connect with their world's waters and international youth and gain access to real-world education and skill building that schools do not offer.

Our generation that will inherit this planet after today's decision makers are done with it will need ingenuity and initiative to heal and protect it, and we need to do it together.  Our Summit for Empowerment Action & Leadership, or H2OO SEAL, is an international youth summit that educates, empowers and connects youth around purpose of protecting the Blue Planet we all share. 
At H2OO SEAL, participants learn about human impacts on our oceans and waters, and they develop problem solving, critical thinking and public speaking skills while connecting with youth from around the world and from all demographics.
H2OO SEAL participants, ages 12–17, learn from each other as well as from experts in the field. Heirs from previous H2OO SEAL experiences step into leadership roles to guide and inspire new Heirs and empower new leaders.
And, together, they spend time every day, in, on, and around natural bodies of water.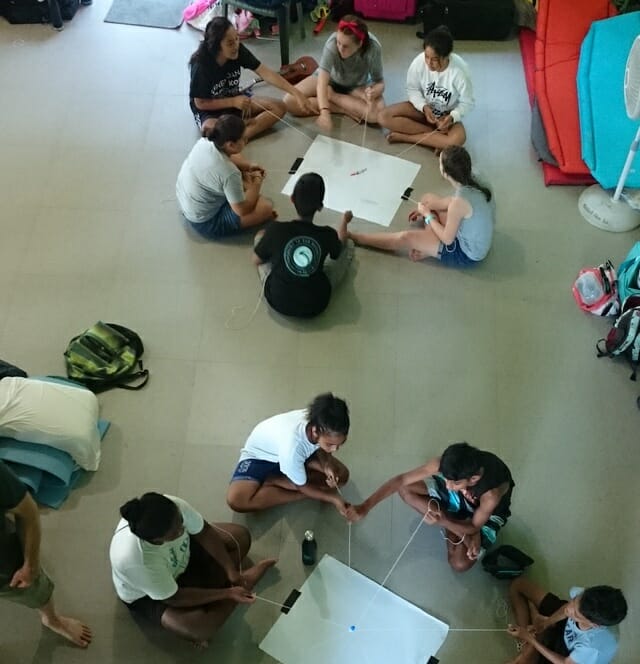 H2OO SEAL 2018 Palau
International groups of youth engaging in a team building activity in the first couple of days of H2OO SEAL.
DONATE NOW TO
SUPPORT OUR UPCOMING
H2OO SEAL
to continue inspiring and educating the next generation of environmental leaders.
H2OO SEAL prepares and inspires youth to return to their communities to take action to protect their waters.
Since 2017, H2OO SEAL has inspired and empowered scores of youth leaders. Regardless of their challenges, all H2OO SEAL participants are successful at the Summit and become a part of a deeply connected water-protecting family dedicated to protecting our planet's single and shared water system together.
Financial support is available for youth in-need. 
PARTNERS AND SUPPORTERS OF H2OO SEAL 2017-2021
STAY
CONNECTED
Sign up to read about our splashes and waves!
We respect your privacy.